UFC 263 Israel Adesanya vs. Marvin Vettori 2 - Carlos Felipe -280 vs. Jake Collier +230 - Betting Thoughts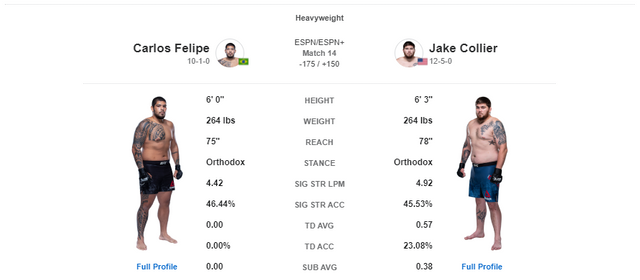 I am thinking of making a small bet on the dog Jake Collier. Carlos Felipe and Jake Collier have not had a stoppage since 2017. Jake was stopped in 2020 by Tom Aspinall in the first round. Carlos has never taken anyone down and the last time Jake did was in 2016. Jake has a 3 inch height and reach advantage.
The other bet here is that the fight does not go the distance at +115 as both men only have less than 50% of their fights going the distance. The reason why the odds are +115 is that all three of Carlos's fights in the UFC have gone the distance. Jake has had only 4 of his 8 UFC fights go the distance.
Carlos Felipe
-
-
-
Jake Collier
-
-
Fights
11
Fights
17
Wins
10
90.91%
Wins
12
70.59%
Losses
1
9.09%
Losses
5
29.41%
Other
1
9.09%
Other
0
0.00%
Wins - KO
6
54.55%
Wins - KO
5
29.41%
Losses - KO
0
0.00%
Losses - KO
3
17.65%
Fights KO
6
54.55%
Fights KO
8
47.06%
Wins - Sub
0
0.00%
Wins - Sub
3
17.65%
Losses - Sub
0
0.00%
Losses - Sub
1
5.88%
Fights Sub
0
0.00%
Fights Sub
4
23.53%
Wins - Decision
4
36.36%
Wins - Decision
4
23.53%
Losses - Decisions
1
9.09%
Losses - Decisions
1
5.88%
Fights Decisions
5
45.45%
Fights Decisions
5
29.41%