UFC 263 Israel Adesanya vs. Marvin Vettori 2 - Fares Ziam -115 vs. Luigi Vendramini -105, lightweight - Betting Thoughts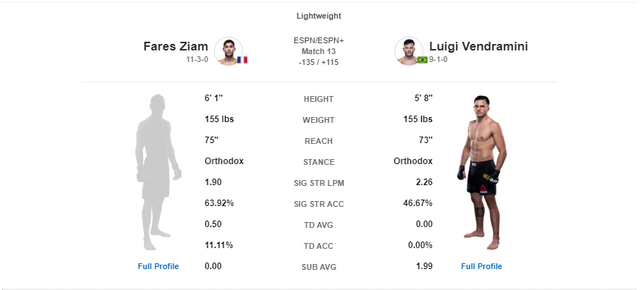 This is an interesting fight as both of these strikers do not like to go the distance. Fares has a significant 5 inch height advantage but only a 2 inch reach advantage. Both of these guys cannot wrestle but Fares can take people down from the clinch but can't do anything with it.
I am going to lay small money on Fares. However, the bet here may be that this fight does not go the distance at -135 maybe a play as well.
Fares Ziam
-
-
-
Luigi Vendraminir
-
-
Fights
14
Fights
10
Wins
11
78.57%
Wins
9
90.00%
Losses
3
21.43%
Losses
1
10.00%
Other
0
0.00%
Other
0
0.00%
Wins - KO
5
35.71%
Wins - KO
5
50.00%
Losses - KO
0
0.00%
Losses - KO
1
10.00%
Fights KO
5
35.71%
Fights KO
6
60.00%
Wins - Sub
4
28.57%
Wins - Sub
4
40.00%
Losses - Sub
2
14.29%
Losses - Sub
0
0.00%
Fights Sub
6
42.86%
Fights Sub
4
40.00%
Wins - Decision
2
14.29%
Wins - Decision
0
0.00%
Losses - Decisions
1
7.14%
Losses - Decisions
0
0.00%
Fights Decisions
3
21.43%
Fights Decisions
0
0.00%