UFO Sighting - tonight above my Studio - Panamá City, Panamá
An unidentified object with unconventional movement pattern...
---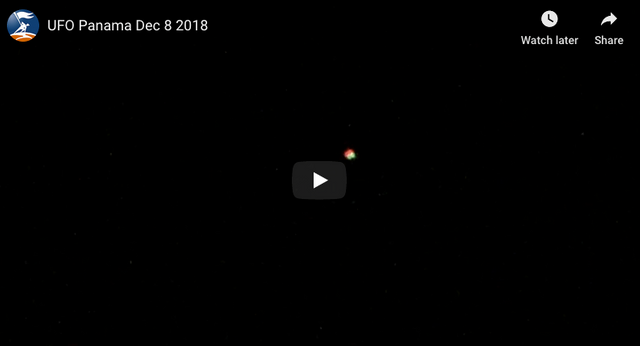 Sighted today, just before getting @littlescribe on the air on MSP Waves for her show Let's Talk About THAT
Can't make this up!
After sighting the red blinking craft with periodically green blinking lights, I grabbed an iPad and filmed the object until it went fast, noiseless out of sight. Note its fast accelerated movement in the last few seconds at the end.
The noise heard in the video is solely coming from the traffic below.
The craft above made zero noise.
---
Its movement was stop/go/stop/go/stop/go, accelerating from zero to v fast instantly.
I have seen similar crafts once before on the Island of Jersey off the coast of France, but this craft here was much closer, about 300 feet above me, filmed from the 21st-floor balcony of my apartment.
---
Make of it what you will - its movements were not natural, nor was its noiseless hovering above.
I do not believe in an evolved Alien race per se. I do, however, take the biblical point of view of interdimensional beings able to materialize at will. These beings are not our friends.
Another explanation could be a military craft, but this is Panamá City, and the Powers that have military capabilities to develop advanced aircraft surely wouldn't test their secret flying machines over the most populated City in Panamá.
What do you think?
---
Please support @familyprotection to help Families, children and parents abused by State Power by subscribing to their feed, upvoting, re-steeming, SP Delegation, and SP/SBD donations! Thank you!
---