#ulog No. 109 For @surpassinggoogle: Pancreatitis Hits My Little Buddy Again
At 3am on November 8, 2018, we rushed my little girl to the hospital again. She was complaining for a stomache that started midnight but when its nearly 3AM she threw up 3 times so we decided to bring her to the hospital.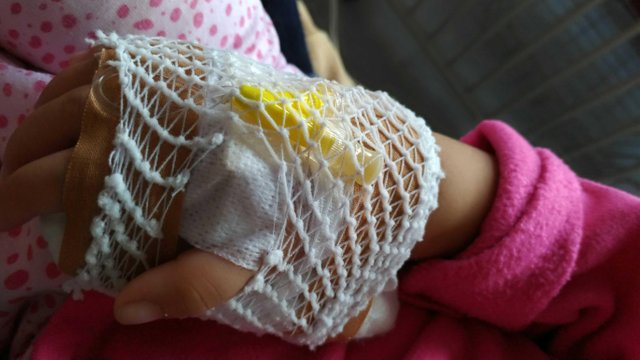 When we reached the hodpital, we were entertained by a doctor who is not so accomodating. He said it is just a simple gastritis and it is very common to children and most of the children are being treated in the home. He said that we shouldn't come to the hospital asap when these things happen. She already vomited and we need to give a little time to wait and observe. And in tge morning we can set an appointment to see her pedia.
I told him that she is really in pain and the pain she was feeling is far different when having a gas pain. I knew it because she is my child and my instincts tells so. But in the end, he lets us stay in the hospital but didn't give any medicine. It was early morning when her gasro pedia requested bloodtest and found out that it was a Pancreatitis again. My little buddy was put into IV and fasting .
Her doctor told me that it must be chronic Pancreatitis and she should have hereditary test. There's just one hospital located in Rome that do this kind of test.
akoaypilipina
November 10, 2018
4:37 pm
Our mentor @surpassinggoogle has been very supportive of our group #Steemitdiversify and other groups too. Please support him as a witness by voting him at https://steemit.com/~witnesses and type in "steemgigs" at the first search box.
If you want to give him witness voting decisions on your behalf, visit https://steemit.com/~witnesses again and type in "surpassinggoogle" in the second box as a proxy.
Others that we should support are: @henry-gant, @kenny-crane, @beanz, @teamsteem, @good-karma, @busy.org, @esteemapp, @hr1, @arcange @bayanihan, @acidyo, @anomadsoul, @steemitph, @jerrybanfield, @darthnava, @paradise-found, @bobbylee @geetharao, @stephenkendal, and @richq11; they also have supported us. Thank you very much.