ULOG: 09 "Wrestle with Two Crocodile Tails, Men in Jambi Killed"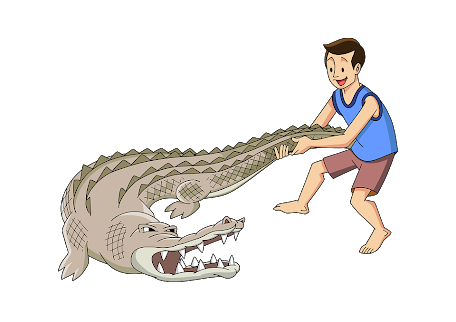 Img source : pixabay.com
A Jambi resident, Muslim (45), was killed after wrestling with two crocodiles. Muslims struggle with the meat-eating animal for about 20 minutes.
The incident occurred in Aurgading Hamlet, Jujuhan Ilir District, Bungo District, Jambi. Kades Aurgading Hamrozi said, Muslims were attacked by crocodiles on Saturday (8/9) night at around 7:00 p.m.
"At that time, the victim went to the Batang Jujuhan River to take a bath. But not long after that, suddenly there was a victim's left leg which was attacked by a crocodile. The victim was dragged into the river for 20 meters," Hamrozi told reporters on Sunday (9/9/2018 ).
"The victim managed to escape from the crocodile's confinement after fighting a large 3-meter long crocodile," he added.
Muslims suffered serious injuries on the left leg. Muslims had swam to the edge of the river and shouted for help. Residents who come immediately run away to the nearest Muslim hospital.
"But because at that time the victim's left leg had broken and crushed due to the crocodile's confinement. The family asked the victim to be rushed to a bone fracture repairman. After that, a few hours later the victim was rushed to the hospital. In the journey the victim died due to the most serious injury from the crocodile, '' explained Hamrozi.
'' This is the second victim where humans were killed by the crocodile's calamity. Previously a woman was killed. And this time a man returned to death after wrestling with a large crocodile in the river, '' added Jujuhan Iptu police chief Andi RF Gultom.
Local police have also coordinated with the Jambi Resource Conservation Agency (BKSDA) in response to cases of human deaths due to the confinement of crocodiles in the river.
"We are waiting for it from the Jambi BKSDA. Because the crocodiles in the Jujuhan river are starting to be seen by a lot of the population. And it has worried and disturbed the people. And we also call for this incident, residents are asked to be more careful not to act in the Jujuhan river, '' he said.