Keep Calm and Eat Oyster - My Very First #Ulog
Good day, good people
Several days ago, a sea farmer women was knocking on my door. She was offering oysters for sale. I was a little bit surprised since oysters are used to be sold along the coast but now right in front of my house. I was wondering why? Then, remembering that my mom used to shop and has made friends with some of the farmers. She is one of them. Once my mom told me, the farmer's husband has passed away. She live with her 4 kids. She strives to full their daily need alone by selling oyster.
Oyster is one of my family favorite food. But at that time, I was in doubt to buy. Actually, we still have the stock of fish in the kitchen. However, I thought that perhaps she is in need of money. If not, she would not reach and sell the oyster from door to door. She pulled 1 pack of oyster with price of Rp. 25.000. I was still thinking to buy it or not. She continued offering, 2 packs for Rp. 45.000 and 3 packs for only Rp. 60.000. The price keeps decreasing while the packs of oyster adding. I felt sorry for her and stopped thinking. I bought 3 from 4 packs oyster she offered. Her eyes was smiling.I felt such a relief for deciding not to refuse her offer. I am into seafood and fish a lot. So, I think that buying her oyster is like killing two birds with one stone. A win-win solution for both of us.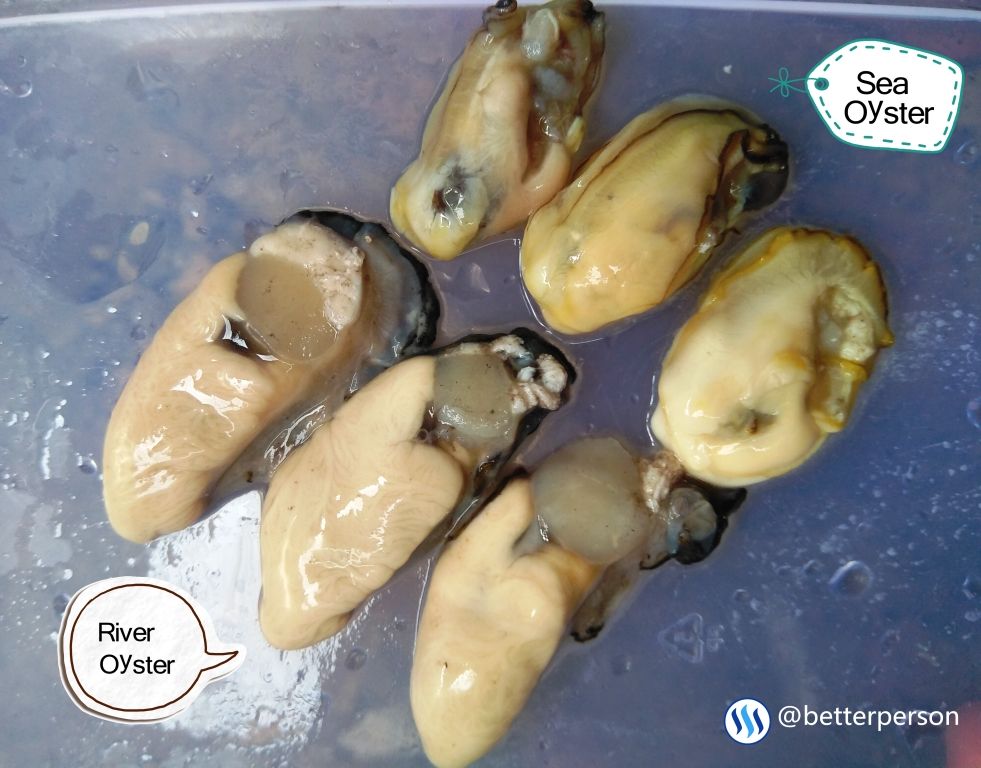 The best part of buying the oyster for this time is that I got 2 kinds of oyster, from sea and river. It was new experience. My family and I used to consume the sea oyster but never eat the river oyster. I would love to make some comparison from the shape and taste of both oysters. So, in this writing, I would love to invite you to see deeply the difference between the sea oyster and the river oyster.
The Shape
From the glance of the eyes you can see that river oyster looks bigger rather than the sea oyster. When you touch it, you will know that sea oyster is much more soften than the river one. About the colour, the sea oyster has the combination of yellow and broken white colour, while the river oyster looks much more darker with black and cream colour. I could not refuse to say that for the look and shape, I prefer river oyster as the winner.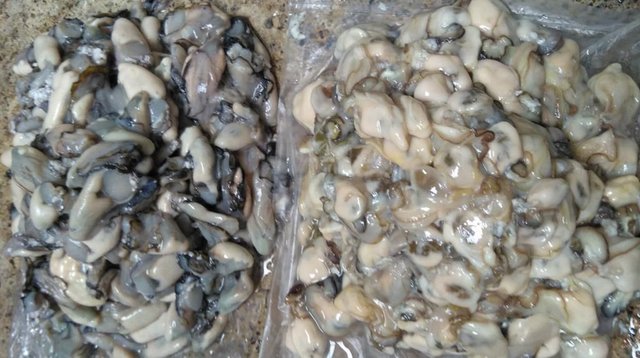 The Taste
I cooked both oysters into two kind of menu.
1st. Noodle Oyster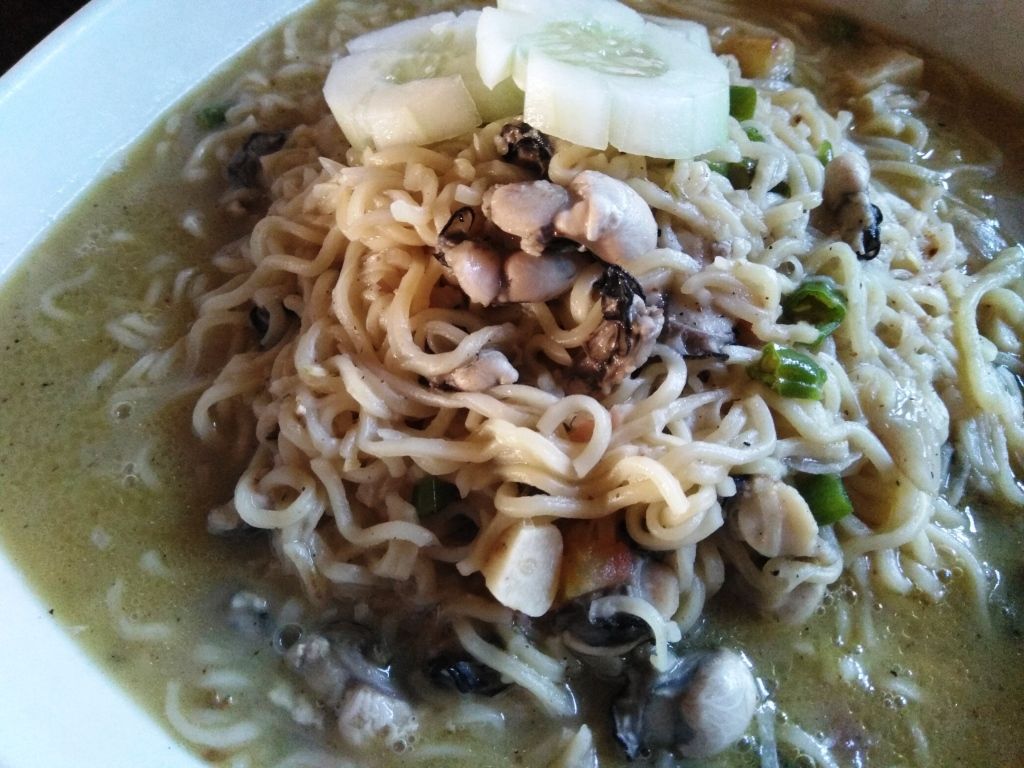 I cooked oyster with instant noodle. I squeeze some lemon on oyster and add some onion before cooking it. How about the taste? Well, I found that sea oyster made the taste of noodle become more savory and a little bit sweet. While, the river oyster not, it taste bland. I mean, the savory taste of noodles was not well blended with the taste of river oysters. Well, actually both oysters still taste good if cooked with instant noodle. However, if you ask me, which oyster I prefer the most for the first menu? My answer is I love the taste of sea oyster a lot.
2nd. Acehnese Stir-fry Oysters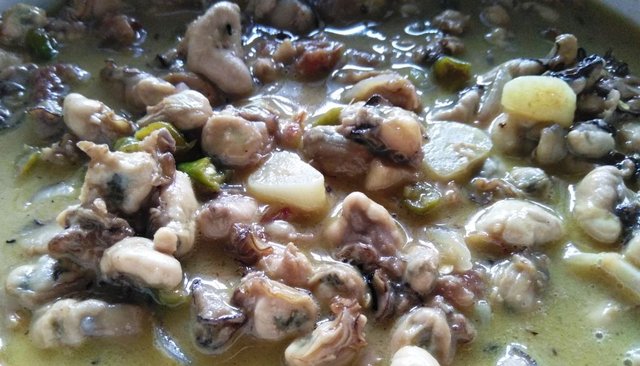 For the second menu, I cooked the oyster by adding some ingredients. They are tamarind, chilli, onion, garlic, salt, ginger. Chopped those ingredient and fry them with the small amount of oil. No need to add water to make the gravy, it because the oyster will produce it by itself. Wait until it's gravy boils. Oysters ready to serve.
From the second menu, both kind of oysters have excellent taste. Thanks to Acehnese spices. I was so satisfied with the menu. However, if I have to choose which kind of oyster I prefer for the second menu, my answer is still sea oyster. This oyster-based food test made me love seafood even more. On the other hand eating river oyster also gave me a great new experience. Well, do you ever eat oyster or have you ever eaten these kind of oysters? Share your experience here.
---
Keep calm and eat oyster
For the @betterperson
See you next time ~