Ulog No. 62: "Hooked on Cricket"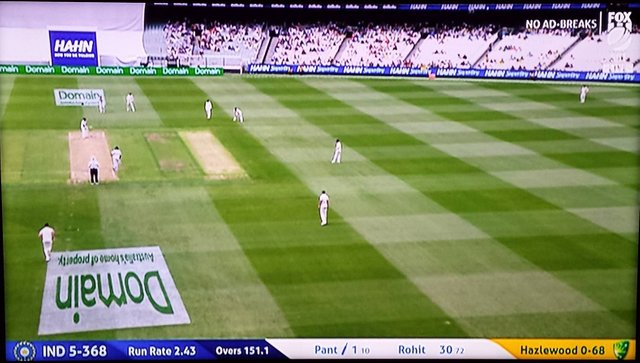 It is scorching hot outside, so I'd rather stay inside the house within the comfort of cool air conditioning and the TV. At the moment, my hubby and I are watching the Test Cricket of Australia vs India. He loves cricket and he used to play for the local cricket club many years ago when he was still younger. When we started going out, he introduced me to this sport, which I had never heard of. I thought cricket was just insects.
I have eventually acquired the liking to the cricket sport that I have learnt the rules and the variations of the game, such as there's Test Cricket, One Day International and Twenty20 Cricket. I know the names and the faces of all the current and some past Australian cricket players. I celebrate when Australia get a wicket and hit boundaries. I can even watch a Test Cricket, provided that Australia is playing, for 5 straight days from the first ball to "stumps" at the end of the day.
My husband and I would have conversations about cricket or any news about players and the sport itself. I think he appreciates the fact that he can talk about anything that he's also passionate about and I would gladly listen and even contribute to the conversation. He was devastated and disgusted that three Australian players were involved in ball tampering scandal earlier this year.
I got really annoyed, too, and utterly disappointed because these players tarnished the reputation and the credibility of the Australian Cricket team and since then, Australia's rank in the cricket world plummetted and would be considered a miracle if they won (this is my own perception). After a long drought, Australia finally won and it was against India in their second test in their 4-match series. My hubby and I celebrated, too!
But we are not like those big fanatics, like the "Barmy Army". We just enjoy watching the sport and if we're not home, listening to the update and analysis of the game via the AM radio. Many friends and family members in Australia are quite surprised that I actually like the sport because they have lived all their lives in Australia but some of them still don't understand cricket and how it is played. They find it boring and tedious.
I, myself, could not believe that I would be interested in this sport. I guess because I love my husband so much that I have learnt to appreciate the sport. Probably the same way that I love volleyball, and I was able to convince him to play for my team during the first season this year. My husband played volleyball with me until he injured himself and could not play halfway through the end of the season, but at least he tried.
Anyway, that's all for now. I will go back to the couch and watch the rest of the cricket. I am glad that Nathan Lyon finally got a wicket and I hope the bowlers get the rest of the Indian batsmen out today, so I can see some batting from the Australian side.
How about you? Do you like cricket? What is your favourite sport?
Please leave a reply for any feedback or comment and thank you for reading! Blessings to you all!!!


Acknowledgment to @surpassinggoogle for his @ulogs initiative. Thank you!