#ULOG 39 : Nothing Is Impossible ( Wilma Rudolph ) - A Motivational Story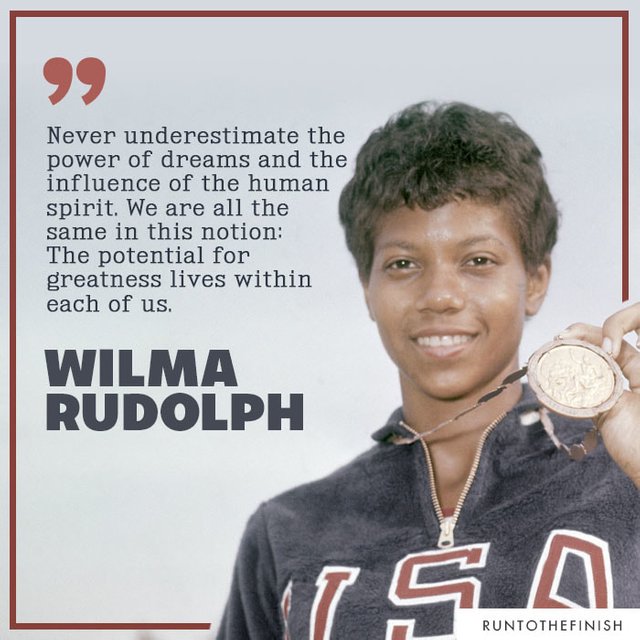 Hello my friends... Good Evening & have a nice day....I hope all of you will be good and doing their job well... 
Wilma Rudolph was born in a poor house in the US state of Tennessee. At the age of four, Wilma Rudolph became polio and she became disabled. Wilma Rudolph walked with the help of the calipers. The doctors refused and said that he would never be able to walk on the ground. Wilma Rudolph's mother was a positive attitude woman and she inspired Wilma and said that you can do anything, nothing is worthless in this world. Wilma told her mother, "Can I be the fastest runner in the world?" Mother said to Wilma, Believe in God, hard work and perseverance you can achieve whatever you want. At the age of nine, he insisted on removing his brace and started walking. After trying to remove the calipers, she suffered many injuries and pain many times, but she did not give up and tried constantly. In the end, the victory came and after a couple of years, she managed to run without any support. She participated in her first race competition at the age of 13 and came to the last position. But she did not give up and continued to participate in the race competitions. Despite losing several times she did not go back and tried and finally there came a day when he got the first place in the competition. At the age of 15, she entered the University of Tennessee, where he got the coach ad Temple. Wilma told the Temple his wish and said that she wants to be the fastest runner. The coach told him - "Nobody can stop you because of this same willpower and I will help you in this." Wilma continued to work hard and finally got an opportunity to participate in the Olympics. Wilma was confronted with a runner (Jutto Hen) who had not yet been defeated. The first race was 100 meters, in which Wilma won the gold medal by defeating Jutto Hen and also in front of Wilma in the second race (200 meters), Wilma defeated Jutto Hen and won the second gold medal. The third race was the 400-mile relay race, and Wilma's fight was once again from Jutto Hen. When Wilma's turn came, she lost her baton. But Wilma noticed that Jutu Hen on the other end was running fast. Wilma raised a fallen baton and ran fast like a machine and beat Jutta for the third time and won her third gold medal. In this way a handicapped woman (the doctors who had said that she would never be able to walk) became the fastest runner in the world and proved that nothing in this world is impossible.