ULOG 013 - Another day like other days + Minnow Support Project Delegation
View this post on Hive: ULOG 013 - Another day like other days + Minnow Support Project Delegation
---
Keeping up with posting daily #ulog is getting more and more challenging. Today, I went to train station on my own as my colleague (and neighbor) is on a night shift for the World Cup so he works from home. On Wednesday, I went registering a car that my aunt gave us last year so that my wife can have a car to go around while I'm using the car to get to the train station in the morning. But we are planning to sell it out sooner or later.
Witness report
Before tellin you more about my day, I thought I'd try to merge my witness report and my @ulog because Steem witness is also what I am so it fits the definition of a valid #ulog. And this update is going to be short anyway.
If you like what I do on Steem, then support me by upvoting for my witness. To do so, you can go on the page below, scroll down to the bottom, enter my name quochuy in the first text input and click on the UPVOTE button. Don't click anything else afterwards or it might cancel the upvote: https://steemit.com/~witnesses
Minnow Support Project delegation
@minnowsupport is a bot created as part of the Minnow Support Project (MSP) by a fellow witness @aggroed. The MSP has been created in order to help Planktons and Minnows develop on the Steem blockchain, it's probably the most popular feature of the MSP but it's not the only one. There are other great project such as the @msp-curation or @msp-waves (MSP Waves Radio) with events such as the Alternative Lifestyle run by @pennsif. If you want to know more, head to their Discord server: Peace Abundance Liberty (PAL)
I promised to delegate some SP to @minnowsupport as soon as I've reached a comfortable amount of Steem Powers and today, I have decided I can delegate 50 SP to this project and contribute to the growth of this bot and in turn help other Minnows and Planktons.
Witness & Seed nodes
The new witness and seed nodes are still running fine. No real update on this side. I'm still producing 1 block every 24 hours.
Team Vietnam
I'm still actively working with the Team Vietnam community I setup.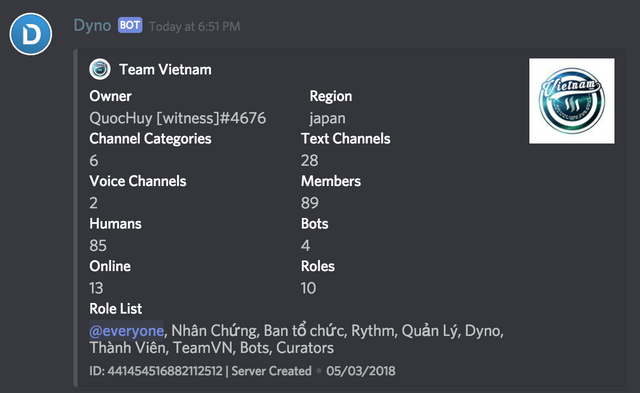 We've now reached 85 members and our community bot @teamvn has reached almost 3000 SP thanks to @qurator contribution and generous delegation from the Vietnamese community members especially: @nguyenthanh, @hoailinhvictoria, @thanhquyen and @nuoctuong.
This new Steem Power level means that our Vietnamese author who produce quality content (regularly checked) can get an upvote of $0.06 - $0.08 STU without the need of delegating any SP to the bot. Delegating some SP to the bot will obviously lead to higher upvote values which at the current time is $0.209 STU for the highest delegator.

That's it for the Witness update. Back to other stuffs that happened today.
I've discovered @steemitguide recently and today I paid visit to their blog. I'm quite impressed with all the guides around Steemit and other crypto currencies they are producing. Here is a sample:
As mentioned above, I was back in the office today. I was supposed to have two weeks of normal working hours but things have changed. Optus, a telecom company, that is sharing the broadcast rights to the World Cup (on different matches than SBS) have had technical issues very early in the season. This has caused many complaints from the users. But SBS saves the day and offered to dual broadcasts Optus' matches on our own network so that in case of another failure, Optus' users have a backup plan. As a result of this, we need more people, including developers, on the night shifts to cover all the matches. So I will be back on Sunday, luckily, this week, the shifts hours are more stable so I don't have to juggle between different times and my body clock can adjust.
There was a technical issue that prevented us from displaying advertising prerolls videos in front of the live streams. This has been fixed today to the enjoyment of the ad sales team. I know some of you will be crying out because no one really likes advertising.
But you know what? Advertisers are paying for your free access to the content!
Every piece of content SBS On Demand is offering you for free is actually not free. It's free for you, but the company has to negotiate contract and prices for the rights to broadcast and make it available in digital format. That costs a lot of money. Unlike ABC, we only get partial funding from the Government, for the rest, we have to find it through advertising. There are obviously other expenses for running and managing such a service.
I had to do some overtime today to get the fix deployed. On my way back home, I needed to change train at Gosford but I did a mistake... I got on the right train but on the wrong carriage... my local train station has a short platform and you can only access it from the back four carriages but I went on one of the front four! 😱So I had to watch the train go away from the station through the door's window. Luckily, my wife now has her own car, so I called her for a pickup three stations farther (because the next two are also short ones). Without a pickup, I would be home one hour later, waiting in the cold night.
Related content
---
Summary of some of my other contributions
| Project | Description | Link |
| --- | --- | --- |
| Steemed Phish | Chrome browser extension to make external links more visible and alert you on Phishing/Scamming links | Steemed Phish |
| Dtube Community Support | This project by @evildido allows users to run their own IPFS node and pin videos in order to cache them for longer. Dtube has the tendency of deleting non-popular video after few days only. I helped Dockerizing the project for an easier deployment on almost any platform. I've also contributed by running two nodes, one in Australia and one in Canada to cache #teamaustralia and #teamnz videos. | Dockerizing Dtube Community Support |
| DiscoSteem Bot | This is a Discord/Steem bot project by @planetenamek. When I started Steemulant Bot for the Vietnamese community, I didn't know the existence of DiscoSteem Bot and wanted something written in NodeJS. I've ended up continuing my own project as it contains code and logic for personal use and for the Vietnamese community. But I've decided to share some useful features that can benefit the users of DiscoSteem Bot and will continue to add more functionalities as I go. | Dockerizing DiscoSteem Bot |
| A Dollar A Day | This is a project run by @pennsif and will donate 15 SBD every day to a charity | "A dollar a day" fundraiser - Karaoke Singing: L'envie d'aimer |
---

Vote for your 30 witnesses
Support me by voting for my witness via SteemConnect
---
Credits
Related content
---

I don't follow for follow, I don't upvote for upvote. If you make quality posts that I like/enjoy then I will upvote and/or follow you