ULOG 051 - Thien-San's 7th Birthday
View this post on Hive: ULOG 051 - Thien-San's 7th Birthday
---
Today is our son's birthday, he's turning 7. This year we are doing a very small humble birthday lunch with my mate's family. Thien-San loves them and was very excited to know they were joining us.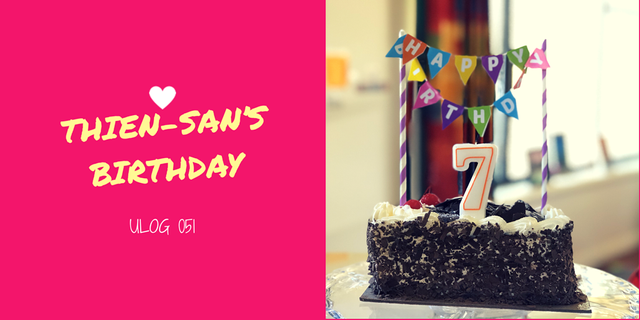 In the morning, I went for a blood test at the local medical center, with my luck, the nurse had to venipuncture me not one, not twice but three times to fill the two tubes! The first tube was filled nicely, then she switched tube and the blood stopped flowing. We changed arm and still no blood flowing... I told them to try again with another vein that seems big enough instead of having me to come back another day, she tried again and it worked. The Prednisolon (steroidal stuff) they gave me yesterday worked, after an hour or so, the pressure in my chest was gone and I wasn't coughing my lungs out anymore, that was a real relief. I now know how an asthma symptom feels like... not cool.
After the blood test, I got home and had my breakfast and took the family out to the Empire Shopping Centre in Gosford for San to choose his birthday cake. Mum would usually make the cake herself but with our health this year, we chose the easy way. The shopping center had a nice area decorated like an indoor area that was very interesting. Got us thinking we could do something in the basement playroom.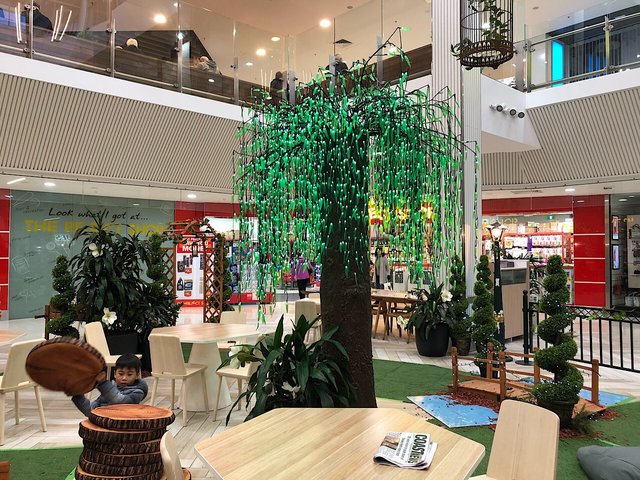 With a little some woodworking jobs and buying the fake plant/trees and light it should be doable. Still a lot of work though. I'll see, will have to get myself motivated this year. During our shopping, our family (abroad) and friends called or sent video messages to wish San a happy birthday.
Back home, I helped San setup his presents table: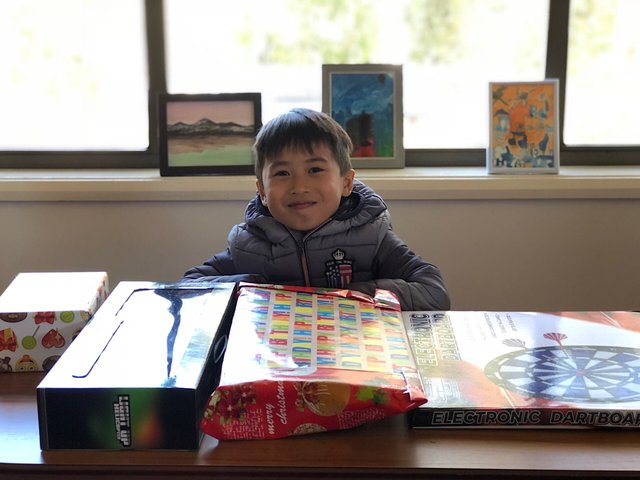 Then we jumped on the amuse-bouche my wife prepared with raw and cooked Salmon: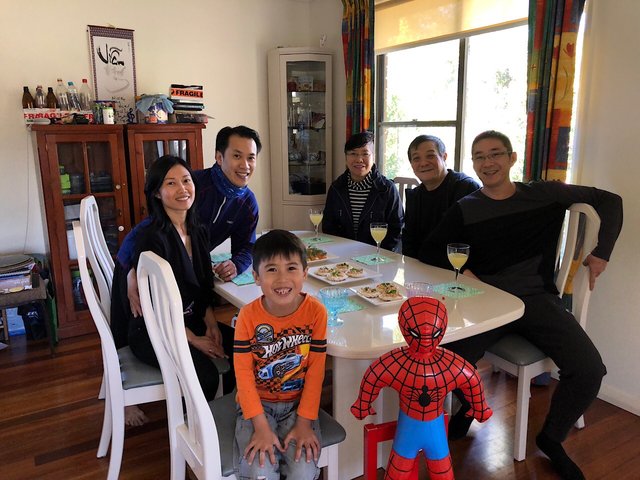 San was too excited that he could not eat a lot. He patiently waited for everyone to finish lunch before heading to open the presents.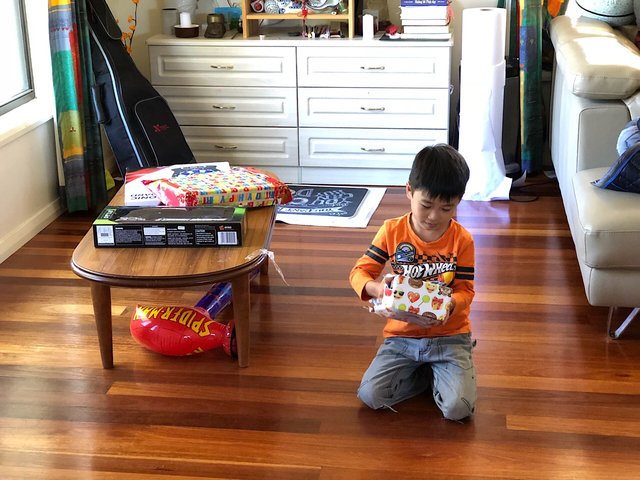 He's got RC helicopter and a dart board (plastic tips) from my mate's family, a classic Mickey Mouse car from our former neighbor from London and a Nerf Gun from us.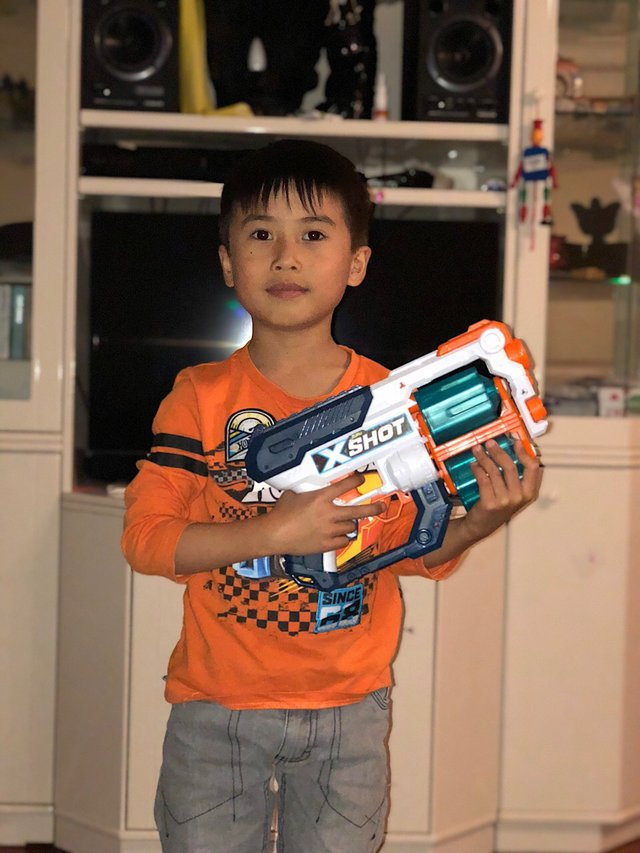 Cake time! San has chosen a Black Forest cake this morning, good choice 😄the cake wasn't the best but it was decent. San didn't really care, he still loved the chocolate!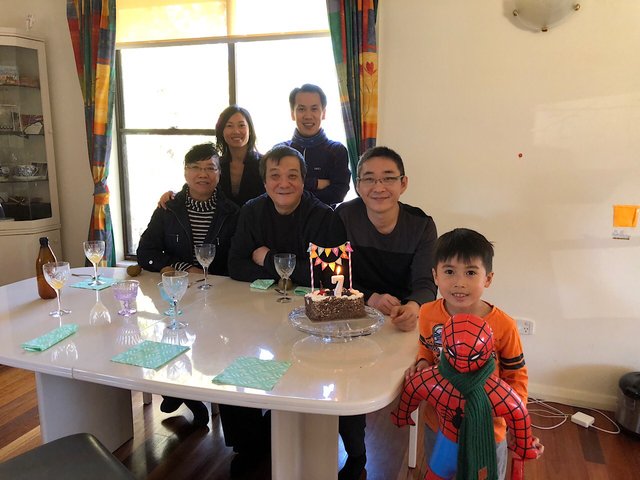 Here are San and his "brother", the inflatable Spiderman 🤣with the birthday cake.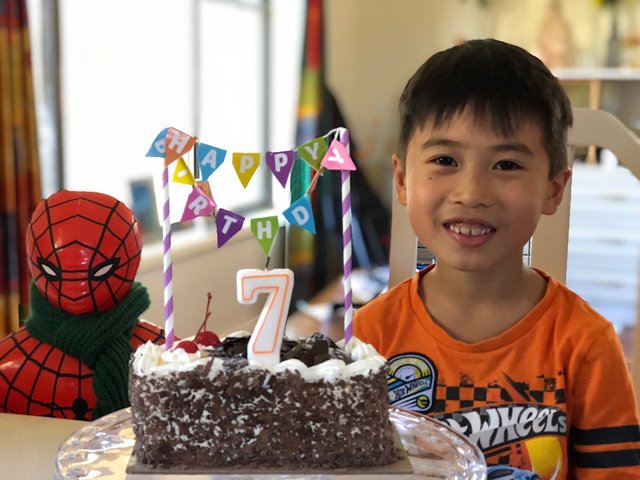 Let's blow the candle and finish that cake! Yay!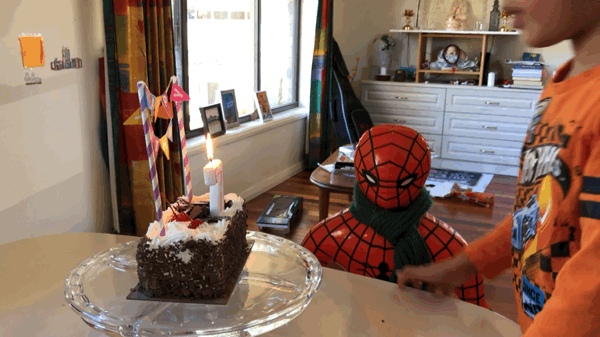 Everyone then spent the afternoon at the Japanese Garden in Gosford followed by a stop at the nearby playground and a walk in the wood by the side of Brisbane Water.
Happy Birthday my son! You've grown up so fast, I sometimes miss the time when you were a tiny baby I could hold in my arms 😍. It's been magical to see you learn and grow.
---
Related content
---
|   | Do more on Steem |
| --- | --- |
| | On Steem, Witnesses are playing the important role of providing a performant and safe network for all of us. You have the power to choose 30 trusty witnesses to package transactions and sign the blocks that will go in the Steem blockchain. Vote for me via SteemConnect to help me do more useful projects for the community. |
| | Join me on Homesteaders Online's Discord |
| | If you are Australian (even abroad), join #teamaustralia! |
---
Credits
The image at the top has been generated with the Canva app using my own photo.
---
Protect your money against Phishing Scam!
Cryptos accounts are the target of international scammers because they want your hard earned money!
Those people are very clever and in a moment of inattention, you've given them your login and password!
I've created a Chrome extension that can help you detecting scam links!
Install Steemed Phish Chrome desktop browser extension now!
Password and Private Keys security
You all know that your Steem password is the access to all your STEEM, SBD, posting, transferring, everything... right?
So, please, follow these simple steps and keep yourself safe:
Apart from the initial setup of your account, NEVER use your password ANYWHERE, if stolen, it will give full control to your Steem account.
Backup your password and keep it somewhere safe. Use a password manager like Lastpass, print it on paper and put it in a safe (no kidding). If you forget your password, no one can help you out.
To login for creating content and curating, use your Private Posting Key
To make transfers and account operations, use your Private Active Key
To encrypt and decrypt memos, use your Private Memo Key