19,916 Steemit Posts Across #ulog, Since Its Birth A Month Ago! Ulogs.org Is In Test Phase! We Can Now Simply Tell Friends To Join Steem To Try #ulogging!!!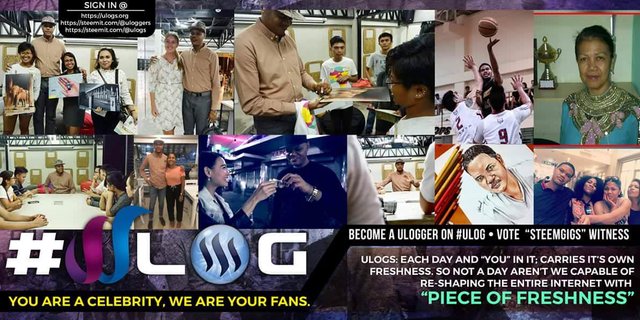 Promoting steem now can be as difficult as 1, 2, 3 and very organic too. You can now simply tell friends and acquaintances or gatherings etc to join steem "to become @uloggers". 
Or perhaps, simply tell them to "try out #ulogging" to pique their interest, then go from there. 
Since the advent of #ulog, there have been more than 19k posts on #ulog alone already and this happened mostly organically, without much promotion. You can identify this from the (ULOG-related comments) networks created in comment section of several posts, where some steemian is asking "P.S what's a ulog?" and a "true fan" is explaining what it is!
e.g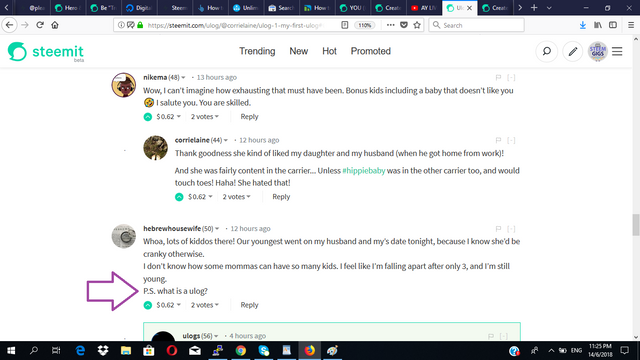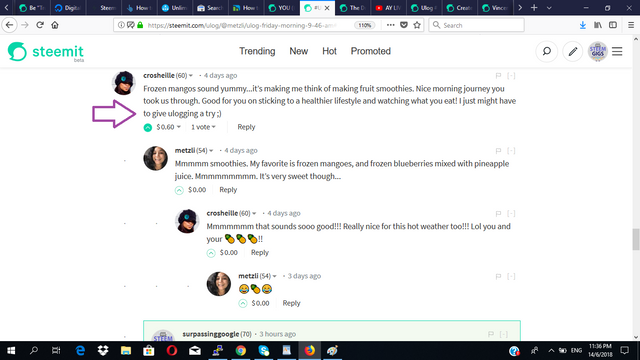 A network or pathway among @crosheille @hebrewhousewife and @metzli
Plus, "what a ULOG is" is easy to figure out once a ULOG is spotted. Well, because it comes out "fresh-looking"; different, authentic etc 
See how @snook felt upon finding out the simple art of #ulogging:
ULOG (even as a word) in spite of being "a new word" piques interest, because VLOG, BLOG are familiar words. This was very much intended as seen here!
@sykochica please help us with steemwiki, when you are chanced to, to write an article about the word or concept "ULOG. (ULOGGING, ULOGGERS etc)
We will add other dimensions over time. Perhaps, uloggers-mums, ulogger-singles etc who knows.
Kindly leave a comment if you are a contributor Wikipedia, to help us write about ULOGS on Wikipedia
In truth, ULOGS now appear each day, from a variety of nations and it is evidence of success. It is also an amazing sight to behold and 19, 916 ULOGS or even half that number in a month, adds a dimension to steem growth in the search engines. 
Too, it strengthens community, creates a buzz and excitement which is very needed at this time on steem, with the advent of some other blockchain-based social platforms. 
Plus, it gives "everyone", private or public figures one more reason to create a steemit post each day. 
Curation comes easy too, as curators become "true fans". 
Many new steemians are now starting their introductory post with a ULOG, finding "home" on steemit from the very start.
There also comes one more reason not to copy/paste; well, because there is no longer any reason to. 
Simply be "you" or simply constitute "You" at least once a day using your ULOGS and you will have "true fans" and at least an ultimate "true fan", your boy Terry.
The website is in works and being tested on https://ulogs.org: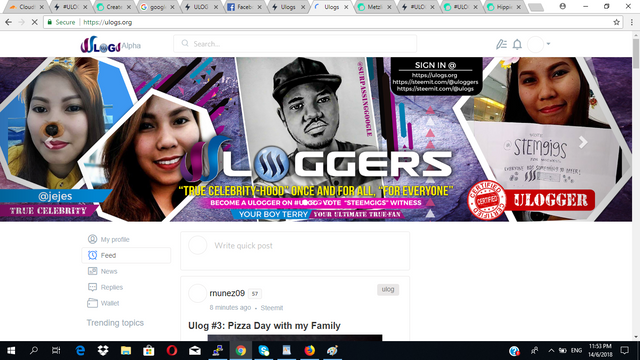 We will have a different post to explain where the website is headed but it will very much involve humans. We will explore a variety of rewards and steem; "let's see what "true fans" can do for you, just for you being "steemhuman"".
Here are the recent ULOGS that i found and i have featured them, for being among the latest ULOGGERS:
Another amazing thing is, #ulog is organically becoming the home for ULOGS. 
The content on #ulog is easily becoming freshly-created; "fresh", original, authentic and ULOGS are being created at a great and growing rate.
Note that, you aren't to stop your normal daily steemit routine because of the possibility of #ulogging. 
#ulog is simply another space on the steem blockchain that "you" can own as you dent your legacies on there for generations yet unborn.
Ofcourse, on #ulog you can be private figures too as seen in the case of @mermaidvampire but i tell you, "as you begin to fly, shine etc using your ULOG, even amidst your privacy, "you" is bound to shine forth". 
Also do not doubt that, more so than just upvotes etc, a ULOG opens you each day to real world/online-opportunities daily. 
Yes, when you ULOG, you stay present not only on steemit but in people's minds. People connect better to humans. 
A ULOG will manage to show you off down to your very core and innermost elements and i tell you, "people" are likelier to render giant opportunities to others met online, when they have come to know you.
Yes, venture capitalists, potential helpers, giant accounts etc will love to dig up and out your very legacies, to get established in their decisions to bring full-blown opportunities your way. 
Yes, you may have talents and all but when it boils down to real life, the real world, money, opportunities etc people will want to tap in, to "who you are", "what you constitute", "what you are about" etc. There are tons of testimonies to this.
Opportunities is a type of reward that exists here on steemit, apart from upvotes etc
Steemians are keying into the culture of creating fresh pieces of content (constituting U) daily, gifting to the internet instead of resourcing from it, thus, reshaping it.
Reshaping the entire internet with steemit is something i love to represent. I have used the internet for a long time and if "superman" can have more fans than "real humans", then, i am after "beautiful disruptions".
#ulog is simply an extra space on the steem blockchain for you. It doesn't have to change your normal steemit routine. Plus, you can always use your ULOGs to recount your entire steemit activity for the day. 
So yes, if you seek quality, a ULOG can constitute perfect quality.
Overall, if we are able to re-tap into our shine, lost shine or if we are able to simply just shine by means of #ulogging, then, i tell you; quality is bound to follow. 
If you feel "great", you will write "great content". Well, you will be "great" in most things. With ULOGS, it is "true celebrity-hood for "everyone", once and for all.
You can consciously decide to learn something new each day, for the sake of recounting your experience in a ULOG. You can use a ULOG to conclude "your online" day.
Yes, #ulog is really, really shaping up!
In due time, there will be fun contests to help us enjoy the "true art" of #ulogging. 
I take cognizance alot, of the undertone in the voice of communities and #ulog came about to help matters. 
In communities where daily life is tough, it is not like people just seek out money from steemit; thus, simply create content for the sake of rewards; "it is that "creating content" can be hard, when there is too much rigor.
Removing "all barriers to entry" is key in these growing communities and it is where #ulog comes in as so did un(dis)talented etc
With regards to promoting steem and growing it, it is the same. You need to feel solid, great, beautiful, "true celebrity" etc on steemit, to tell people resoundingly to join steemit. 
It does very much involve "removing barriers" to entry. 
In general, in growing communities etc e.g the Philippines, where internet isn't easy to come by etc we grow an improvised interaction with the internet over time. 
Beyond that, frontally promoting steem as a place to earn rewards doesn't always go to plan. People do become apprehensive when you talk about earning online, especially, when they have come to try loads of things online in the past, without success.
Now, if you want to tell people to join steemit, you can simply say; "have you heard of #ulogging; would you want to try it" and they go; "what is a ULOG" and it is easy as sharing with them this:
and this:
Kindly share the above also with others who try to #ulog but require more tips as your curate on #ulog as "true fans".
Yes!
It is essential to remove all barriers to entry first. Make things as mainstream as possible first and leave the rest to the way steem is. 
Let me speak about history a bit. Yes, steem is very well modeled to put you on the route to finding things out. 
Many who join steemit and who are great bloggers now, didn't start out as bloggers etc 
Many cryptocurrency traders on steemit today, found crypto for the first time upon using steemit. 
etc
Steemit does all have all the "mining paradigms" in its design, to instill into its users over time, "a culture of mining with minds".
It is different now and much better. Unlike the past, where you arrive on steemit and can easily get so lost; there are currently many communities looking to take you in and tend to you. 
Yes, steemit can now tend to the masses better. This wasn't the case in the past. 
These days as per promoting steemit, you can easily tell people to sign up on steemit and there are many vibrant communities willing/longing to help you, sustain them etc. So why not?
When it comes to removing "barriers to entry" with regards to steem promotion e.g in the Philippines, it can now also be as easy as telling friends, acquaintances or gatherings etc; "have you heard of #ulogging?" and as you explain what #ulogging is, they are signing up.
You are basically telling them to earn rewards for becoming "true celebrities". Many here and in many parts of the world, already have been #ulogging daily, without knowing it. They do it for free. On steemit, they would #ulog and attain "true celebrityhood" and a variety of rewards.
Visit the current certified and verified ULOGGER in the person of @enjieneer to see what/how i mean: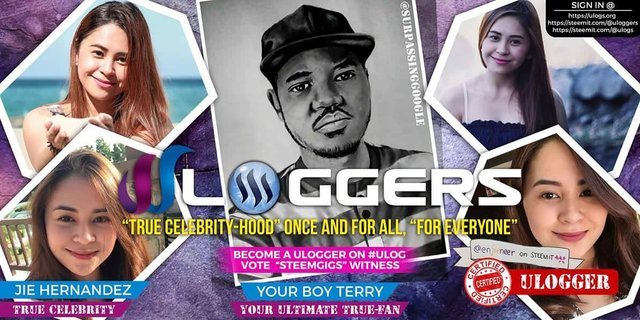 Please become her "true fans"
As regards, creating "great content", leave that to steemit and its community as well, the now many "uloggers" all around steemit. 
In the past month alone, there have been up to 1000 loving/educational comments from @ulogs and @surpassinggoogle accounts alone, not to mention the countless similar-breed comments from "true fans" on #ulog
There have been around 2/3 discord talks on SteemGigs discord server of 8 to 10 hours of talk each, that has touched on "Ulogs, Ulogging, Uloggers etc
There is also https://surpassinggoogle.com that has been set up, that will emanate an ever-growing video series to help us all enhance our steemit journey etc
https://surpassinggoogle.com
Note that there are always odds, hence some slowness e.g Getting the domain surpassinggoogle.com took persistence on my part because of the word "google". 
Then, recently as @cadawg tried to get "https:// protection" for surpassinggoogle.com, he had to dig/grind too as it got refused for having the word "google"; but he dug and grinded etc, so that we can all have:
https://surpassinggoogle.com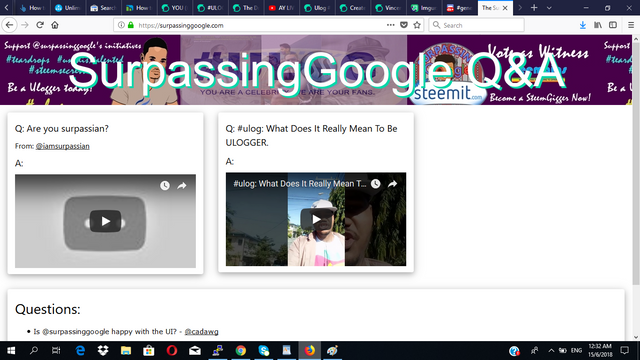 Note that https://surpassinggoogle.com is going to hold a very grand steem project in the near future modeled to enhance content curation and discovery on steemit, while mining more of the human. The project is going to be "Surpassinggoogle with Steemit".
Alot is in place for ULOGS in terms of the value it will add to steem but there isn't only ULOGS as there has been many other projects that has been part of the entire curriculum e.g un(dis)talented, teardrops, steemgigs etc and more to come. Overall, it is about steemit/steemit as a whole and i look to inspire "steemians" regardless of content-type. 
A ULOG is simply another steemit post
For now, i will pause!
Your Boy Terry
Let's Grow Steemit/Steem Inside-Out With One Other Hack!!!
Let's Grow Steemit/Steem Inside-Out With One Other Hack!!!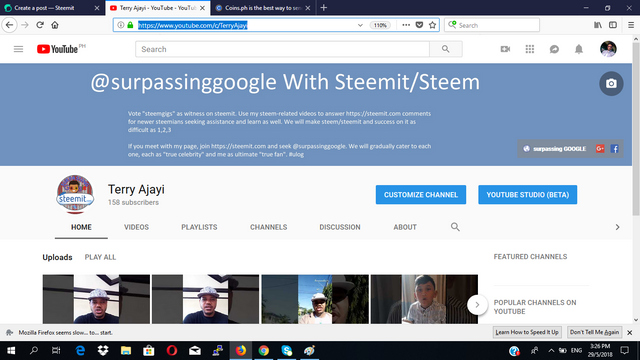 Click Here: https://www.youtube.com/c/TerryAjayi
I will be waking the YouTube channel up and storming it with  steem/steemit related videos. My videos will contain rare Intel, "no  books" involved (in assimilateable bits). 
I would look to use each video to make "success" in relation to steem/steemit and especially "life" as difficult as 1,2,3
 Quick Update:   
#ulog   generated more than 6,000 comments and 2029 posts within the first 6   days since the tag was born. Join in and become a ULOGGER today. 


We are seeking coders/developers to help, by means of utopian.io or direct contributions. I would like to invite all coders/developers, to show up on our SteemGigs development channel. 
Kindly visit and use our steem-based website today
https://steemgigs.org
Note that on SteemGigs, "everyone has something to offer". At the very least, you can update your profile on our website to open yourself up to more potential possibilities and improve your general reputation even  within the steemit community.  
To create awesome steemit posts, try our "un(dis)talented editor". 
Read our detailed FAQ & Answers
 
You can use the divider that i used for your posts as well:  https://cdn.steemitimages.com/0x0/https://cdn.steemitimages.com/DQmZjQstnMTKFPUC2wWfTssa7cRXxCzvWMjzfvis6HkSbwn/divider.jpg  
I do need strength
Dedicating My Entire Steem/Steemit Journey To My Mum
If you want to support an extra witness and you support mine "steemgigs", it will be really helpful. 
To vote my witness, simply visit https://steemit.com/~witnesses and type in "steemgigs" into the first search box for witnesses or simply click Here to do it on one click!
If you want me to make witness voting decisions on your behalf, simply visit https://steemit.com/~witnesses and type in "surpassinggoogle" in the second box for proxy. 

Let's Go!!!
Offer a service under hashtag "steemgigs". Attempt out-of-the-boxness on hashtag (untalented). 
Join the Steemgigs Community on discord: https://discord.gg/CGuPyyT  
"Everyone has something to offer!" Why not?