"The World Needs To Hear From You. Even Steemit Is Calling!" Now, You Can Answer. "Create A ULOG Today". (The "U" in "Ulogs" represents "YOU".)
If you don't know what Ulogs are just yet, ransack and digest this post. 
The birth of Ulogs
Yes "YOU", is what's pertinent and media formats e.g no-Vlogs, no-cameras, shyness etc should pose no barrier to you extending  "YOU" to us and to the world, ever-constantly; "tirelessly".  
You are celebrity and we your fans.
Ulogs are borns and are ever-handy
Style-Guide For A Ulog
This post will draw out a style-guide for how a Ulog can look like. 
These aren't rules per-say, thus, just be guided by the principles within this post; "flaws allowed". You are allowed to be un(dis)talented.
Basically, we want real stuff. The real deal. "YOU"!!!.
We want to leave outer-space just a bit and come back down-to-earth.
We want you to shine. We want you to lit the steem blockchain and shake it with your beauty.
We want you to evolve. We want to see your flaws. We want to forgive them.
No longer should a day emptily slip by, without "your shine" in it.
The world and its toughness can deaden and relegate "our shine" into remoteness and forgotten-ness; by means of the steem blockchain, we want to use each day, to recover some of "our shine" back.
This is it.
No more will there be a day on the steem blockchain, when you can say, "i don't have a steemit post idea. 
Each day and "YOU" in it; carries it's own freshness. So, not a day aren't we capable of re-shaping the entire internet with a piece of freshness.
No longer should there be a day, when we can't add value to the steem blockchain.
With @ulogs, we will look stir a curriculum that incites each steemian into a culture of Ulogging. We will create a trend for #ulog/#ulogs on the entire web-space, filling it with the indispensable awesomeness called; "human"; steemhuman; "steemians".
With Ulogs, you now have at least one steemit post idea daily, that constitutes YOU. No longer, should there be a day, that the world is starved of your beauty.
The world needs to hear from You. The world is calling!!!
A Ulog should contain "YOU" and your day; "each day". A Ulog is a steemit post. It can contain any form of media that constitutes you, e.g Vlogs, images, text or a combination of all. 
Ofcourse, you can relate the events in your day and as much of it as you want. With each passing day and each Ulog, you must evolve in your very substance.
Thus; here is a little style guide that you can use when you write a Ulog:
It is better when a Ulog is "once a day". 
It should be about you or events in a day, related to you
You can talk in an undertone, if you want to maintain privacy
It can be a Vlog. (For Vlogs, you can post to Dlive, Dtube or Youtube + Steemit)
The edge of a Ulog over a Vlog is; you don't need to have a camera and the right selfie-stick or right poutty-lips etc to document or record your awesomeness each day, for you have your very handy, ever-present memory, hearts and minds; thus, you can record all that happened each day; all that involves "you", in entire steemit posts called "Ulogs", whether you were able to create a Vlog or not, because its all about "Ulogs" now. 
Ulogs can contain pictures but where pictures are used, these shouldn't be resourced from the internet, instead should be fresh pictures involving you or events and locations within your day.
Ulogs can exist without images but steemit posts in general as always better with images. (Where you are not able to take fresh pictures, you can always use old pictures, or craft out avatars, art or any graphic media that is original and shows "YOU" off.
Tell us how your day went.
Tell us about how you feel now and how you felt all day
Tell us about who you met and about who met with you.
Tell us about your kids; about your friends; about your pets.
Tell about your new shoes and where you wore them too and about who complimented your shoes.
Tell us about how you cleaned your mirror several times, so you can see your face
Tell us about what you saw, when you looked in the mirror.
Tell us about a new fan and why you feel the person became your fan.
Tell us about steemit, how you used it during the day; what amazing thing you saw on it; who you met on it; who you became a fan off on it; what new things you learned on it etc
Tell us about your resolutions for the day and if you met them or failed at meeting them.
Tell about the dog that barked at you and of how your cat meowed back and shooed the dog off.
Tell us about your stubborn boss and how you dealt with his stubbornness that day.
Tell us of how you solved someone's problem or of how you solved someone's problem.
Tell us of how the ever-missing piece of your puzzle popped out during a casual conversation with an acquaintance, stranger etc
Tell of us of how you got a contract to decorate the interior of 10 private jets.
Tell us of how you got drunk and regretted it or enjoyed it.
Tell us of your date plans and failed date plans.
Tell us of how you got one step closer to your dreams or went two steps back.
Tell us of how she said "no"; of how you got hurt and of if you tried to forget your hurt or of if you "took charge" and converted your hurt into "drive" for creating more beauty
Tell if you forgave someone. Tell us of how hard it was. Tell us if you didn't forgive.
Tell us if you turned the other cheek, when you got slapped or if you slapped back.
Tell us how things didn't go your way and how you improvised or how you tired out.
Tell us about "You" and everything that constitutes "You".
Put "You" in each of our days, using a #ulog.
Tell us "You" were here; "present" in the world today.
Don't starve us of "your beauty" today, for you now have a #ulog.
Be celebrity, let us be your fans. 
etc
Do A #Ulog Today.
We need new stories. Heartfelt experiences. Dynamism. Not too many crypto-kitties. Not too many pugs. More "humans". 
We want real! 
There is nothing as fresh (in terms of content) as "pieces of us". It is dynamic, fresh, unique, rare. And no "two days" are exactly the same, especially with "You" in it, for we accrue experiences, new moments, new adventures etc. We aspire new resolutions and fail and succeed and "succeed overall", by virtue of "the gift of life" and this we will document celebratorily on the steem blockchain here on @ulogs. 
Basically, we will start a movement here on steem, using solely our steemit posts to create our Ulogs, before we decide on moving forward onto a steem-based interface. 
You don't have to be a Vlogger, for you to become some form of celebrity.
You can be Ulogger and "all that's needed is "YOU" and each day and this we will celebrate".
We will be curating either of the tags above gradually. It is not necessary to use both tags. You can use either and 4 others tags that you would normally use. 
Please help make it easy for us by keep it one #ulog a day and may it only be Ulogs.
We will look to vote on as many valid Ulogs as we can each day but note that in our case "votes" will constitute its very true essence; "love"; "incessant testimonies of possibilities"; "lasting-lasting inspiration" and "a celebration of You"; moreso than financial rewards or a measure of quality.
Many things involving "you", including content related to "You"; is priceless
Make sure you use #ulog or #ulogs, then continue with 4 other tags like you normally would. If you have tags related to your location, that opens you up to more exposure e.g #philippines #nigeria #venezuala #aceh #usa #canada etc please maintain those tags too, so that you don't lose out on possible curation from those community curators there. 
Also note the since Ulogs involve you and events in your day, your location may very much be involved, constituting a valid tag
We will look to curate as many interesting Ulogs as possible each day. 
The "U" in "Ulogs" represents "YOU". 
With amassing numbers, it is possible to miss out on some, so please note that the essence of the Ulogs movement is to remove "barriers to entry", when it comes to "mining the human", using each content blog that we create. 
Learning; especially learning about yourself; is the ultimate earning.
Moreso, by means of our Ulogs, we will be creating historical history by reshaping the internet; surpassing Google in the process. 
Our growth will keep us ever-present on the web-space; opening us ever-incessantly to opportunities; "even breakthrough opportunities". Too, our kids and generations yet unborn will read of us and know that we were here each day, evolving in our substance, so that we can leave them legacies behind. 
Then, we will have fun, fly, shine. 
And if we have lost our shine, we will gradually restore it and begin to shine again, like the celebrities that we truly are: "light in the tunnel".
Here at @ulogs, we also try to keep a repository of Ulogs, thus, we will have feature-posts creating summaries of these amazing Ulogs and celebrating Uloggers further. 
In the right moment, we will consider adding Ulog as part of a steem-based app.
Overall, we will create a trend with #ulog worldwide, with a new trend of Uloggers emanating worldwide. A world filled with many more of the awesomest version of "YOU(s)" each day, is a much better world. @surpassinggoogle
World Adjustment.
@ulogs is production of @surpassinggoogle and a subsidiary of @steemgigs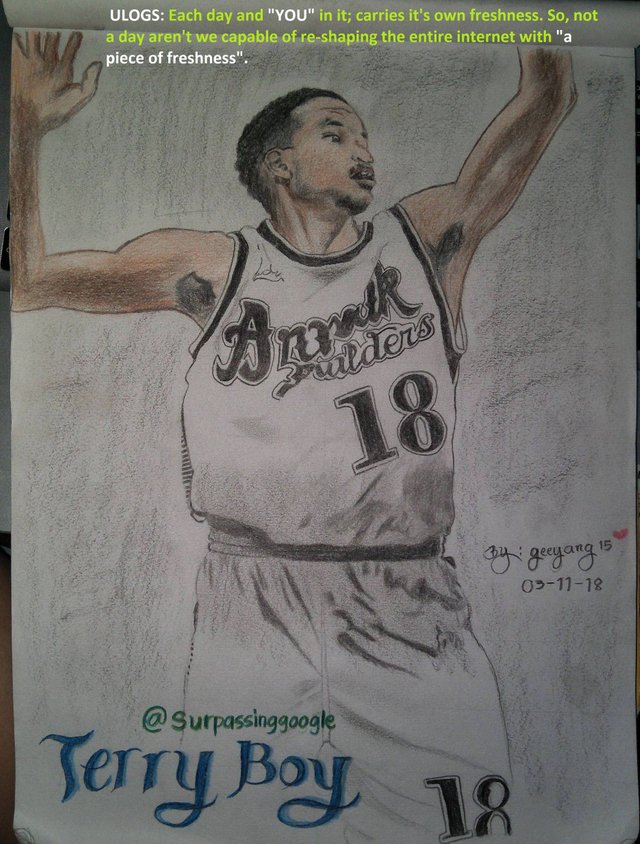 Join the community HERE!!!
If you have spare vote kindly vote "steemgigs" as witness by visiting https://steemit.com/~witnesses and typing in "steemgigs" into the first search box for witnesses or simply click Here to do it on one click!   
If you want me to make witness voting decisions on your behalf, simply visit https://steemit.com/~witnesses and type in "surpassinggoogle" in the second box for proxy.   
Special Reference
 The Birth Of Ulogs. "You Are A Celebrity, So Why Not Just Ulog?" No Video Camera; No Problemo.