UNIFINITY: TRANSFORMING THE EDUCATIONAL SECTION VIA BLOCKCHAIN TECHNOLOGY.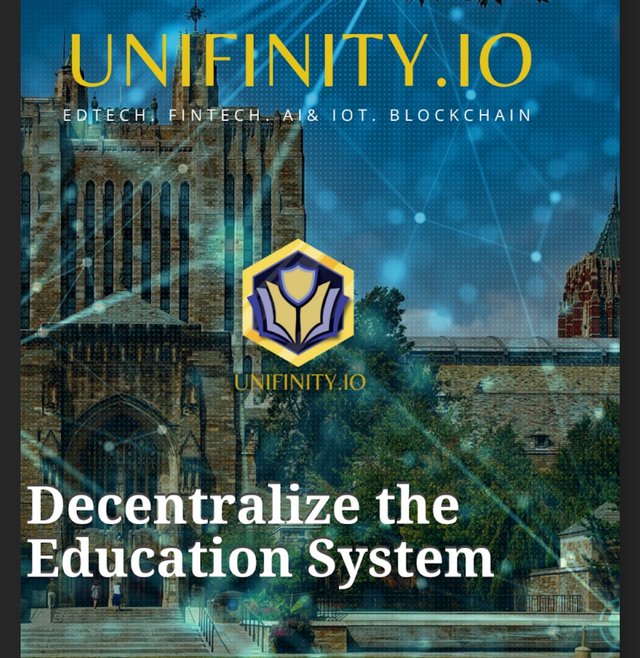 Hello readers, in this article I shall be pointing at a unique project I came across while searching for some good blockchain projects. We all are aware that the advent of blockchain technology has given rise to different projects from different sectors of the global economy, but we are yet to see one good blockchain project associating with the educational sector which is a very important sector. 

There is no doubt that despite the importance of education in our society, so many aspects of this sector have been neglected which bring about different challenges to students, lecturers as well as parents.
However, UNIFINITY has been designed to solve these challenges while adding value to educational sector globally.
YOU NEED TO KNOW WHAT UNIFINITY IS UNIFINITY
UNIFINITY is a platform uniquely designed by a team of highly intelligent professionals and experts in different aspects of businesses and technology including blockchain technology, cyber security, mobile application etc. This platform is created to help in bringing together every area of education such as checking and following up students' performance, attendance as well as finding out student's interest in a particular course. With this, parents will be able to tell how well their children are doing in school and know the next line of action to take. All these and more using a Decentralized mobile Application.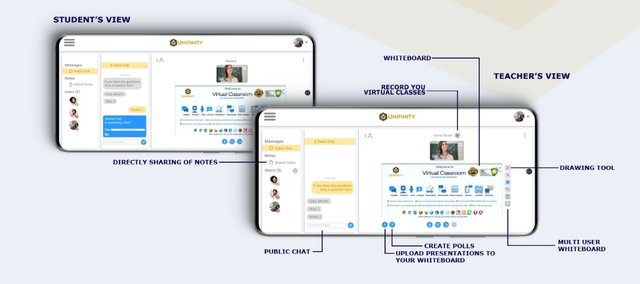 WHY THE BLOCKHAIN?
The innovative features of blockchain technology which include immutability, Decentralization, trustworthiness, efficiency, fast, security and other features have encouraged UNIFINITY to choose using blockchain in transforming the educational sector.
With the use of blockchain technology, any participating university will be able to securely arrange and store student's data and retrieve same when the need arises. This will help those universities to ensure accurate academic certificates depending on the performance of every student. Also, users will have access to a reward system and earn some incentives depending on their activities. Students will as well be able to pay their bills using the bill payment porter provided on the platform at a relatively low cost.
THE EXISTING CHALLENGES IN THE EDUCATIONAL SYSTEM.
When we consider the existing university system, there are numerous challenges that require a huge attention and kudos to the Team behind UNIFINITY for spotting out the challenges and creating a blockchain based platform that will proffer solutions to them. Some of the challenges include though not limited to:
Some Students identity are fake: in the current educational state it's easy to have students whose true or real identity is not known and in the face of crime it will be difficult to trace such a student. . But with UNIFINITY such challenge will easily be spotted. Since whatever information is stored on the blockhain cannot be altered.

Time consuming: During student enrolment it takes a whole lots of time, administration is also delayed. Since these activities are carried out manually it takes a lot of time to finish. But with UNIFINITY the process will be automated and the process of enrolling and Administration done without stress.

Delay in payment of University bills; most of the time student refused or delayed in paying tuitions and other fees in school as a result of lack of a good and reliable payment facility. Some people involved in collecting the fees do end up defrauding the university. The good news here is that UNIFINITY is designed to work with blockchain and artificial intelligence which will allow fast and trusted bill payments with accurate accountability. I am sure every University will desire such a platform as UNIFINITY .

Another challenge commonly found in the existing university system is an expensive software and maintenance of management system. On UNIFINITY platform, Universities will enjoy free software management and maintenance. This will help in reducing the cost of fees paid by students in those universities.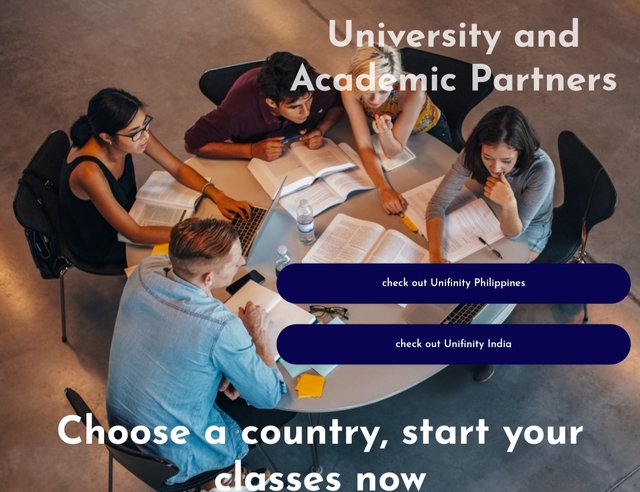 SOME UNIQUE FEATRURES OF UNIFINITY
-Users will be able to enjoy full management framework and other tools in a Decentralized application without paying for software or license fees.
Users will be able to customize their own landing page in just a minute even without having any coding skills. This is really interesting.
-Users of UNIFINITY will be able to carry out fast transactions sending and receiving payment in less than a minute.
Users will enjoy a web application which is completely safe and secure
UNY TOKEN
This token will be used as a utility token that will serve as the main token of the platform and shall be used for several services on the. It will also be used for payment of rewards and incentives on the platform.
The creation of UNIFINITY is a unique idea that will not only transform the university system but will also encourage a lot of more individuals and government into the adoption of block chain technology and the use of cryptocurrencies.
There are more information you need to get concerning this innovative platform please make use of the links below:
Website: https://unifinity.io/
Whitepaper: https://drive.google.com/file/d/1-5tQwYOP6JQQIgZfZ5Ez6bMfz4qJ4OTM/view?usp=drivesdk
Telegram: https://t.me/unifinity
Facebook: https://www.facebook.com/Unifinityph
Bitcointalk profile : https://bitcointalk.org/index.php?action=profile;u=1760015;sa=summary
Bitcointalk name: nesbee2