First UFM Post Payout + Contest (Prizes Include UFM Power and SBI Shares)
1st Post Payout


The first #upfundme post with rewards has paid out. This lucky user received a large portion of the reward pool due to a lack of competition for posting within #upfundme.


Posting Contest


Over the next week, we will be giving away UFM Power and shares in #steembasicincome to some of you who post in #upfundme. Amount donated will be decided on a post by post basis. Plus don't forget about rewards earned in UFM and other tokens once your post pays out.


To Qualify:
Create an original blog post using #upfundme as one of your tags.
Resteem this post to help spread the word.
Comment below with a link to your post.
Contest ends when this post pays out. (On Steemit)
Rewards


Higher quality content may receive better rewards. We are looking to give out up to 100 SBI shares and 10000 UFM Power total. Totals will depend ultimately on contest participation.
You may be rewarded in the form of an upvote (liquid UFM at post payout), staked UFM sent to your account, sbi shares or a combination of all three.


Small UFM Changes Update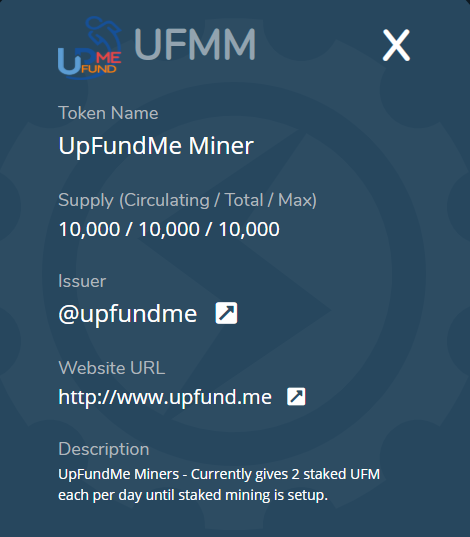 We updated the description for miners today so those who purchase are more informed. You can grab up some miners
here
before those available are gone.
Both UFM and UFMM also now link out to http://www.upfund.me, our future home.
@ufmbot was created to be the future home for our bidbot sink taking in and burning UFM in exchange for STEEM upvotes.


In Case You Missed It


UpFundMe Update: UpFundMe Token and [Soon] UpFundMe Network and UpFundMe Miners + Giveaway (Giveaway Closed)
UpFundMe Update: Discounted Miners and Staking UFM + More Reward Details
UpFundMe Update: Progress Report + Mining
UpFundMe Update: Burning The Extra + Giveaway (Giveaway Closed)
UpFundMe Update: Posting Rewards and Crowdfund Structure + More