Trump does not know English!
Trump does not know English language well! Thinking of a retired English teacher
The White House signed a letter signed by President Trump to Ewan Maison. The language of the letter was forgotten. And the retired teacher was trying to live up to it. The New York Times and The Independent say, seeing a mistake, what a teacher is doing, just what Mrs. Meyson has done. The President sent the letter back to the mistakes
Evan Mayison, recipient of the letter dated May 3, printed from the White House. Age 61 He has retired last year after studying in 17 years of high school.
Immediately after receiving the letter, opening the pencil purple purple, Mrs. Meisan sat down in the correctness. Then publish a picture of the letter on his Facebook page. And the letter was sent back to the White House address.
Mrs Meisson told South Carolina media Greenville News, "If I made such a mistake in secondary school, I would have given" C "or" C + "grade. And if we made the mistake in high school, then "D" grade.
He did not give any grade in Trump's letter.
Mrs. Meissen said, 'It was too much forgotten. I do not tolerate so much wrong. If someone can write well, then it should be done. '
There is a lot more error in the letter, but Mrs. Meisan did not do everything right.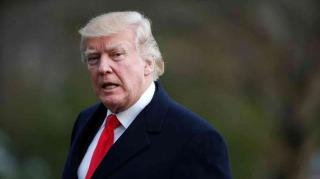 The letter signed by President Trump Photo: taken from Facebook
The letter signed by President Trump Photo: taken from Facebook
In the letter, he got 11 wrong words related to capital letters, among those words there are words like 'President' and 'State'. These letters were written in the capital letter. According to the general rules of English, these are written in small letters (lower case letters), unless the words sit before any name or position.
In the US government's English style chest, there are words to write in the capital letters.
Mrs. Meisson, a Democrat living in Atlanta, is a Democrat. In February, a letter was sent to President Trump, asking all 17 of the people killed in Parkland's schools to meet President Trump.
The letter from the White House was primarily an answer to Mrs. Meyson's letter. But the answer is that he is a liar.
With the letter of Trump, this teacher draws comparisons of Republican senator Lindsey Graham's letter. He said that the letters were written accurately and it was subjective.
Mrs. Meissen thinks that the letter did not write the President Trump; Rather, a white-white tycoon wrote. He said, 'When you get a letter from the government high level, you will not want to see any grammatical mistakes in it.'
Trump administration has already created a lot of humor in grammatical mistakes.
Trouble tweet was wrong until the words of President Barack Obama. Besides, 'rediculas', 'policyman', he has also made mistakes in making spellings.
Special Thanks to : @originalworks @Originalworks @minnowpond @followforupvotes @minnowsupport @banjo @dorabot @dropahead @gaman @abasinkanga @skreza @kevinwong @craig-grant @juneaugoldbuyer @blakemiles84 @bobbylee @paco @crypt0 @trevonjb @yuliana @thecryptofiend @chriscrypto @jonnyrevolution @brianphobos @craigrant---- @craigrant @TrevonJB @trevonjb @CraigRant @Craig-grant @upvoteforupvote @followforfollow @itchykitten @martin.mikes @jean-gregoire @kedjom-keku @ecoinstant
Non bid bot upvote services: @treeplanter @echowhale @zappl @life @weather @thunderstorm @followforfollow @upme @luckyvotes @mercurybot @bearwards @postpromoter @redlambo @upmewhale @allaz @steembloggers @sneaky-ninja @booster @aksdwi @boomerang
Bidder beware: @mrswhale @getboost @hr1 @bangla @bdbot @sadbin @originalworks @minnowpond @followforupvotes @minnowsupport @banjo @dorabot @dropahead @gaman @abasinkanga @skreza @kevinwong @craig-grant @juneaugoldbuyer @blakemiles84 @bobbylee @paco @crypt0 @trevonjb @yuliana @thecryptofiend @chriscrypto @jonnyrevolution @brianphobos @craigrant---- @craigrant @tosch #upvoteforupvote #followforfollow @itchykitten @martin.mikes @jean-gregoire @kedjom-keku @ecoinstant