SMOKE NETWORK IS SET TO RELEASE OFFICIAL MAIN-NET BLOCKCHAIN BASED SOCIAL NETWORK.
I am pleased to announce that smoke network is set to release it Official main-net. This main-net comes with amazing features just like steemit. The smoke coin on main-net will have value, unlike on test-net whereby smoke coin does not have value.
Currently, 1 smoke coin is 0.1$.
For those who are new to smoke network, please continue to read this post for you to know more about it.
GitHub:
https://github.com/smokenetwork/smoked
NEW FEATURES IN MAIN-NET OFFICIAL RELEASE
All posts won't be 100% power up, unlike the tester-net where all posts are 100% power up which allow users to earn payouts in smoke power only.

The smoke coin have value unlike on tester-net where it has no value.

The main-net is more user friendly in such a way that users can conveniently upvote and downvote posts, post articles and Images.

Users will be able to trade smoke for other cryptocurrencies like bitcoin, ethereum, doge coin etc.

Moreover powering down smoke power into liquid smoke is made easier.
WHAT IS SMOKE NETWORK?
Smoke network is the fastest growing cannabis network, moreover the social media application designed for the cannabis community aimed at rewarding users for active participation on a block chain based social network. One of the main reason I so much love smoke network is that, it is not control by a central authority, it is owned by it users. It is a self-funding when it comes to reward system.
GENERATIONS OF SMOKE NETWORK BLOCKCHAIN
The Test-net popularly called 'HALF-BAKED'
It was launched last month, with the motive of testing how the main-net will look like.
Some key features of the test-net are;
Exploring users.

Upvoting posts.

Receiving rewards.

Posting articles.

Familiarity with users.

Familiarity with the rules and regulation guiding the block chain so as to avoid violation when main-net is launch.
It should however be noted that, all received rewards on test-net are 100% power-up and cannot be power down to liquid.
Some demerits of test-nets are;
All smokes earn can not be trade for other crypto currencies.

All received rewards have no value, and there is no guarantee that it can be valued when main-net is released.

It is time consuming.
The procedure for registration on test-net is almost the same with that of steemit, and infact posting on test-net looks directly as posting on steemit.
Below are images showing how the test-net looks like.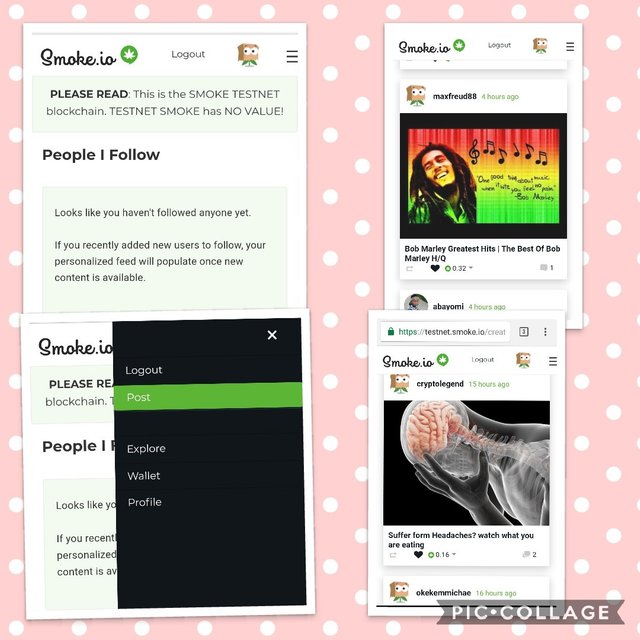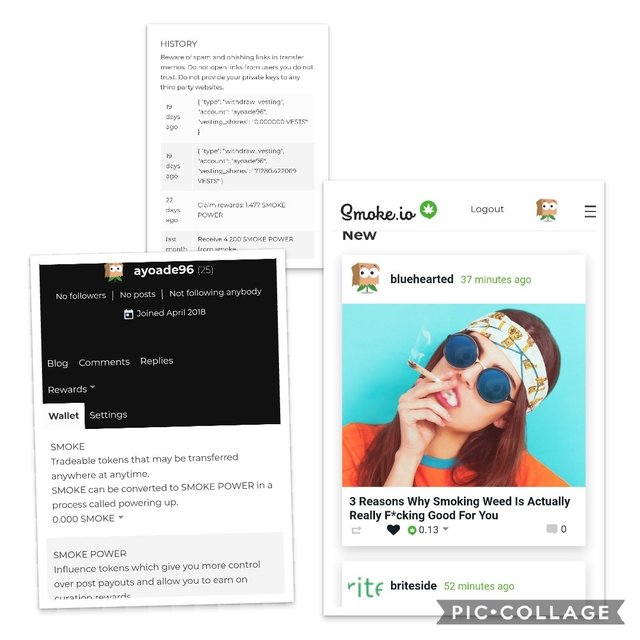 For more broad and full information about test net, kindly visit;
https://medium.com/smokenetwork/smoke-network-testnet-half-baked-launch-marketing-partnerships-and-more-109f103e8cd9
The Main-net popularly known as 'FULL-BAKED',
As discussed earlier, it is said to be release soon. According to smoke admin team before the launch of the ICO and AIRDROP, main-net is said to be release after the End of ICO and AIRDROP.
Unfortunately both had ended today. So we are anxiously waiting for the launch.
Key features includes;
Connecting with like minded people.

Genuine account creation and recovery.

Easy, sending and receiving smoke without fees and much more.
WAYS TO EARN SMOKE COIN
1.By participating in the Airdrop.
There are several ways to earn smoke here, as can be seen in the image below;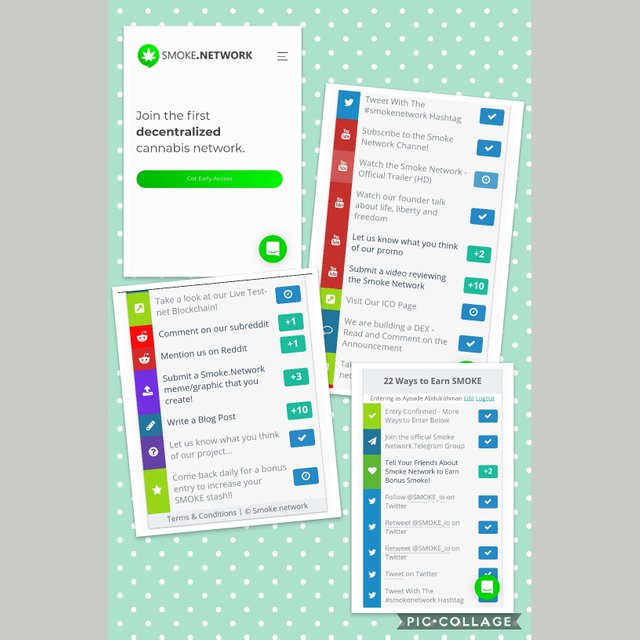 The airdrop has ended today, but If the main-net is not launch soon, am very sure that the airdrop will be extended for everyone to participate in. Kindly stay updated.
2.By Participating in the ICO.
Here, users are expected to buy smoke coin at discounted prices.
Accepted currencies for purchase are; Steem, BTC, ETH, BCH, etc
The ICO has ended today too as can be seen in the image below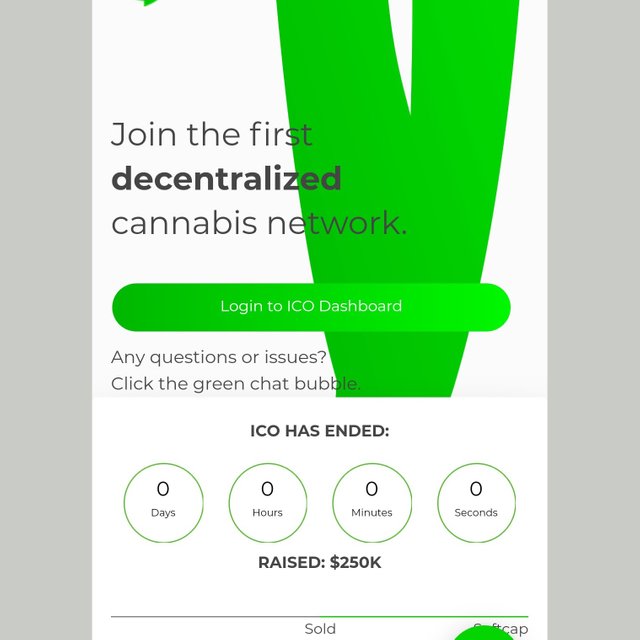 OPEN SOURCE
https://github.com/smokenetwork/smoked
Smoke network is still not ripe enough, but with time its expected to be known widely. Please you can visit GitHub at anytime to drop your comments and feedbacks.
MY RELATION WITH SMOKE NETWORK
I found steemit lately 2017, I realized I missed alot because steemit was launched in 2016. Ever since then have always been looking for another block chain that will look like steemit, whereby I will be one of those that start it.
All thanks to God, I found smoke while surfing internet early 2018, I have always stay updated to smoke news, I subscribed to their newsletter too.
The image below is a proof of smoke airdrop I earned weeks ago.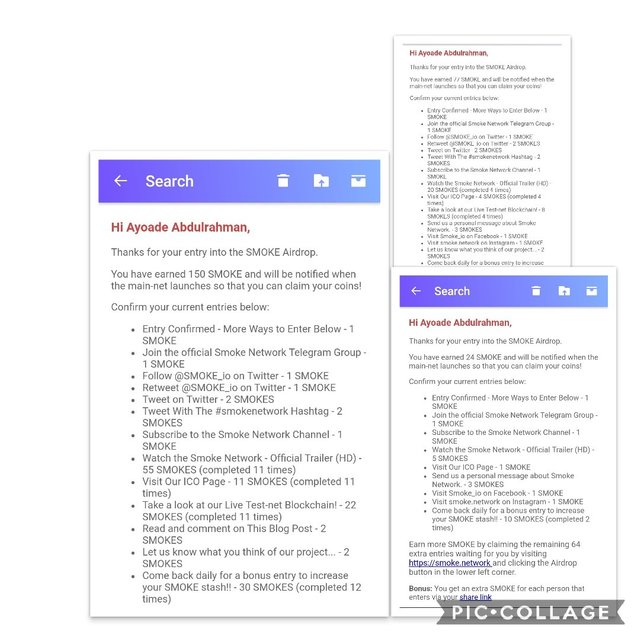 As at today, I have read the smoke whitepaper for more than 10 times, All information regarding smoke is in there, Everyone should download it from the link below;
https://www.google.com.ng/url?sa=t&source=web&rct=j&url=https://smoke.network/Smoke-Whitepaper-2.0.pdf&ved=2ahUKEwjPgeW_naHbAhWpKsAKHZsiD8YQFjAAegQIARAB&usg=AOvVaw3i5hTa8Whhsq8o9Rf7gg3h
CONCLUSION
Its unequivocally cleared that smoke network has a similar features with steemit, so therefore its our duty to work hand in hand with both steemit and smoke in order to secure a better growth for them in the world of cryptocurrencies in the nearest future.
SOURCE