Teaser 1 - @bidbuddy coming soon - A Fund Manager, Bid Aggregator, Bid Marketplace
Introduction
You have written a nice funky post, with lot of intellectual thoughts going into it. You hit the submit button and then wait....
waaaittttt...
and some more waaaaiiiitttttttt for some whale votes to come in...
3 days have passed....
The post has not earned the reward you feel is deserves; but the time is ticking...
FINALLY you decide to promote your post using bid bot services (vote buying) to give it just a little boost that people start noticing it... You have some marketing budget (SBDs ) but confused how to spend among the 70 bid bots at SteemBotTracker....
Life is full of challenges isn't it...
@bidbuddy is coming to help you
Send one cumulative bid to @bidbuddy and relax
we are equipping @bidbuddy with some cool algorithms that will continuously scan the complete BidBot market and place your bids based on certain conditions... here is the Teaser....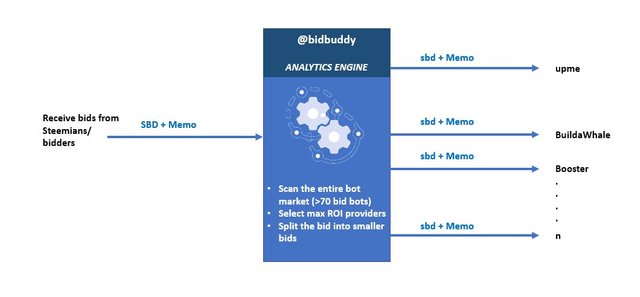 Keep watching this space for more
@bidbuddy - Your Smart Fund Manager
---
Posted on Utopian.io - Rewarding Open Source Contributors
---