The 1Ramp Series: One More Steem dApp (Episode 1)
Repository
https://github.com/hapramp/1Rramp-Android
A. Introduction
If there is any blockchain in the world today that should be given a prize award for birthing series of decentralized applications, then it should be the Steem blockchain. This blockchain has so far given thousands of developers, bloggers, analysts and all members of the platform the freedom to express themselves freely. Little wonder a lot of applications continue to be birthed on this platform.
A great number of us are aware of some of these dApps. There are the likes of Steemhunt, Steepshot, Utopian, Actifit, Busy, Partiko, Esteemapp and a host of others. All of these have in one way or another brought about some positives to the members and users of the Steem blockchain community. From bringing in more users, to creating more content and curating posts made by users, these dApps have made quite some real difference.
In this article, we are going to be looking at one more dApp that though is not quite as popular as others, has started out on the right footing. This dApp has been in existence for less than a year now, and was even present at the Steemfest 3 held at Krakow. This dApp is known as the 1Ramp. In this post, we are going to be looking at 1Ramp as a decentralized app built on the blockchain, what it entails, its history, what it aims to achieve and what it has so far put in place to achieve its aims and objectives.
B. What is 1Ramp?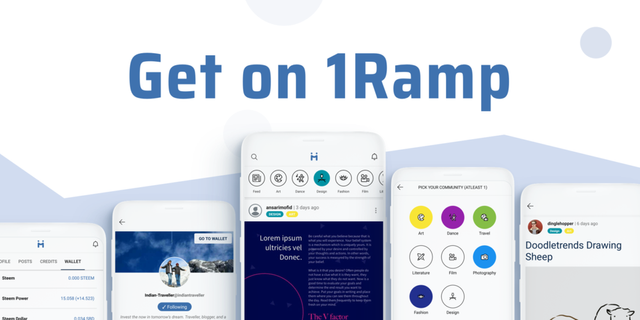 1Ramp is a platform built on the Steem blockchain. It is more of a decentralized social media that gives it users the opportunity to create, interact and earn on the Steem blockchain through it. On this platform, users like me and you are availed the opportunity to share our photos, create blogs, videos and other content that are solely ours. In return for these contents, users are rewarded with cryptocurrency coins for their efforts.
C. Brief history of 1Ramp
The 1Ramp project was successfully kick started about 7 months ago, precisely on the 30th day of April 2018. At the time of its launch, it bore the name HapRamp and was created by a team of about 6 developers from India. 1Ramp was birthed with the aim of allowing users from all sorts of backgrounds and profession come together to form tightly knitted communities on the platform.
Ever since its first launch, 1Ramp has gone on to grow into a bigger and more embracing platform. First, it started out as an android app downloadable from the Google play store. Then an update saw the inclusion of the Steem wallet information to the now defunct HapRamp App. This was a very good step in making the app something every user of the Steem blockchain would like to use.
Soon after, a web app was introduced. Since not everyone uses an android device, a web app was the closest solution that would help in attracting more users to the platform. The web app came with a number of features and was equally made an open source application few weeks after. Later, Steemconnect was added to the platform to give users more sense of security when using the platform.
Several updates were soon made to the 1Ramp platforms such as wallet improvements, transaction history and the user search features. These new updates allowed for more control of the wallet and a view of users transaction history. For the user search feature, users could easily search for others by inputting the username in the search bar.
D. The New 1Ramp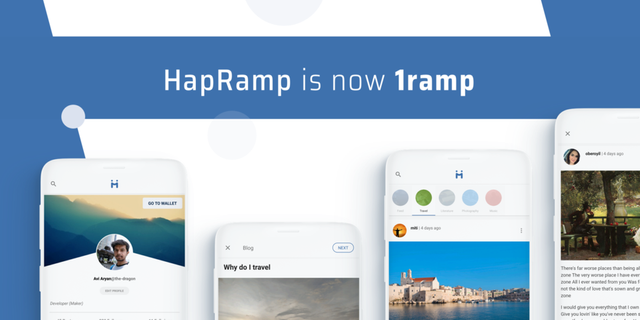 About 4 months earlier, HapRamp, the previous name for this project was then renamed and christened the name 1Ramp. The new name resounded with the dream and vision the product had of creating one place where all creators could come together and collaborate with one another. So this was the reason for the name change.
Now, 1Ramp has switched its focus to building communities on the Steem blockchain. This has led to the creation of eight different communities for you and me to join. Unlike the traditional steemit.com we know, 1Ramp has tweaked the sign up process a bit to allow users join these communities. Therefore, on your very first sign up via the platform, you will be prompted to choose the communities you're interested in. You can choose more than one, and then continue the sign up process.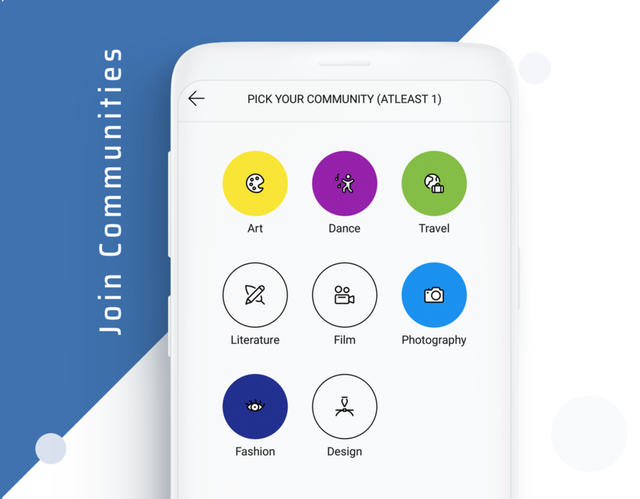 Your choice of communities will show up in your feeds and you can decide to switch between each of them. What this community feature does for you is that it allow you view post made by other users under this community tag, thereby filtering content for you. Thus, you are only serve the streamlined content from the Steem blockchain and not just any kind of content.
E. The 1Ramp Platforms
There are three major platforms a user or member of the Steem blockchain should look out for when planning to join 1Ramp. Each of them are unique in their own way and serve the purpose for which they have been created. Under this section, we will look at each of these platforms briefly and how we can make the most out of them.
The 1Ramp.io is just like the mother platform of the 1Ramp project. It serves as an information hub for users and visitors to the platform. If you're looking to learn what 1Ramp is all about, your best shot would be to visit the 1Ramp.io website. There, you'd see all the information you seek.
On this platform, you can watch a video that brilliantly explains what 1Ramp is all about and aims to achieve. Here, you are also presented with a link to download the 1Ramp Android App from the Google playstore. Finally, you will see below at the end of the website links to 1Ramp's Github, discord and social as well as blog platforms. Through these links, you can connect with 1Ramp on Facebook, Twitter, LinkedIn, Instagram, Medium and a host of other platforms.
This is a major platform which has so far fueled the growth of the 1Ramp project. The android app was the first platform built by the team. This app is live for downloads as an unreleased version on the Google play store. Simply visit the play store, key in 1Ramp in the search tab, and click on the search icon. You can now download and install the app.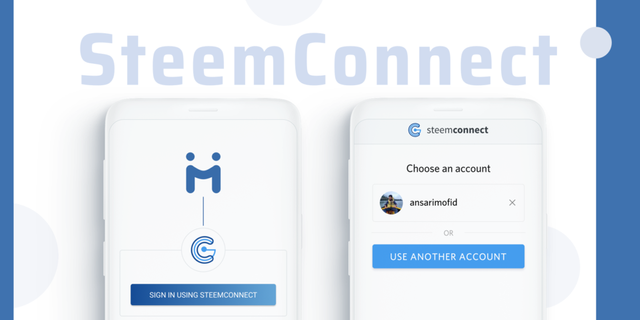 Alternatively, you can now visit 1Ramp.io, click on the play store icon and download the app. Once downloaded and successfully installed, you can begin using 1Ramp on your android device. Open the app and log in. For existing users on the blockchain, you can login with Steemconnect which makes the login system secure. For first time comers to the Steem blockchain, there is a button below where which they can sign up for Steem accounts on the blockchain.
In another post, will discuss extensively on this app and how to make use of it.
People differ as their preferences the share and with the presence of assortment of goods and services, pleasing everyone becomes a really difficult task to accomplish. Not everyone uses an android device, some prefer windows while others would rather stick with their iOS devices. All of these are potential users of a platform so there is need to find a way to bring them into the circle.
To achieve this, 1Ramp created the 1Ramp web app. Users who do not have android devices but which to use 1Ramp can visit the 1Ramp web app. The link to the web app is https://alpha.1Ramp.io. On this site, you can see the different communities as well as the post made under them. Once you click on the sign in button, log in through Steem connect and begin firing away on the platform.
F. Conclusion
The 1Ramp platform is one which I've been meaning to write about for a while. It is a really great app and I think I love their choice of colors and their objectives - what they aim to achieve. It may not be easy due to the proliferation of several competing apps on the platform, However, I believe the 1Ramp is well poised to capture a large chunk of Steem users.
To increase its chances, it is my opinion that an iOS app should be built, that is if it is not in the works already. Actifit did just that and contributions via its tags doubled. I like the 1Ramp dream and I will be supporting it through these kind of posts I write.
I hope to see you on the next episode of this series. Have a nice week ahead.
I remain your amazing dApps presenter, @curtwriter.
Resources
A. https://steemit.com/utopian-io/@hapramp/launching-1ramp-formerly-hapramp-a-steem-platform-for-the-creative-communities
Series Backlinks
This is the first post in this series