Translation of 'BuddyPress' - English to Spanish/Venezuela - 1,080 words - Part #7
Project Details
This proyect is about the translation of all the functions, characteristics and widgets of a forum on buddy press, which have a lot of different tools to move, mark and control all your post and topics. I decided to pick this proyect so I can keep practicing my English while I learn more about management of topics and forums on buddy press. You should pick up this proyect because is an useful way to broad your knowledge while you help other people to get this useful tool in their own language.
Links related to the translation
Source Language
The source language of the project is English.
Translated Language
This project has been translated by me to Spanish. Right now there's 6,087 words left to translate, that means 40% of the project.
Total of words: 15,026
Number Of Words
Total number of words translated by me: 6,752.
Total number of words translated for this part: 1,080.
Work Proof
---
Files
bbpress.pot
buddypress.pot
---
Before work
bbpress.pot



buddypress.pot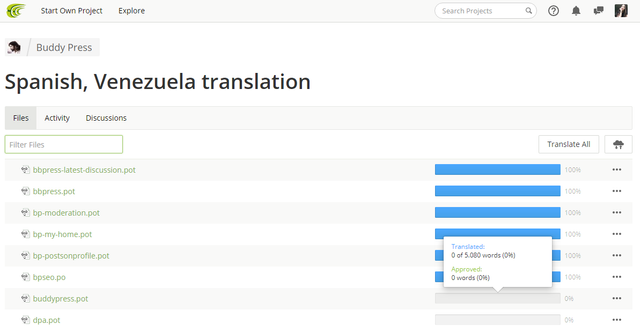 ---
After work
bbpress.pot



buddypress.pot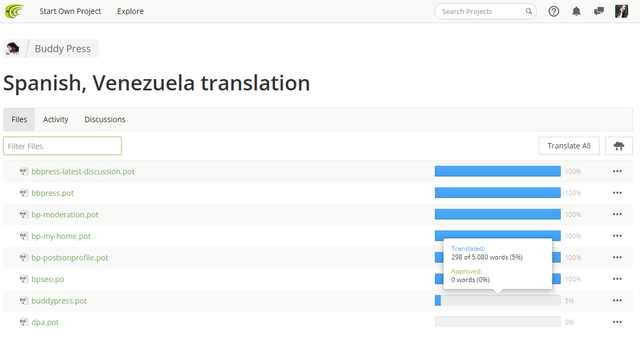 ---
Acivity

---
Previous translation on the same project
Number of words translated on the project before this report: 7,859.
---
Thanks for watching my work,
Dani.
---
Posted on Utopian.io - Rewarding Open Source Contributors
---