Add "Total Assets Ever Sent" To The New Drop Down Menu On Steemit Transfer Gateway
Yes, you read me well. There's a new, easy to use drop down menu in the "To" section of the steemit transfer gateway.
---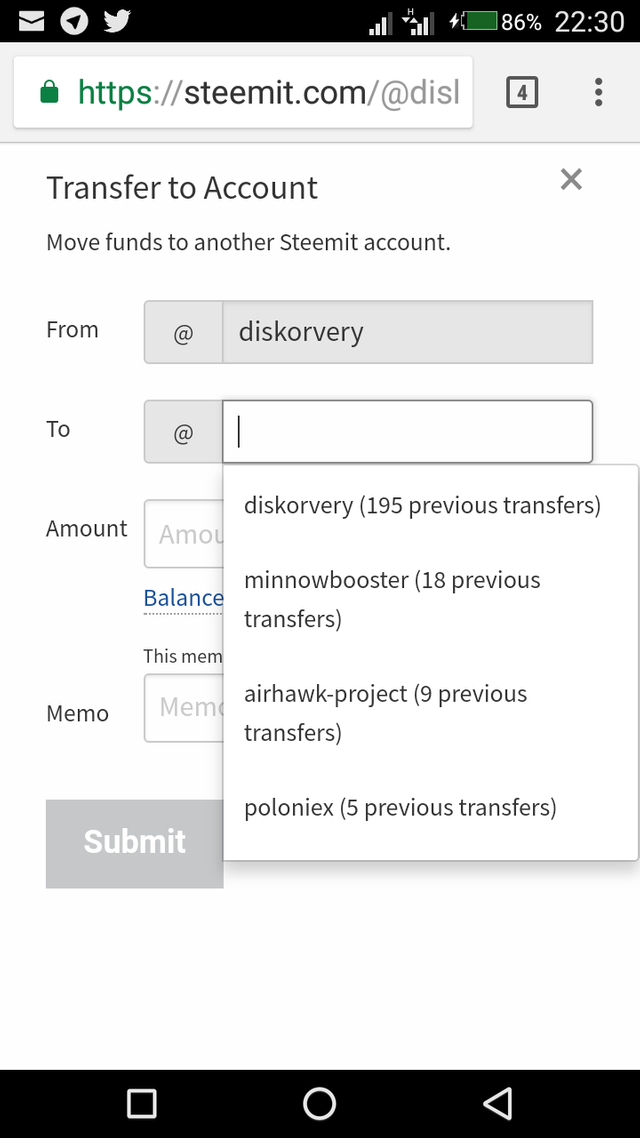 I was attempting to do a transfer a moment ago when I stumbled upon it.
Personally I've been advocating for some technical touches to the steemit transfer gateway more recently as I sense we could make use of some more safety features there.
---
But Here we go. This feature does not only bring safety, it also brings convenience as I used it for the very first time today.
---
This makes me feel like… "AAha! The Devs are actually listening". It makes me feel "utopian-io is really helping".
---
While doing your transfer, all you need to do in the "TO" section is to click in the box. Straightway, a list of usernames you ever made a successful transfer to will be populated with the number of transfer(s)
you've ever made to them. Also included in this list are the accounts you are following.
---
---
Convenience
Now, all you've got to do is touch the guy you wanna transfer to and voila it's there. You don't need to type again if they are already on your list.
---
---
Safety
Now you don't need to bother straining your eyes trying to cross-check for typos in the username you want to transfer funds to if you have transferred to them previously or you are following their account. It's all sorted out automatically.
---
---
Statistics/Accounting
Just by the right hand side of every username is the number of times you have transferred assets to them. This feature would help data guys I believe.
---
Recommended Addition
It would be nice to also see the total amount of asset you ever sent to individual usernames appear by the side and keeps updating when new transfers are carried out. This will help account owners and others who may be interested to be able to visualise the amount of transfer ever made to a particular user at a glance.
The sum total of all assets that ever left account can also then be determined by adding up individual transactions.
---
---
I so much love this feature for the security safety and statistics sub-features it carries.
Truly Devs are deep thinkers and I have no doubt I'm on the right platform.
---
Posted on Utopian.io - Rewarding Open Source Contributors
---