Suggestions category - Weekly report: #20
This is a weekly report of the Suggestions category. It contains basic stats, tips and interesting open source projects to start contributing. Also, I will show you the most common mistakes of this week and how to fix them.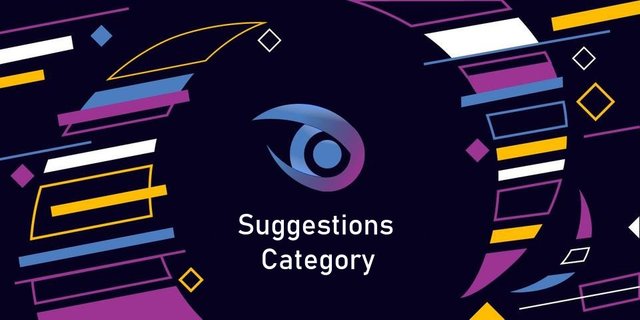 In this post:
Category summary
Top scored contributions

Contest for the Suggestions category

Common mistakes and how to fix them
Interesting open source projects
Useful posts
---
Category summary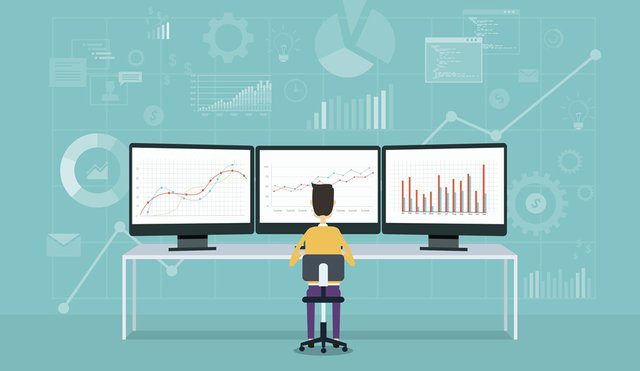 source
Week: 9 (from Feb. 28 to Mar. 7)
There were 12 contributions and 11 have a chance of being rewarded, or have already been rewarded.
The average score was 45.36
There were a total of 6 unique contributors in the category.
Number of reviewed and rewarded contributions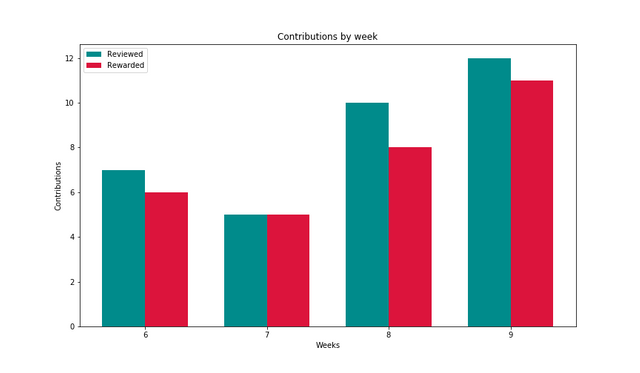 Average score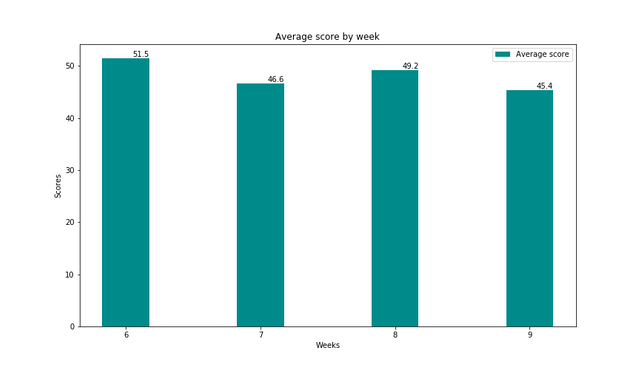 Number of reviews by Moderator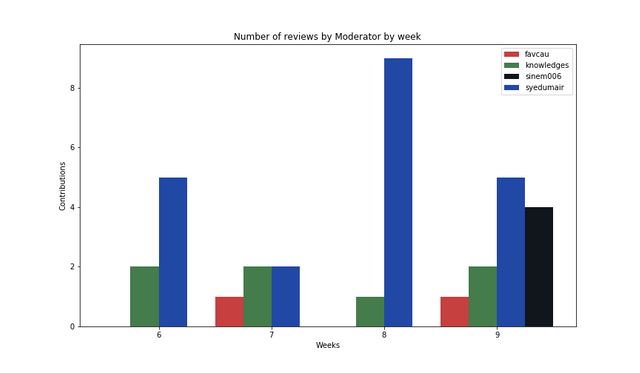 This week we had 12 contributions, 2 more then the previous week and the average score was slightly lower but it is still in the 45-55 range.
It is really good to see that the number of contributions is increasing. Let's hope that it will continue for future weeks.
The most active moderators were @syedumair and @sinem006.
This was the first week of March, a new round starts right now!
As @tykee suggested me, the min score for this and the following months is 50. So, we will see more contributors competing for the prize.
Remember that upvotes are never guaranteed.
---
Spread the word
Make a post about the contest, add some info about Utopian and the Suggestions Category and paste the link in comments. I will send some liquid STEEM to the best one.
---
Top scored contributions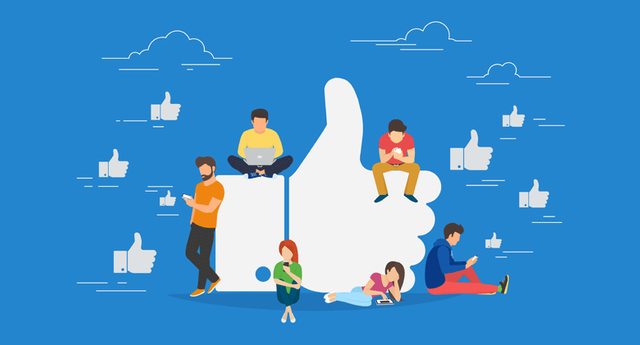 source
Since we did not have a Staff pick, these are great post to read!
Contest
Prize: 10 STEEM every month (+ the Community Bounty, which is 60 STEEM).
Total Prize: 70 STEEM
How? Submit a contribution to the Suggestions category. A contributor can submit more than one contribution per week. If your contribution got a score higher than 50 you get points.
| Score | Points |
| --- | --- |
| 100 or Staff Pick | 7 |
| 90 - 99 | 5 |
| 80 - 89 | 4 |
| 70 - 79 | 3 |
| 60 - 69 | 2 |
| 50 - 59 | 1 |
| 0 - 49 | 0 |
When? At the end of every month I will send 75% of the Total Prize to the winner and 25% to the second place.
Round 4: February
Points
Ranking
Community Bounty (CB)
A big thank you to @emrebeyler, @tdre, @blockchainstudio, @amosbastian, @leotrap, @tobias-g, @utopian-io, @syedumair and @knowledges.
The CB is real thanks to them.
Disclaimer: The prize is taken from my personal account. This is an unofficial contest. It is only for the Suggestions category. You must not complain to Utopian about this contest. If something is wrong with the points, or if the rules are not clear, you should write to me, not to Utopian.
---
Common mistakes and how to fix them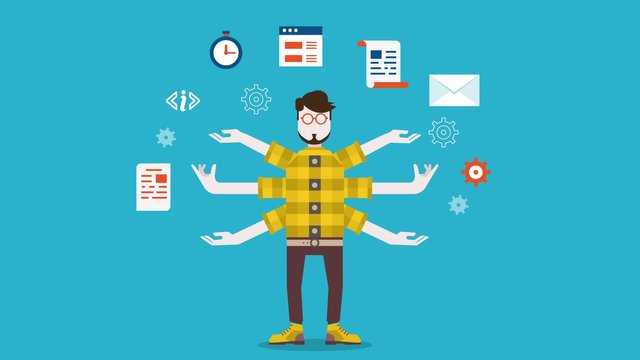 source
The aim of this section is to show you the most common mistakes found this week. Followed by a short description and tips when applicable. Usually, I split the section in two: Contributions with a score of 25 or less and Contributions with a score of 50 or less.
1 - Contributions with a score of 25 or less
1.1 - The impact on the functionality and usability of the project is low
If the overall of your post is excellent, but your idea has little impact on the functionality and/or usability of the project, you will get a few point less. Try to suggest unique, original and useful features.
1.2 - The suggested idea is duplicated
This is not easy to spot, so do not rush and take few minutes to check it.
Go to the repository of the project and check the Issues Tracker.
Remove the is:open filter from the search field (to look for open and closed issues).
Write a word (or two). The keyword(s) of the feature(s) you are going to submit.
After that, look at if someone submitted it on Utopian in the past, you can use this great tool made by @crokkon.
2 - Contributions with a score of 50 or less
2.1 - The quality of the mockups/images could be better
Mockups are really useful to explain an idea. We (and most of the users) are not Graphic designers. We do not expect high quality images, but few details would transform a poor mockup in a great one. We have excellent graphic designers in our community, use our Discord server, share your images, ask for help. They will guide you to improve your mockups.
2.2 - The possible solution was not described in sufficient detail
When you propose a new feature, it is great if you add a possible solution although this is not mandatory. Explain how to implement it.
You can add a pseudo code script with your possible solution and detail in which file it should be added.
If you do not know how to code, you can explain in details how this new feature should works. Where should be implemented? In which component of the app? In what position? Why is that a good position for that feature? What happens if you click on it?
Mockups are useful. Edit your images, try to follow the pattern design of the app. For example, if the app use Material Design, try to follow the rules of Material Design and add Icons which are listed in their site. Do not paste a random image/icon that you found on Google.
---
Interesting open source projects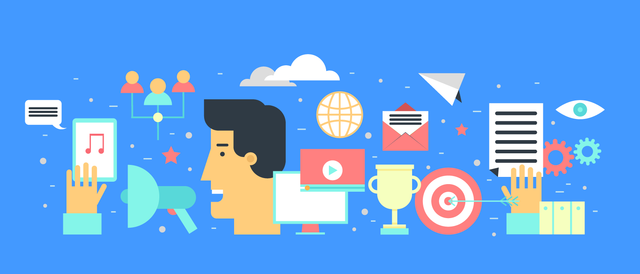 source
In case that you want to contribute on the Suggestions category but do not know any project, check this list.
1 - Ansible
Ansible is a radically simple IT automation platform that makes your applications and systems easier to deploy. Avoid writing scripts or custom code to deploy and update your applications — automate in a language that approaches plain English, using SSH, with no agents to install on remote systems [Source]
Website: https://www.ansible.com/
Repository: https://github.com/ansible/ansible
2 - VS Code
VS Code is a type of tool that combines the simplicity of a code editor with what developers need for their core edit-build-debug cycle. It provides comprehensive editing and debugging support, an extensibility model, and lightweight integration with existing tools. [Source]
Website: https://code.visualstudio.com/
Repository: https://github.com/Microsoft/vscode
3 - Steeditor
Steeditor is an editor which enables to add posts to the Steem blockchain. (...) it lets you change every possible property of the post. (...) Did you know that you can share the post reward with anyone (via beneficiaries)? Or that you can set a maximum accepted payout for a post? Or that you can set up a custom thumbnail for a post that will not be shown in the post body? This is a great opportunity to learn stuff.
Steeditor also helps in managing drafts. [Source]
Website: steeditor.app
Repository: https://github.com/jakipatryk/steeditor
Useful posts
---
As always, if you need help, comment below or chat with us on our Discord server.
Consider voting for the Utopian Witness.
Watch the presentation of Utopian on SteemFest
Tune in to the Utopian.io Open Source Radio Show, coming to you live every Wednesday at 8 PM UTC on Utopian Discord server. Host: @jedigeiss
Tune in to the Utopian.io IdeaHub Radio Show, coming to you live every Monday at 8 PM UTC on Utopian Discord server. Host: @jedigeiss