Antiabuse Contribution for October - Flagging Bid Bot Abuse
As the community manager for anti-abuse category, it should be fitting to see an anti-abuse contribution coming from me.
You may not know me, but if you dig far enough, you'll find the first time I got flagged. Not for disagreement of rewards, but for retaliation.
Come full circle, I'm flagging too. But I'm here to show you how to flag properly.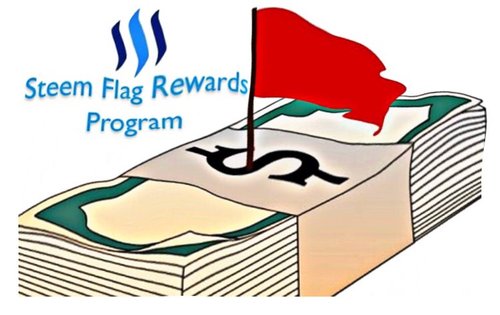 ---
Goal
In this post I will show:
how to flag for @steemflagrewards
how to determine what is abuse
how I flag bid bot abuse
how to do a follow on flag on a post flagged by someone else from @steemflagrewards
---
How do I find and flag abuse for SteemFlagRewards (SFR)
---
At SteemFlagRewards Discord server, there are three channels for helping you flag abuse.
how-to-report-abuse
definitions-of-abuse
abuse-fighting-tools
How to report abuse channel:
When I first joined SteemFlagRewards, I didn't know how it worked. At one point I found an abuse, I just tagged SFR. I didn't flag the post. No one came and I didn't get a reward -- Mistake#1 What did I do wrong?
When I became an SFR server admin, I felt like I was baby sitting the new abuse fighters. Walking them through every step of the way. I wanted to help the new members so I created this channel.
In how-to-report-abuse, you will find the categories of abuse that the SFR bot will recognize and find in your comments.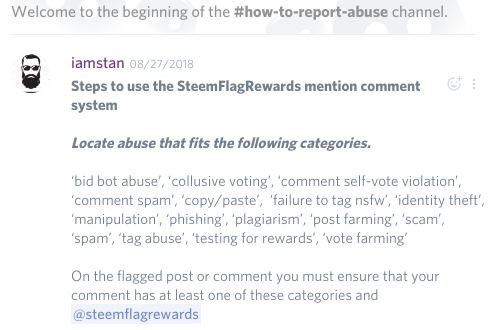 ---
Definitions of abuse channel:
Here you will find all the accepted types of abuse that SteemFlagRewards deals with.
This list is ever changing and expanding as abusers find more ways to abuse the platform. Many times it will just change because we decided on a more precise definition for a specific type of abuse.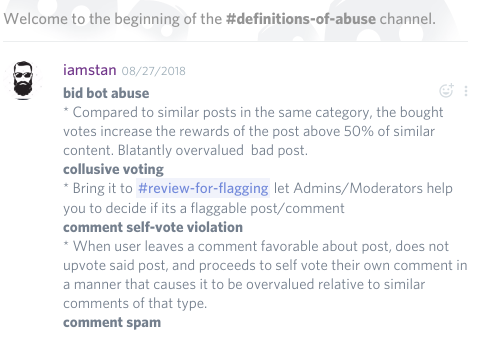 ---
Abuse fighting tools channel:
Every abuse fighter has their own toolset in tracking abuse. Here you will find many abuse fighting tools suggested by the team. Tools like plagiarism checkers and apps to help you see who is upvoting whom.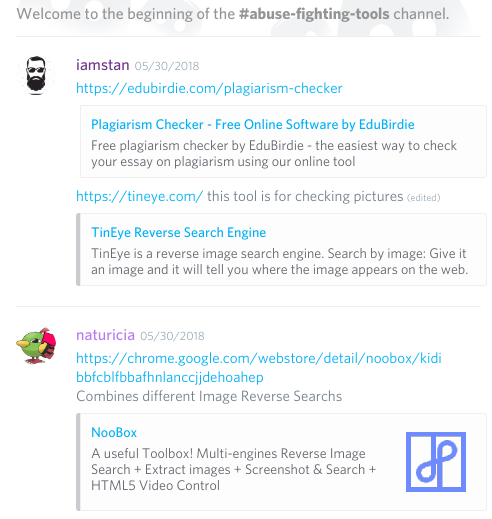 I'd like to request @Didic to make a post for us on how he uses Google effectively for plagiarism check.
Or if you know any tools/apps/scripts that can help us track abuse more efficiently, I'd be glad to see your comments.
Finding and flagging bid bot abuse
bid bot abuse

Compared to similar posts in the same category, the bought votes increase the rewards of the post above 50% of similar content. Blatantly overvalued bad post.
This definition would also apply to upvoted comments or post with many bid bot votes. This causes the value to be way more than the post should have. You can decide if you think the post is overvalued and disagree by flagging.
This post looks way over valued and has many bid bot votes. Every bid bot and their brothers are on this post. It also is plagiarism and copy/paste. The author of this post made screen shots of a school text book and was posting them. Look, a 63-rep big time abuser.
I am not hiding this person's identity because they should have never been doing this. And today they are still copying school book text and buying upvotes with bid bots. @jplaughing found this bad abuser.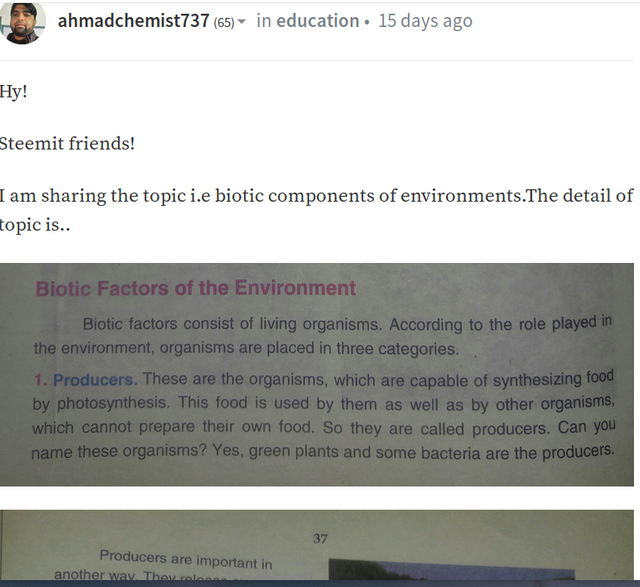 Here I am flagging it too
If you care about your reputation going down when an abuser retaliates, make sure you are at least a 50.
Also make sure the SP of the said abuser is something you can tackle and handle.
Or if you don't care, flag away!
At SteemFlagRewards, we recommend that you have at least 200 SP to get rewarded for your flags.
Right now, with my 500-SP account, I can only take away .02 and get rewarded with the SFR beneficiary post. The bot doesn't vote my comments at lower than dust flags.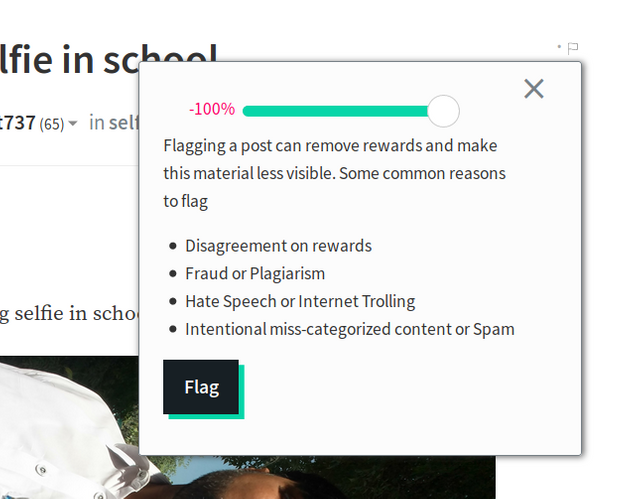 Follow on flags
Most of the abuse fighters I work with can only flag between .01 and .15 STU. We have higher-SP abuse fighters who can take away more than .20 STU.
But when an abusive post or comment is way higher than one of our 100% flags, it takes all of us to zero out the potential rewards.
The follow on flag is a support system for the abuse fighters.
We know it's a follow on flag because there is already a flag comment from @jplaughing and the @steemflagrewards bot. So I reply to the steemflagrewards bot to reduce our comments for flagging abuse.

Here you see the result of that comment string with a first flagger and then follow on flags.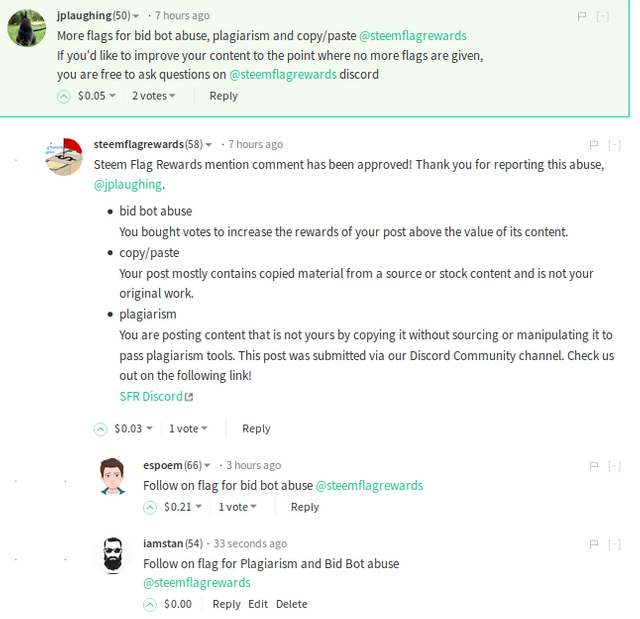 Here is another example of a follow on flag behind the steemflagrewards bot.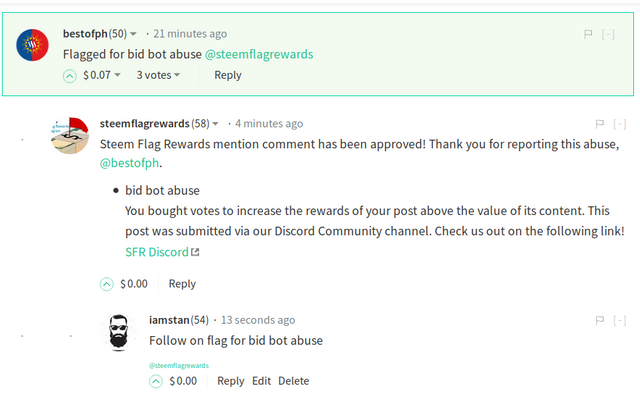 The comment bot at SFR Discord grabs your comment that mentions steemflagrewards then checks if you have the abuse category listed from our definitions of abuse channel.
Then posts that comment in the SFR Discord mentions channel. The mods will then review the flag and comment. If approved, your comment will be loaded in queue to be upvoted.

Summary
Thanks for reading my version of SteemFlagRewards for Dummies specialized for bid bot abuse.
To recap:
Find bid bot abuse - either a post or a comment
Check the SP of the account for your safety
Flag
Comment with both "bid bot abuse" and "@steemflagrewards" mention
If there's already a comment by steemflagrewards bot, reply to that comment with both "bid bot abuse" and "@steemflagrewards" mention
The bot at SFR Discord server will grab your comments
The moderators at SFR Discord server will review your flag, if valid, it will be approved and you'll see an upvote from steemflagrewards!
Credits
Many people have been wondering what I've been up to. Why I haven't been posting? If they are wondering why I'm involved with Steem Flag Rewards?
It all completely happened by accident. @Anthonyadavisii - the founder of SFR, asked me if I wanted to be admin when I suggested a channel for keeping track of all the abusers we had dealt with.
Now, Steem Flag Rewards is more powerful, meaningful and fighting a lot of abuse on the platform. Because of the work that I have done at SFR, I was given the opportunity to establish an anti-abuse initiative for the Utopian community.
I gladly accepted and look forward to a bright future for SFR and Utopian.
A big shout out to @Anthonyadavisii, @Enforcer48, @Steemseph, @Naturicia, @Guiltyparties, @Pjau, @Serylt, @Flugschwein for their trust and patience with me.
For @Themarkymark's friendship and help, I couldn't do this without you.
For @Nextgencrypto's friendship and trust.
For @Lukestokes tough but truthful help, without him and his advice I would have left the platform last March.
And finally for @Elear for giving me this great opportunity to be part of the Utopian community
There are many others I would like to thank for putting up with me, helping me. Without all your help, I would not be on the platform. Thank you all very much.