Plagiarism & Cheetah - An Antiabuse Series #1
This post is about plagiarism and Cheetah, the wonderful big cat that finds identical content from the web on posts submitted to the blockchain.
It is also about reporting to @steemcleaners.
Goals:
I will teach you how to follow cheetah and find plagiarism.
Report that plagiarism to @steemcleaners through their website.
Take a deeper look into the account to see if you can find more plagiarism.


Most of you hard working Steemians will find it hard to believe that many accounts on Steemit only post other people's content.
In fact, there are so many accounts plagiarizing and abusing there are people who work full time (50-hr weeks) mostly dealing with abuse. I personally spend more than 40 hours a week combating abuse and abuse-related issues.
---
Cheetah: The wonderful plagiarism finder!
Here is some background on Cheetah.
https://steemit.com/steemit/@cheetah/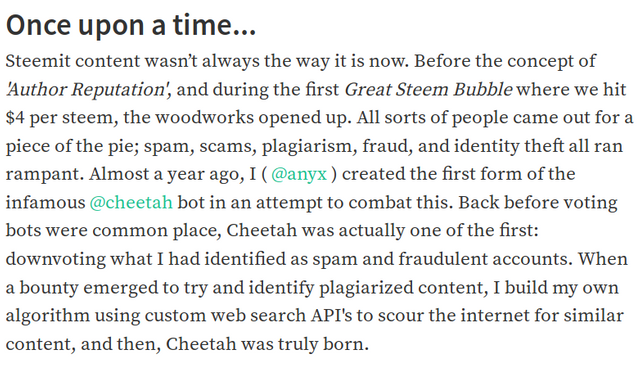 Thanks to @anyx for creating this bot. We can now try to catch up with this fast moving cat-bot and fight abuse on the platform.
---
Following cheetah around is an easy way to spot and find plagiarism.
Don't just follow cheetah to find plagiarism. There are other ways to find it.
Cheetah gives you some advice where plagiarism can be found. But it is even better to look in the created section and filter for posts where the language level of the post doesn't fit to the user himself, broken formatting or lower reputation. All of this can be an indicator that there might be plagiarism
Today lets just look at cheetah's comments here.

This one looks like it might be a simple case of plagiarism. Let's dig in together.
Here's the case Cheetah led us to.
https://steemit.com/food/@kazumasatou/miso-and-sesame-glazed-cauliflower-steak
Here, Cheetah tells us what may have been the original source for the post's content.

https://sortedfood.com/recipe/13975
Cheetah needs a second set of eyes to make sure this post is indeed plagiarized. It could be just a copy/paste, small portion of an article as a quote, or a cross posting from the author's blog.
We have to look because @cheetah is only a bot informing us of the possibility of similar content. It sometimes shows up when there is no abuse.
Let's look and see what we can find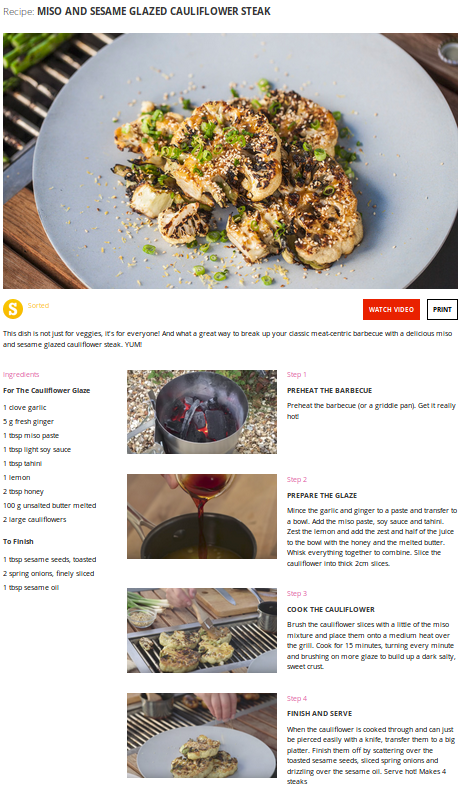 Yes this is a case of full blown 100% plagiarism. Not one word of original content.
---
Reporting plagiarism to Steem Cleaners
Ok, let's report this account to Steem Cleaners. They will take care of this abuser for us and we will get a small reward in Steem Power.
Steem Cleaners website is where you report cases to @steemcleaners. Make sure you know their guidelines and scope which is detailed here.
Steem Cleaners are using YourDictionary.com's definition for plagiarism.


For reporting plagiarism to Steem Cleaners, it must be at least 50% plagiarized. Meaning the post contains 50% of another person's content. If you think it is less than 50% but still is plagiarism go to Steem cleaners discord and ask them. Steem cleaners prefers you report plagiarism with rewards to remove.
Some articles can be spun to hide the plagiarism. I would recommend going to Steem Cleaners Discord to make sure those types of cases are plagiarism before you report it.
Anything plagiarized 50% - 100% can be easily determined and reported directly to their website.
Put your Steemit account name on the top left.
Fill out the source of the incident (link to the post you are reporting) on the top right.
The supporting link is the source (link of the original content) goes in the bottom right.
Click on the plagiarism abuse type bullet.
The Details area is for things like "the source information is in the middle of the page" and such, to help the Steem Cleaner to work quickly with your report. On simple cases no information is needed there.
Then click Report Abuse.
You are done! You just reported your first case of plagiarism. Now you can pat yourself on the back for helping make Steem blockchain better. Plus you might have helped stop a long term abuser.
![]
Oh and #7, when Steem Cleaners approve your report. They will leave a comment to the post reported.
This is the actual comment generated from this report - 6 hours later. Pretty good turn around in my opinion. Considering that a Steem Cleaner handles hundreds of reports daily.

---
Investigating Further
Normally when you find one incident, the same account may have many other plagiarized posts.
First, we look at this post https://steemit.com/food/@kazumasatou/miso-and-sesame-glazed-cauliflower-steak
Now, we click on their profile and it should take you to https://steemit.com/@kazumasatou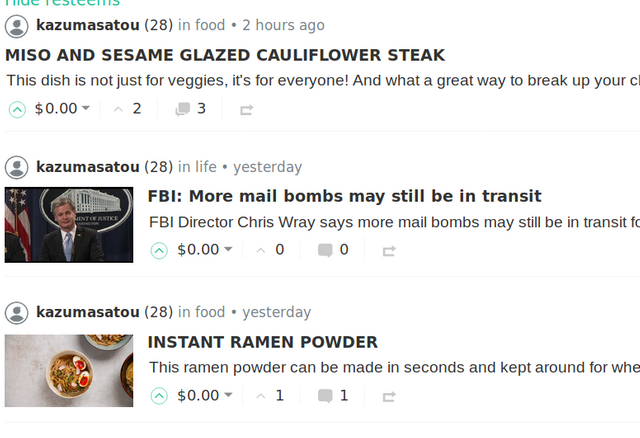 This case is the same. There are multiple cases of plagiarism on this account. Let's take a look.
The FBI post is clearly not this person's content. But Steem Cleaners doesn't consider posting another person's YouTube link plagiarism. Discussing that decision would require a whole post.
But that third post looks like another recipe. Lets take a closer look. https://steemit.com/food/@kazumasatou/instant-ramen-powder.
Oh, there is no @cheetah comment. Does that mean it is not plagiarism?
No. Sometimes cheetah doesn't catch them. Then we use plagiarism finding tools. There are other plagiarism tools you can find online. Many abuse fighters use small portions of text in google search for great results.
https://edubirdie.com/plagiarism-checker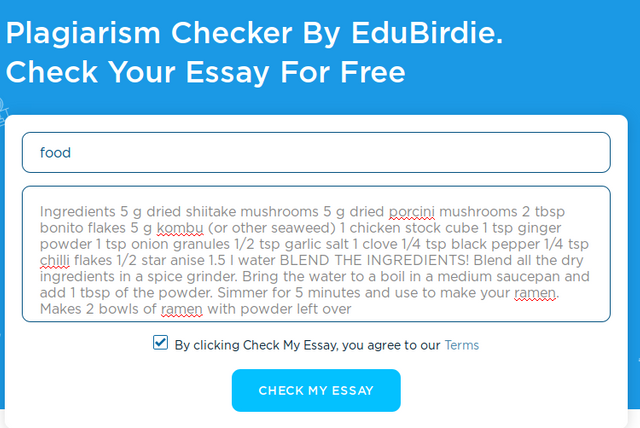 You copy the text from the post
Paste into the form.
Agree to the terms, hit Check My Essay button.
Wait for the result.
Edubirdie is free, but not easy.
Abuse fighting takes time. If you care about the platform you will do this hard work.
Many people tell me how irrelevant I am because I don't post much. They don't have a clue how much time I spend fighting for all of us with the work I do.
Here is our result. It says it is only 29.9% unique that means it is probably plagiarism. Under Sources, Edubirdie shows a link where the text matches.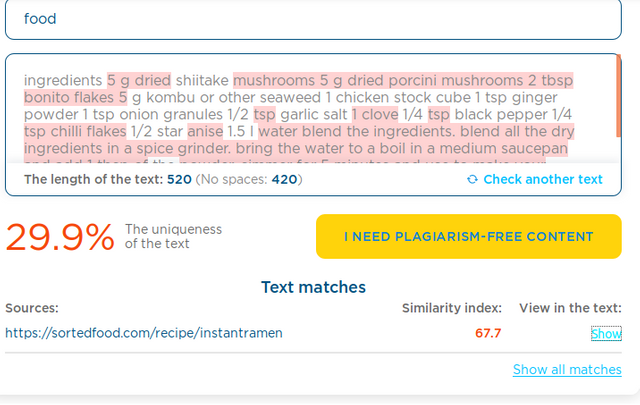 If you click "Show all matches" it gives you other possible sources. Looks like the top result is the best one. Let's look at that link and see what we can find.
Source: https://sortedfood.com/recipe/instantramen
Once again, it is plagiarism. Cheetah must have gotten tricked by the few sentences written at the top of the post above the recipe.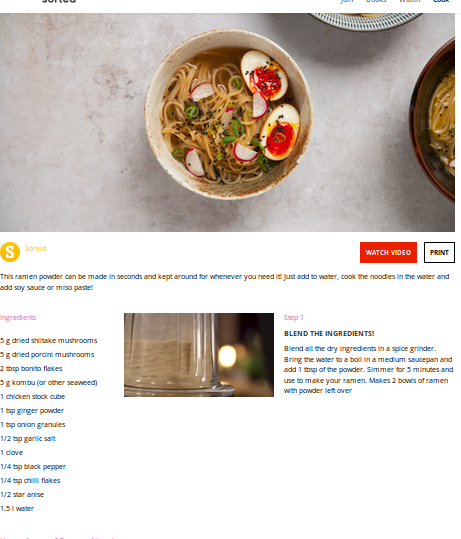 We'll report this to Steem Cleaners too.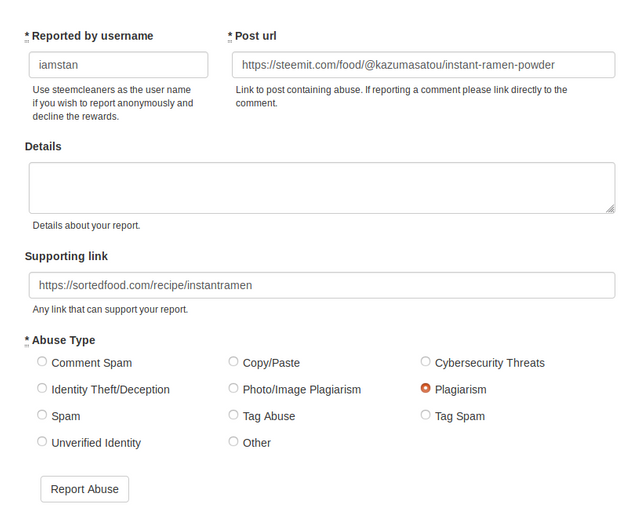 Summary
It is time consuming to fight abuse on the platform. Not many are willing to invest any time that doesn't give them a big upvote.
If you do decide to invest on a cleaner platform, spend a few minutes following Cheetah around.
Look for plagiarism in new content and created sections of the blockchain.
Check Cheetah's comments and visit the post.
Check the source from Cheetah's comment and compare with the post body.
Plagiarized? Report it to Steem Cleaners website
Can you imagine one of these guys that self-votes to 1000s of dollars per week actually doing something meaningful for this platform? I can and would hope that they see the importance of what we do.
The content on this platform is a reflection of what we all accept. What will you continue to allow?
The next post in this series will be
1 Photo/ Image Plagiarism
What is accepted in using others photos and why.
2 Tag Spam
Why is it not ok to use the wrong tags just because they are popular.