Introducing Twitter Throwback: A New Way to Look Back at Old Tweets
Do you want to go back in time and see your old tweets? Have you ever wondered what you tweeted the first time you joined Twitter? Maybe it was just two random words or you were lamenting how Twitter was so weird. If you signed up over a decade ago, you would agree with me that leaving Twitter for a while was a thing.
There may be something interesting you tweeted a year ago you would like to see. You might imagine how a tweet you shared a long time ago would fare now if you retweeted it, since you probably have more followers now. There are so many reasons why you might want to see your old tweets.
The problem is that Twitter wouldn't display all your tweets, especially when you have thousands of them. You'd have to keep scrolling and scrolling, only to see just a few. That is because Twitter only display 3,200 most recent tweets of an account. You might reason, "why not search for the tweets?" But you may not even know word-for-word what you're looking for. And Twitter Advance Search can make matters even more complex.
Today, we'd be talking about a tool I came across some weeks ago; Twitter Throwback. Twitter Throwback would help you travel back in time to see those old tweets, just when you want to.

Repository
https://github.com/shalvah/oldtweets.today
What is Twitter Throwback?
Twitter Throwback (http://oldtweets.today) shows contents from a particular date in the past. For example, you might see past tweets, photos, videos and other things you've shared – from one year ago, two years ago, three years and so on. The content is available to anyone that uses the tool, unless the Twitter account is protected.
Twitter Throwback is a tool similar to Facebook's "On This Day" feature. The tool shows you the tweets you posted on the current month and day (for example, February 27) in previous years. You'd see mine in this article. For Facebook, you can check yours at facebook.com/onthisday. Twitter doesn't actually have this feature. So Shalvah Adebayo, a Nigerian developer known for making helpful twitter bots, took it upon himself to create this tool. You can access it on http://oldtweets.today.
Shalvah is also known for two other Twitter bots. This_vid - a bot that easily downloads Twitter videos and GIFs. You simply have to mention the bot (@this_vid) in a reply to the tweet containing the video or gif, and within a few minutes, it would respond with a download link.
Shalvah also created a Tweet Reminder Bot, a bot that reminds twitter user(s) about a tweet after a certain time. For example, a Twitter user may promise you a favour in a year's time. You might forget about it due to imperfection, but the bot would help you remember.
The Twitter Throwback tool and other twitter bots made by Shalvah are open source.
Security
Twitter Throwback tool is safe to use. You do not need to log into your Twitter account to see old tweets. The website scrapes the necessary data from Twitter and returns the tweets requested as embeddable HTML.
I'm usually skeptical about inputting my account's password into third party websites. Twitter Throwback doesn't even ask for my password, and that makes me feel better. I'm actually impressed that I don't have to log in to view tweets of others too.
Accessibility
On Twitter Throwback, you can view old tweets of any twitter account, as long as the account is not protected. To view an account's old tweets, you simply have to input the username of the Twitter account on the space provided on the website. This just goes to show that if an account is not protected on Twitter, information on it can easily be accessible on the Web. So, it's actually not illegal to view tweets of others, because they are on a public domain.
For twitter users concerned about their data privacy, they'd simply have to protect their accounts. Protecting accounts on Twitter limits tweets to be visible to followers only. The tool doesn't infringe on any privacy policy, and I really appreciate that.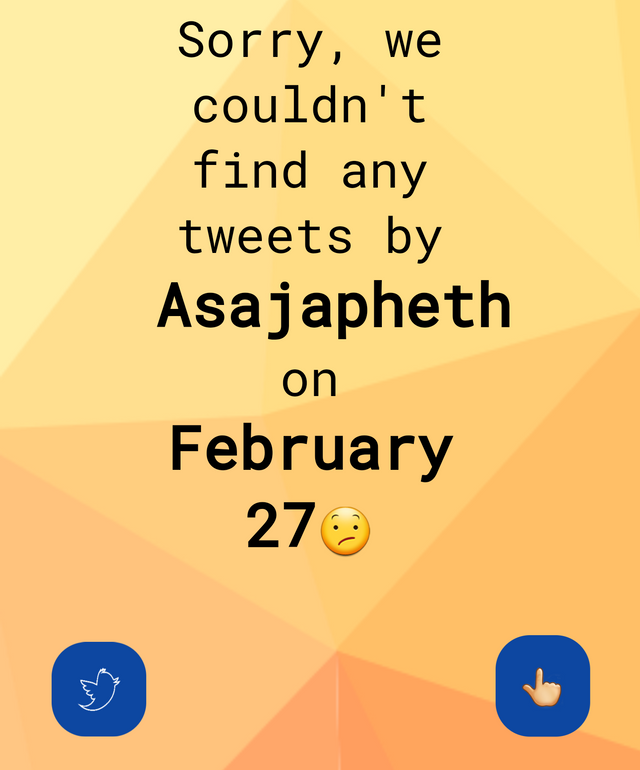 Suggestion
Since Twitter Throwback cannot view tweets from protected accounts, it could include an option that would allow followers of such accounts to view tweets. Something like, "Account protected! Are you a follower of this account? Login to view tweets." This can be implemented instead of just saying it couldn't find tweets on that day, there might actually be tweets on that day.

Navigation
It is so easy to navigate around the website. There is a button at the bottom of the websites that aids navigation. The scroll to top button makes it possible to return back to the top of the page. It is useful when there are so many tweets that appears on that particular date. For active twitter users like me, it would seem clumsy to scroll back to the top without the button. I have like gazillions of tweets.
I decided to play around the tool again today. I found so many tweets I have tweeted on this day in previous years. I found over twenty tweets for today. There are two of the tweets I found particularly interesting. I shared one of the tweets in 2013 and the other in 2014.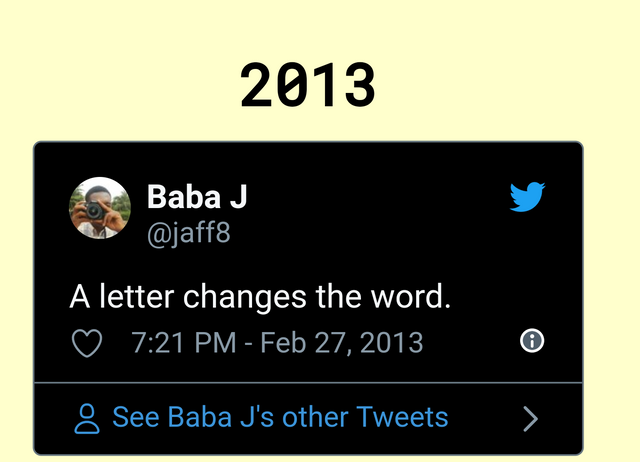 I remember when I wrote that tweet above. I was thinking about two words - political and apolitical. But the concept applies to other words too. The prefix "a" in "apolitical" changes the meaning of the word. It makes it opposite in meaning to "political". So, indeed a letter changes the word.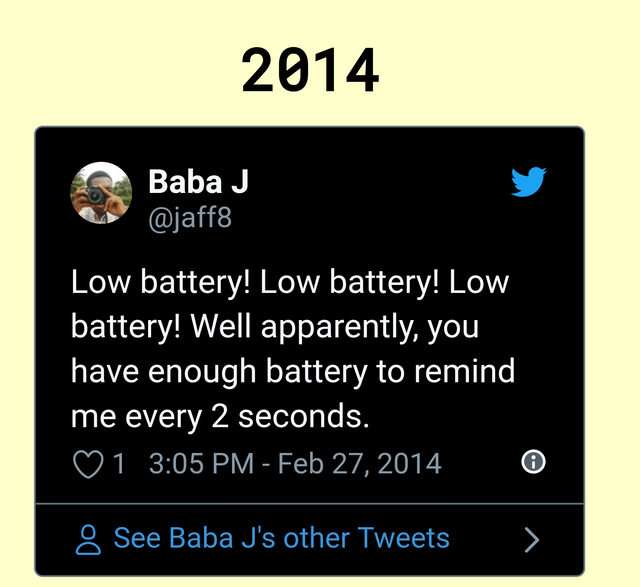 Just a random joke I tweeted when I was bored.
Clicking on the twitter card on Twitter Throwback loads the tweet on Twitter app. There I can decide if I want to retweet the tweets for new followers to see, or just delete them. I retweeted the second one because I think my followers would like it. I guess it's still funny despite it's an old joke.
There is also the Share to Twitter button at the bottom of the page. With that button I can let my followers know that I am using Twitter Throwback. It is more like a "word of mouth" advert.
Twitter Throwback vs Similar Tools
I decided to compare Twitter Throwback with AllMyTweets and Cardigan. These tools make it easy to delete your tweets and organise your twitter profile. Some offer freemium and premium services.
Twitter Throwback vs AllMyTweets. Twitter Throwback only takes a few seconds to load the tweets on the particular day selected. In contrast, AllMyTweets' loading process usually take a while. I have close to a million tweets on my accounts, so it seems like mission impossible on AllMyTweets. I had to try AllMyTweets for an account with less than 10,000 followers.
When Twitter Throwback displays a tweet, you can easily tap on the Tweet to see it on Twitter. On the other hand, AllMyTweets displays a list of tweets arranged in chronological order. There are checkboxes to modify the display on the screen. And mistakenly clicking on any of the checkboxes reloads the entire page. That would start the process from scatch again.
Twitter Throwback and AllMyTweets are interesting tools. Twitter Throwback is an easier tool to use, while I'd recommend AllMyTweets when there's something serious to do. The Throwback tool is just for fun.
Twitter Throwback vs Cardigan. With Twitter Throwback, you can find old tweets you may want to delete. Cardigan also does the same. Twitter Throwback is entirely free, while Cardigan only loads your most recent tweets for free. There's a fee for displaying above 3,200 tweets.
Compared to Twitter Throwback, Cardigan has more options. You can sort tweets based on date, number of retweets, number of favorites and so on. You can decide to filter out retweets and replies. I'd say Cardigan is more comprehensive, while Twitter Throwback keeps the fun.
Future Update
The developer mentioned that in the next series of updates he would include the option to select a date on the website. Currently, the website doesn't have that option. That is one killer feature that I am anticipating.
Conclusion
People are usually interested in seeing what they've been up to, and Twitter Throwback makes it easier. Looking back at old tweets, photos and other memorable contents makes reminiscing fun. These are things that interests me personally. I was able to dig a few important tweets of mine from the past with this tool. I also like that I can look up old tweets from other accounts too. I'd suggest you try it out if you have been on Twitter for a long time.
Official links
Series Backlinks
This is the first post in the series. Subsequently, I'd be talking about updates.
Getting information on Twitter
Some may say that social media isn't a good place to get authentic information. While that may be true, sometimes you get firsthand information from the official accounts of companies and media personalities.
For example, Baba Ijebu official account on twitter is a good place to get the latest winning numbers instead of spending some bucks to get a Premium Card then use the PIN to apply for SMS updates.
Another way to get latest information on Baba Ijebu is to vist this link; Baba Ijebu results for today. On that site, you can even information on past results, which could be very useful in playing the game.
Another point to note is that the official handles of banks can be very helpful to especially when you are having a bank issue. Capitec Bank has a very active online presence and their customer care service is top notch. One common request most online customers make is on the branch and swift code numbers of the bank.
Lastly, Akin Alabi the founder of Nairabet, the first online betting company in Nigeria, is a very active Twitter. Alabi is a source of inspiration to many youths, and have gotten a much love from them. He recently started his political career and uses his twitter to dispense relevant information.