Promotion Steepshot.io on Facebook ads (Indonesia) - People Rached: 7956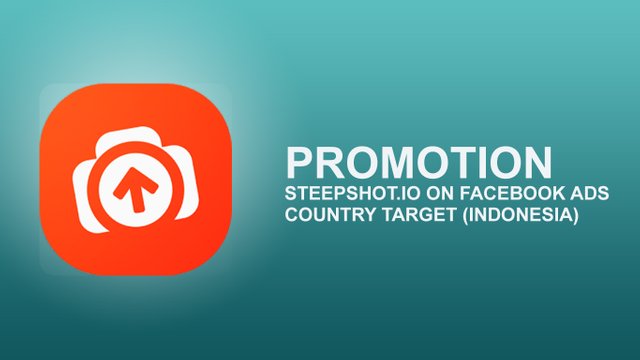 Introduction
Steepshot.io is an open source web application that provides features for sharing around photography. Steepshot is one of the social media that provides benefits for its users. By sharing photos in steepshot.io, then we will get rewards on every photo upload.
I have done Steepshot.io campaign through facebook advertisement with target country indonesia. The purpose of my promotion is to give knowledge to the people of Indonesia as well as introduce steepshot which is one of the social media that provides benefits. In addition, the purpose of this promotion is to popularize steep social media. For the people of Indonesia.
Audience
I started the promotion of Steepshot.io on Facebook Ads starting on March 6, 2018. And I run facebook ads for 3 days. With target age of 18 - 50 years, and target country is Indonesia.
For more details can be seen screenshot image below: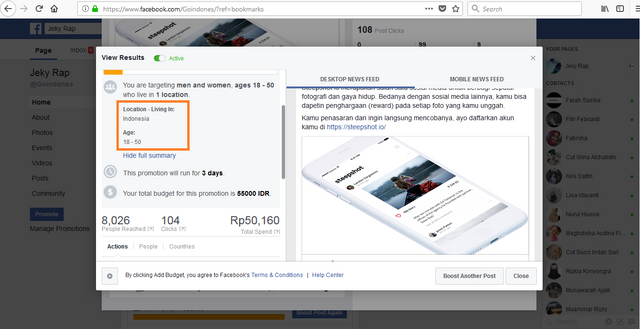 And from the statistics of facebook advertising, reached 71.4% men and 28.6% women.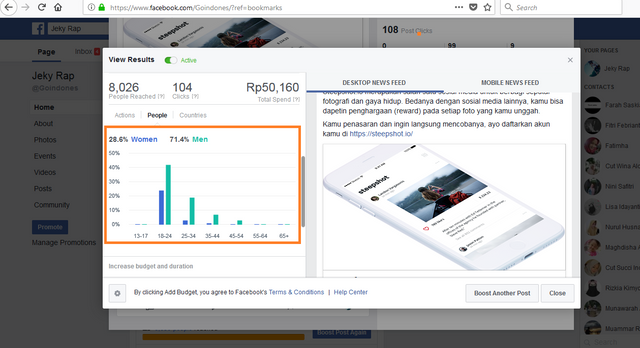 Activity
I do promotion through Facebook Ads for 3 days with cost IDR 18333 / day or with cost IDR 55000.
Below, promotion screenshots on facebook ads: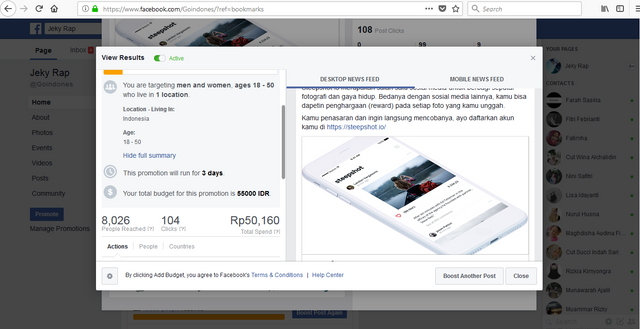 Promotion Link:
Facebook promotional link (Click)
Results
I made a promotion starting on March 6, 2018, with a 3-day promotion period. The results of facebook ads are People Rached: 7900 more and total click: 108. And the ad is still running for 7 hours again.
For more details please see the table below:
| About Promotion | Results |
| --- | --- |
| Promotion Period (Day) | 3 |
| Total impresion with facebook ads | 7956 |
| Total Click with facebook ads | 108 |
| Total comments | 5 |
| Total Likes | 67 |
| Campagain remaining (hour) | 7 |
---
Post campaign facebook ads: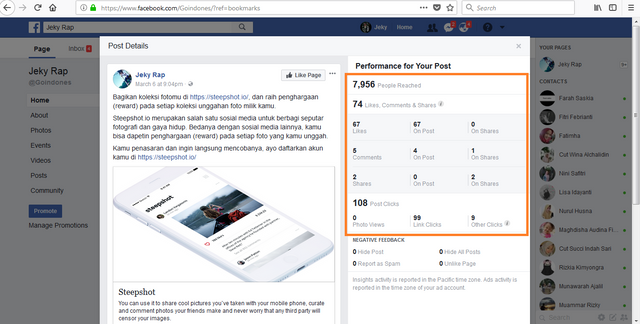 Performance
Demographics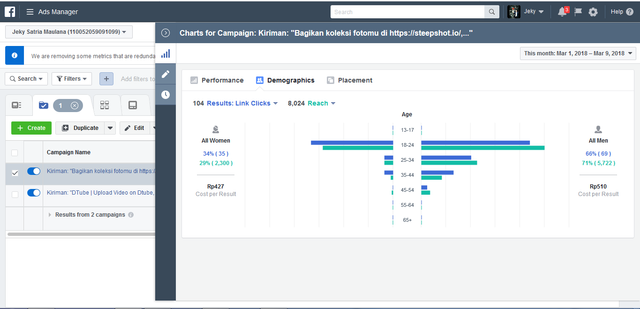 Placement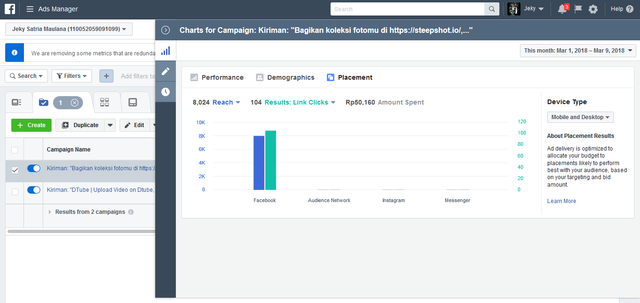 To prove my work I have prepared the following video:
Account verification
Below, proof of my Steemit account, Utopian, And Facebook.