A Problem about Easy Access on Steemit NSFW " Not Safe For Work " Posts | Steemit Needs an Immediate Action On This Matter
Good day to all the readers! ^_^
PROBLEM
This contribution talks about an observation with regards to " NSFW " posts on Steemit. By the way, for those who don't know what NSFW is, it is an acronym for " Not Safe For Work " or could also be distinguished as " not safe to be viewed at work ". It is a warning for an email subject line and is used to warn the recipient to not open the message at the office or near young children because the message contains sexual or repulsive content. Thus, I wanted to share this to everyone.
Try to look at this photos. Below are the examples or list of NSFW Posts on Steemit.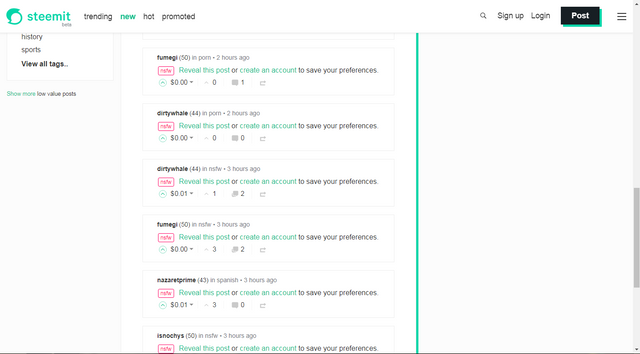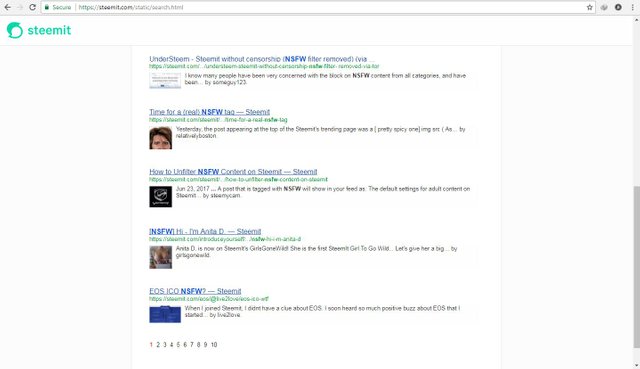 ---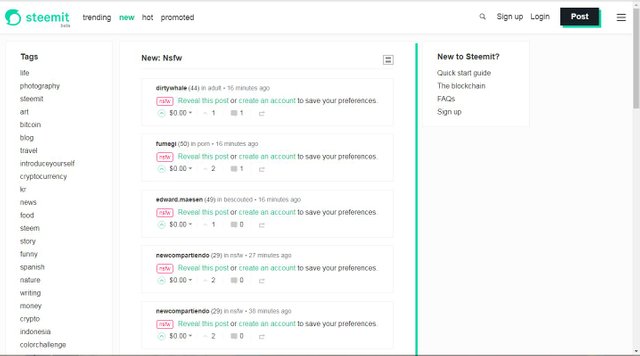 I was just wondering around the website that time and when I tried to click the " Reveal this post " in each of the posts, the contents was revealed. Just like this, in an instant…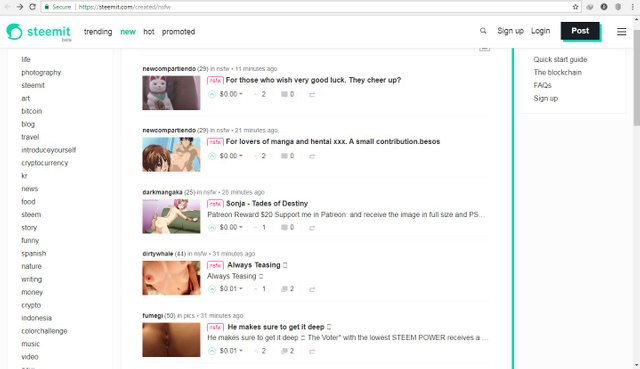 Aside from that, when I tried to open one of the posts, a video had appeared. When I tried to play the video, it plays without any hassle or further confirmation if the one watching is already on the right age or does have the prior access to watch the said video. It continues to play until the video reaches its end.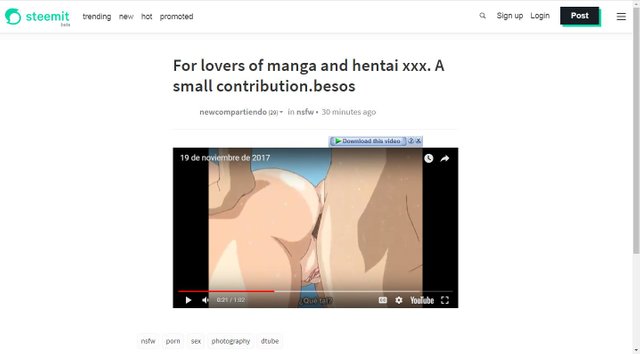 If you were going to take a look at the photo above, I wasn't logged in the website yet, however, I was able to see the contents of NSFW posts. This is quite bothering and in need of an immediate action to take. This kind of posts must not be easy to access and must require super parental guidance especially to those people outside the Steemit community.
SOLUTIONS
For Old Steemit Users. Since there are already registered Steemit users who are still minors, the website must develop a confirmation button that the user must click in order to confirm he/she must be 18 years old and above before viewing this kind of posts.
For New Steemit Users. During the registration of accounts, a newbie must confirm that he/she is 18 years old and above in order to view all kinds of Steemit posts.
Disable access to Steemit NSFW posts if not logged into the website.
Disable Google searches of Steemit NSFW posts. This may affect the reputation of the website as will as the users. Only Steemit users who are 18 years old and above must have the access to view Steemit NSFW Posts.
BENEFITS
Protection of the website and it's users against viral issues about sexual or repulsive contents of its user's posts. In addition, this is also to avoid bushes about the bloggers and the website.
Avoiding minors and other people who are not Steemit users to have an easy access to such Steemit NSFW posts thus, they can be guided properly as well as avoid them from negative influences.
Security and Privacy of all Steemit users regarding with their posts. Also, for the purpose of ensuring that only Steemit Users can access posts which belongs to the website only.
It could help in the succeeding developments that Steemit is doing on their website.
Furthermore, if it is possible to make such development on Steemit, it would be for the beneficiary of both the management and the users of the website.
Thank you visiting and reading the context ^_^
---
Posted on Utopian.io - Rewarding Open Source Contributors
---