Arabic Translation for Beehive Forum | (Part #3) | 588 words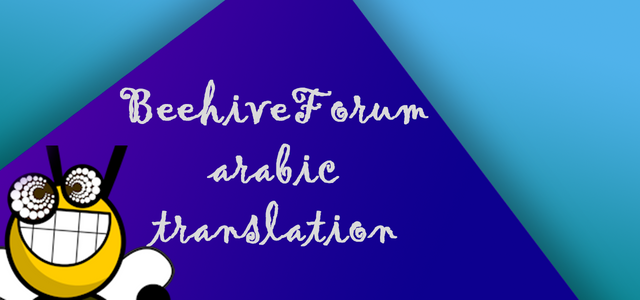 This is third part of my translation to BeehiveForum with arabic language .
i'm using crowdin tool and i hope my translation will help the project to be used with arab people.
Parts
About
Beehive Forum is a free and open source forum system with alot of languages implemented. also contains frames-based layout, reply-to-user, e-mail notification, HTML-posting, signatures, friends & killfiles, user promotion/demotion and full admin tools.
Here is the link for this project : https://crowdin.com/project/beehiveforum
Translation state


Links :
My account
Arabic activity page
Project on Crowdin
Project on Github
Some strings of my translation :
Translation File Time
البحث عن الموضوع messages.po 05:51 AM
البحث عن المستخدم messages.po 05:50 AM
يجب تحديد نوع البحث المطلوب تنفيذه messages.po 05:49 AM
واضح messages.po 05:48 AM
بحث messages.po 05:48 AM
البحث عن مستخدم ليس في القائمة messages.po 05:46 AM
عرض المستخدمين المسجلين فقط (إخفاء الضيوف) messages.po 05:42 AM
إخفاء الصفوف التي تحتوي على قيم فارغة أو فارغة في الأعمدة المحددة messages.po 05:39 AM
عضو messages.po 05:38 AM
لم يعرض بحثك أي تطابقات. جرب تبسيط معلمات البحث ثم أعد المحاولة. messages.po 05:38 AM
سجل الزائرين messages.po 05:36 AM
لقد أضفت هذا العمود من قبل. إذا كنت ترغب في إزالته انقر فوق زر الإغلاق messages.po 05:36 AM
يمكنك إضافة 3 أعمدة فقط. لإضافة عمود جديد، أغلق عمود موجود messages.po 05:35 AM
النشر في HTML بشكل افتراضي messages.po 05:34 AM
يمكنك النشر في HTML باستخدام الفواصل التلقائية messages.po 05:34 AM
نشر في نص عادي افتراضيا messages.po 05:34 AM
تحليل عناوين ورل تلقائيا في الرسائل بشكل افتراضي messages.po 05:33 AM
تعطيل الرموز التعبيرية في الرسائل بشكل افتراضي messages.po 05:32 AM
توقيع العرض messages.po 05:32 AM
لوحة عرض المشاعر messages.po 05:32 AM
عرض شريط أدوات HTML WYSIWYG messages.po 05:31 AM
عرض شريط أدوات HTML بسيط messages.po 05:31 AM
لا يوجد شريط أدوات HTML messages.po 05:30 AM
صفحة المشاركة messages.po 05:30 AM
المشاركات messages.po 05:30 AM
صفحة البدء messages.po 05:29 AM
المنتدى المشاعر messages.po 05:29 AM
نمط المنتدى messages.po 05:29 AM
حجم الخط messages.po 05:29 AM
المشاركات لكل صفحة messages.po 05:28 AM
أسلوب messages.po 05:28 AM
إظهار روابط مشاركة الشبكة الاجتماعية أعلى كل مؤشر ترابط messages.po 05:28 AM
عرض الصور الرمزية للمستخدم في رؤوس الرسائل وسجل الزائرين وقائمة المستخدمين النشطة messages.po 05:27 AM
قائمة المواضيع آخر رابط آخر يذهب إلى آخر صفحة من المشاركات. messages.po 05:27 AM
استخدم الرد السريع افتراضيا. (الرد الكامل في القائمة) messages.po 05:27 AM
تغيير حجم الصور وإعادة تدفق الصفحة لمنع التمرير الأفقي. messages.po 05:26 AM
إظهار إحصائيات المنتدى أسفل جزء الرسالة messages.po 05:26 AM
تظهر دائما المفسدين في النسخة المحمولة (يستخدم لون الخط أخف) messages.po 05:25 AM
كشف المفسدين على تمرير الماوس messages.po 05:25 AM
تمكين التكامل WikiWiki messages.po 05:23 AM
الصور المصغرة لمرفقات الصور messages.po 05:22 AM
كبيرة الحجم messages.po 05:22 AM
حجم متوسط messages.po 05:20 AM
حجم صغير messages.po 05:20 AM
تبين messages.po 05:20 AM
صفحة البداية مع قائمة سلاسل المحادثات messages.po 05:19 AM
تحويل الصور المضمنة تلقائيا في المشاركات إلى روابط messages.po 05:19 AM
وضع علامة تلقائيا على المواضيع التي نشرها في موضع اهتمام عالي messages.po 05:18 AM
تجاهل توقيعات المستخدم عالميا messages.po 05:17 AM
فرز قائمة الصفحات حسب المجلدات messages.po 05:16 AM
---
Posted on Utopian.io - Rewarding Open Source Contributors
---