Arabic Translation for Beehive Forum | (Part #6) | 633 words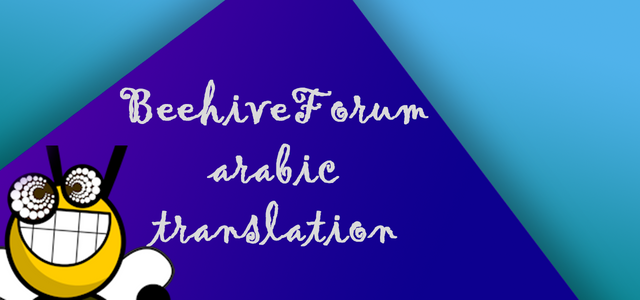 This is part#6 of my translation to BeehiveForum with arabic language .
i'm using crowdin tool and i hope my translation will help the project to be used with arab people.
Parts
PART #1
PART #2
PART #3
PART #4
PART #5
About
Beehive Forum is a free and open source forum system with alot of languages implemented. also contains frames-based layout, reply-to-user, e-mail notification, HTML-posting, signatures, friends & killfiles, user promotion/demotion and full admin tools.
Here is the link for this project : https://crowdin.com/project/beehiveforum
Proof of work
Befor

After

Links :
My account
Arabic activity page
Project on Crowdin
Project on Github
Some strings of my translation :
إضافة منتدى messages.po 11:34 AM
أخفق تحديث المنتدى:'%s' messages.po 11:34 AM
منتدى غير موجود أو FID غير صالح messages.po 11:34 AM
يجب توفير مستوى الدخول إلى المنتدى messages.po 11:33 AM
يجب توفير اسم قاعدة بيانات المنتدى messages.po 11:32 AM
يجب توفير webtag في المنتدى messages.po 11:32 AM
يجب ألا يتجاوز طول Webtag 32 حرفا messages.po 11:31 AM
أخفق حذف المنتدى:'%s' messages.po 11:30 AM
هل تريد بالتأكيد حذف جميع المنتديات المحددة؟ messages.po 11:27 AM
يرجى ملاحظة أنه لا يمكنك استرداد المنتديات المحذوفة. وبمجرد حذف المنتدى يتم إزالته جميع البيانات المرتبطة نهائيا من قاعدة البيانات. إذا كنت لا ترغب في حذف المنتديات المحددة، يرجى النقر على إلغاء. messages.po 11:25 AM
إدارة المنتديات messages.po 11:22 AM
إضافة المستخدمين المحددين messages.po 11:22 AM
إزالة المستخدمين المحددين messages.po 11:22 AM
الأذونات الحالية messages.po 11:20 AM
تمت إزالة الأذونات للمستخدمين المحددين بنجاح messages.po 11:20 AM
لم يتم إجاد أذونات المستخدمين الحاليين. لمنح الإذن للمستخدمين بالبحث عنها أدناه. messages.po 11:19 AM
تمت إضافة الأذونات للمستخدمين المحددين بنجاح messages.po 11:17 AM
إدارة أذونات المنتدى messages.po 11:17 AM
تعذرت إزالة الأذونات للمستخدم '%s' messages.po 11:17 AM
تعذرت إضافة الأذونات للمستخدم '%s' messages.po 11:16 AM
لم يتم تعيين المنتدى على وضعية التقييد. هل تريد تفعيله الآن؟ messages.po 11:15 AM
تطبيق فلتر الكلمات على الرسائل messages.po 11:14 AM
إدراج ورقة أنماط المنتدى messages.po 11:14 AM
السماح للمستخدمين الآخرين بإرسال رسائل شخصية إلي messages.po 11:12 AM
تصدير المرفقات messages.po 05:59 AM
ملف واحد لكل رسالة messages.po 05:59 AM
ملف واحد لكل الرسائل messages.po 05:58 AM
تصدير الرسائل على شكل messages.po 05:58 AM
CSV messages.po 05:57 AM
XML messages.po 05:57 AM
HTML messages.po 05:57 AM
خيارات تصدير الرسالة الخاصة messages.po 05:57 AM
حدد المجلدات ليتم تصدريها messages.po 05:56 AM
تصدير الرسائل الخاصة messages.po 05:56 AM
يجب تحديد بعض المجلدات ليتم تصدريها messages.po 05:56 AM
تمت إزالة الروابط المحددة بنجاح messages.po 05:54 AM
تم تعديل رابط المنتدى بنجاح messages.po 05:54 AM
المشاركة والردود المحددة فقط messages.po 05:53 AM
النقل messages.po 05:53 AM
إعادة التسمية messages.po 05:53 AM
العادي messages.po 05:52 AM
الفائدة messages.po 05:52 AM
المشاركات من messages.po 05:49 AM
خيارات المستخدم messages.po 05:49 AM
استمر messages.po 05:49 AM
إعدادات عدم كشف المنتدى messages.po 05:38 AM
كشف كل من عمري وتاريخ ميلادي للآخرين messages.po 05:37 AM
كشف يوم وشهر ولادتي فقط للآخرين messages.po 05:36 AM
كشف عمري للآخرين فقط messages.po 05:36 AM
لا تكشف عمري أو تاريخ الميلاد للآخرين messages.po 05:35 AM
تاريخ الميلاد وعرض تاريخ الميلاد messages.po 05:35 AM
استخدم عنوان بريدي الإلكتروني عند إرسال رسائل بريد إلكتروني للمستخدمين الآخرين من خلال ملفاتهم الشخصية messages.po 05:34 AM
السماح للمستخدمين الآخرين بإرسال رسائل البريد الإلكتروني إلي من خلال ملف التعريف الخاص بي messages.po 05:33 AM
البريد الإلكتروني والخصوصية messages.po 05:32 AM
تفعيل ملف Sitemap messages.po 05:32 AM
ملاحظة: تخصيص المساحة لمرفقات بيإم تؤخذ من تخصيص المرفق الرئيسي لكل مستخدم وليس بالإضافة إليه. messages.po 05:31 AM
يمكن ان تحتوي الرسائل الشخصية ايضا على مرفقات يمكن ان تكون مفيدة لتبادل الملفات بين المستخدمين. messages.po 05:29 AM
الرسائل الشخصية لا تقدر بثمن كوسيلة لاتخاذ المزيد من الامور الخاصة من وجهة نظر الأعضاء الآخرين. ولكن إذا كنت لا تريد أن يتمكن المستخدمون من إرسال رسائل شخصية أخرى، فيمكنك تعطيل هذا الخيار. messages.po 05:29 AM
السماح للرسائل الشخصية بأن يكون لها مرفقات messages.po 05:27 AM
الأيام messages.po 05:26 AM
تفعيل الرسائل الشخصية messages.po 05:25 AM
الرسائل الشخصية messages.po 05:25 AM
تفعيل الرسائل شخصية messages.po 05:25 AM
الرسائل شخصية messages.po 05:25 AM
يمكنك استخدام HTML في قواعد المنتدى. كما سيتم تحويل الروابط التشعبية وعناوين البريد الإلكتروني تلقائيا إلى روابط. لاستخدام AUP منتدى Beehive إمسح المجال. messages.po 05:25 AM
استخدم قواعد المنتدى لإدخال سياسة استخدام مقبولة والتي يجب على كل مستخدم الموافقة عليها قبل التسجيل في المنتدى الخاص بك. messages.po 05:12 AM
قوانين المنتدى messages.po 05:11 AM
تغير الخيارات المذكورة أعلاه القيمة الإفتراضية لنموذج تسجيل المستخدم. حينما ينطبق ذلك ستَستخدِم الإعدادات الأخرى الإعدادات الافتراضية الخاصة بالمنتدى. messages.po 05:10 AM
إظهار popup عند استلام PM جديد messages.po 05:06 AM
إشعار البريد الإلكتروني فيما يتعلق بالرد على المستخدم messages.po 05:05 AM
خيارات المستخدم الجديدة messages.po 05:04 AM
إذا كنت ترغب في تفعيل إعلانات Google AdSense أو تعطيلها في منتدى معين، فيمكنك إجراء ذلك من خلال الانتقال إلى صفحة الإعدادات في المنتدى. messages.po 05:03 AM
إذا لم يكن لديك حساب Google AdSense، فستحتاج إلى الاشتراك في حساب واحد بالنقر على هنا . messages.po 05:02 AM
يدعم منتدى Beehive الخاص بك أحجام مختلفة من إعلانات Google AdSense. أدخل معرفات الفواصل للإعلانات ذات الصلة بالحجم في المربعات أعلاه، وستختار Beehive تلقائيا الإعلان الصحيح لكل صفحة. messages.po 05:01 AM
عرض إعلانات AdSense بعد النشر messages.po 05:00 AM
Id شريحة إعلانية صغيرة الحجم (234 × 60) messages.po 05:00 AM
Id شريحة إعلانية متوسطة الحجم (468 × 60) messages.po 04:59 AM
تم تعطيل نص كابتشا لأن إعداد خادم PHP الخاص بك لا يدعم تلاعب صورة GD / أو دعم الخط TTF. كلاهما مطلوب لدعم نص كابتشا. messages.po 04:58 AM
استخدام نص كابتشا messages.po 04:55 AM
نص كابتشا messages.po 04:55 AM
اسم مضيف بحث Sphinx messages.po 04:54 AM
تفعيل تكامل بحث Sphinx messages.po 04:54 AM
يتعذر الاتصال بخادم بحث Sphinx باستخدام الإعدادات التي حددتها. messages.po 04:53 AM
---
Posted on Utopian.io - Rewarding Open Source Contributors
---