Piwigo-Mobile | Arabic Translation | (100%) - 1929 words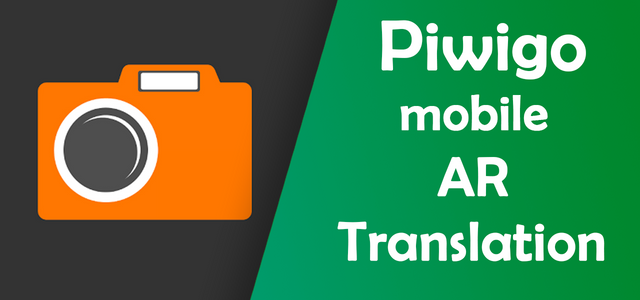 i've complet all translation for Piwigo-Mobile with arabic language using Crowdin .
About Piwigo-Mobile
Piwigo for iPhone/iPad/iPod supplements the free photo gallery software in the cloud Piwigo.
Contact the project manager if your language is not available and help us translate Piwigo for iOS!
Translation Stat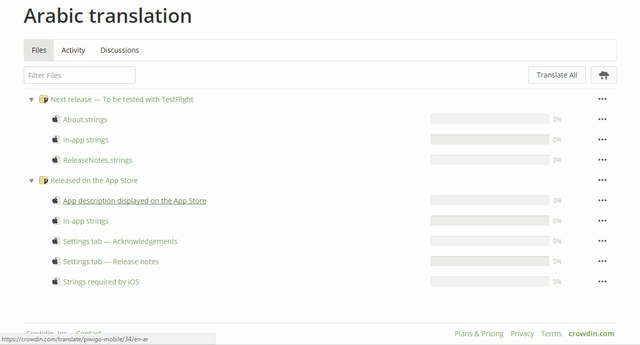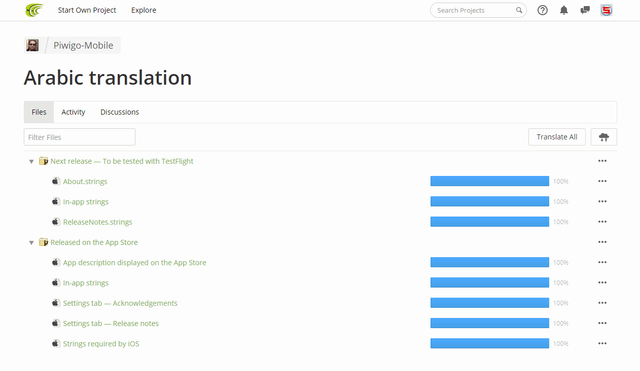 Links :
Arabic translation Activity page
My account
Project on Crowdin
Project on Github
Some strings of my translation :
جرد البيانات الوصفية GPS In-app strings 06:00 PM
أخفق الحصول على طرق الخادم. مشكلة مع خادم Piwigo ؟ In-app strings 06:00 PM
معايير المجتمع In-app strings 05:59 PM
الجلسة المفتوحة In-app strings 05:59 PM
جرد البيانات الوصفية GPS قبل التحميل In-app strings 05:59 PM
لا يتطابق اسم المستخدم وكلمة المرور مع عنوان الويب المحدد In-app strings 05:59 PM
أخفق تسجيل الدخول In-app strings 05:58 PM
تم تغيير الاتصال! In-app strings 05:57 PM
طرق غير معروفة In-app strings 05:57 PM
معايير Piwigo In-app strings 05:57 PM
بحيث أنها سوف تكون قادرة على تحميل الصور إلى الصور وتحميل الصور إلى Piwigo الخاص بك. Strings required by iOS 05:56 PM
صغير In-app strings 10:42 AM
صغير جدا In-app strings 10:41 AM
صغير In-app strings 10:41 AM
صغير جدا In-app strings 10:41 AM
الصورة المصغرة In-app strings 10:41 AM
مربع In-app strings 10:40 AM
(معطل على الخادم) In-app strings 10:40 AM
(موصى به) In-app strings 10:40 AM
الرجاء تحديد حجم الصورة In-app strings 10:40 AM
حجم افتراضى In-app strings 10:39 AM
الحجم الافتراضي للصور In-app strings 10:39 AM
حجم الصورة In-app strings 10:39 AM
الصور In-app strings 10:38 AM
ضخم In-app strings 10:38 AM
كبير جدا In-app strings 10:38 AM
كبير In-app strings 10:38 AM
متوسط In-app strings 10:38 AM
صغير In-app strings 10:38 AM
صغير جدا In-app strings 10:37 AM
صغير (أفضل) In-app strings 10:37 AM
صورة مصغرة (افتراضي) In-app strings 10:37 AM
مربع (أسرع) In-app strings 10:37 AM
(معطل على الخادم) In-app strings 10:36 AM
عرض العناوين على الصور المصغرة In-app strings 10:36 AM
العناوين على الصور المصغرة In-app strings 10:36 AM
الرجاء تحديد حجم الصورة المصغرة In-app strings 10:36 AM
تعديل الصور للتحميل In-app strings 10:35 AM
مستوى الخصوصية In-app strings 10:34 AM
أخفق جلب بيانات الصورة. استمر؟ In-app strings 10:34 AM
تحميل In-app strings 10:33 AM
أخفق جلب تفاصيل الصورة In-app strings 10:33 AM
أخفق جلب بيانات الصورة. حاول مرة أخرى؟ In-app strings 10:33 AM
أخفق الحصول على معلمات إضافة المجتمع. حاول تسجيل الدخول مرة أخرى. In-app strings 10:32 AM
فشل في تحديث التغييرات مع الخادم. حاول ثانية؟ In-app strings 10:31 AM
فشل في التحديث In-app strings 10:31 AM
خطأ في المنتدى In-app strings 10:30 AM
فشل أثناء المصادقة مع الخادم. حاول تسجيل الدخول مرة أخرى. In-app strings 10:30 AM
فشل أثناء المصادقة In-app strings 10:29 AM
إصدار خادم Piwigo هو %@. Piwigo موبايل يدعم فقط على الأقل نسخة من 2.7. يرجى تحديث الخادم الخاص بك لاستخدام Piwigo موبايل. هل ما زلت ترغب في المتابعة؟ In-app strings 10:29 AM
الخادم غير متوافق In-app strings 10:28 AM
يرجى تحديد بروتوكول وإدخال عنوان ويب Piwigo للمواصلة. In-app strings 09:56 AM
أدخل عنوان ويب In-app strings 09:55 AM
ضخم In-app strings 09:54 AM
كبير جدًا In-app strings 09:54 AM
كبير In-app strings 09:54 AM
متوسط In-app strings 09:54 AM
شكر وتقدير In-app strings 09:54 AM
http://piwigo.org/forum In-app strings 09:54 AM
ترجمة Piwigo موبايل In-app strings 09:54 AM
تقييم Piwigo موبايل In-app strings 09:53 AM
ملاحظات الإصدار In-app strings 09:53 AM
منتدى الدعم In-app strings 09:52 AM
معلومة In-app strings 09:52 AM
Piwigo موبايل In-app strings 09:52 AM
MB In-app strings 09:52 AM
أدخل ذاكرة التخزين المؤقت من 10 - 200 In-app strings 09:52 AM
الذاكرة In-app strings 09:51 AM
أدخل ذاكرة التخزين المؤقت على القرص من 10 - 200 In-app strings 09:51 AM
القرص In-app strings 09:51 AM
ذاكرة الإعدادات المؤقة (المستخدم / الإجمالي) In-app strings 09:51 AM
أدخل جودة الصورة من 50 - 98 In-app strings 09:50 AM
الجودة In-app strings 09:49 AM
أدخل حجم الصورة من 1 - 100 In-app strings 09:49 AM
الحجم In-app strings 09:49 AM
تغيير حجم الصورة قبل التحميل In-app strings 09:49 AM
تغيير الحجم قبل التحميل In-app strings 09:48 AM
من يمكنه مشاهدة وسائل الإعلام؟ In-app strings 09:48 AM
الخصوصية In-app strings 09:48 AM
اسم الكاتب In-app strings 09:48 AM
اسم الكاتب In-app strings 09:47 AM
الكاتب In-app strings 09:47 AM
إعدادات التحميل الافتراضية In-app strings 09:47 AM
حل شامل In-app strings 09:47 AM
حدد ألبوما للحصول على صور من In-app strings 06:10 AM
الصور In-app strings 06:09 AM
الوصف: In-app strings 06:09 AM
العلامات: In-app strings 06:09 AM
الخصوصية: In-app strings 06:09 AM
الكاتب: In-app strings 06:09 AM
العنوان: In-app strings 06:08 AM
العنوان: In-app strings 06:08 AM
العنوان: In-app strings 06:08 AM
الكل In-app strings 06:08 AM
تحميل In-app strings 06:07 AM
حدد ألبوما لتحميل الصور إلى In-app strings 06:07 AM
أخفق حفظ الفيديو. خطأ:%@ In-app strings 06:07 AM
أخفق حفظ الفيديو In-app strings 06:05 AM
أخفق حفظ الصورة. خطأ:%@ In-app strings 06:03 AM
حذف الصورة In-app strings 06:03 AM
تم حذف %@%% In-app strings 06:03 AM
الصور In-app strings 06:02 AM
حذف In-app strings 06:02 AM
الكل In-app strings 06:02 AM
تم تحديدها In-app strings 06:02 AM
العلامات In-app strings 06:01 AM
لا شيء In-app strings 06:01 AM
الجميع In-app strings 06:01 AM
المشرفين، العائلة In-app strings 06:01 AM
المشرفين، العائلة، الأصدقاء، جهات الاتصال In-app strings 06:01 AM
المشرفين، العائلة، الأصدقاء In-app strings 06:01 AM
المشرفين، الأسرة In-app strings 06:00 AM
المسؤولون In-app strings 05:57 AM
رخصة MIT (ميت) يتم منح الإذن، مجانا، لأي شخص يحصل على نسخة من هذا البرنامج وملفات الوثائق المرتبطة به ("البرنامج")، للتعامل في البرنامج دون قيود، بما في ذلك حقوق استخدام بدون حدود ،النسخ والتعديل والدمج أو النشر أو التوزيع أو ترخيص و/أو بيع نسخ من البرنامج، والسماح للأشخاص الذين يتم توفير البرامج لهم بذلك، مع مراعاة الشروط التالية: يجب تضمين إشعار حقوق الطبع والنشر المذكور أعلاه وإشعار الإذن هذا في جميع النسخ أو أجزاء كبيرة من البرنامج. فالبرنامج مجهز "كما هو"، دون ضمان من أي نوع، صريحة أو ضمنية، بما في ذلك وبدون حدود ضمانات الرواج، والملائمة لغرض معين وعدم الانتهاك. في أي حال من الأحوال المؤلفون أو أصحاب حقوق الطبع والنشر تكون مسؤولة عن أي مطالبة أو أضرار أو مسؤولية أخرى، سواء في أي إجراء... Settings tab — Acknowledgements 05:57 AM
UICountingLabel رخصة MIT (ميت) حقوق الطبع والنشر © 2013 Tim Gostony Settings tab — Acknowledgements 05:48 AM
cheers :)
---
Posted on Utopian.io - Rewarding Open Source Contributors
---