Usage Analysis for UpvotePH Bot - WE 01-05-18

In an effort to remain transparent and provide information for tracking the the growth of UpvotePH, regular weekly data and analysis will be shared with the community. My hope is that this information will help improve the quality of support that UpvotePH can provide the community and highlight areas where improvements can be made. This data should also allows us to track the amount of growth and awareness that the bot is receiving and in time drive an increase in the amount of return that UpvotePH can give back to the community it supports.
As usage increases this report will also eventually showcase the top users and follow how their growth on Steemit correlates with the support that UpvotePH provides.
@arcange's Steem SQL Public Database is used to acquire the data-points related to usage.
I extracted the data related to the bot usage for this analysis by running the following SQL query:
SELECT *
FROM DBSteem.dbo.TxVotes
WHERE Voter IN ('upvoteph','whaleph')
AND timestamp >= '12/01/2017'
The data is complete until the end of December 2017, and represents a total of 911 uses for the month of December.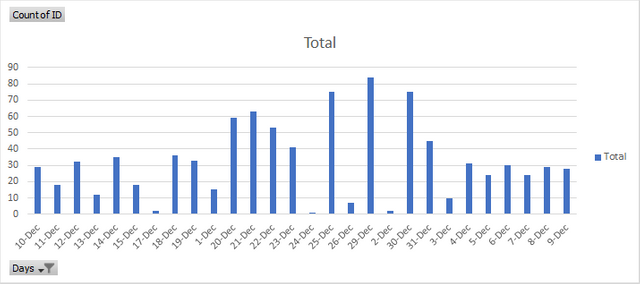 Usage towards the end of the month is greater as awareness of the bots existence has grown. This growth in usage also correlates with the increase in price for SBD which indicates an increase in the number of posts that users of UpvotePH made during this time period

Average daily usage for the month of December is around 32 triggers per day with a total of 179 users in the month of December. Of these 179 unique users, the following are the Top registered content creators to use UpvotePH to help promote their content

Peak usage of UpvotePH is generally around the early afternoon hours and throughout AM hours which is equivalent to PH afternoon, which is understandable. This also accounts for the 20 min age requirement for all posts submitted to UpvotePH before it will upvote.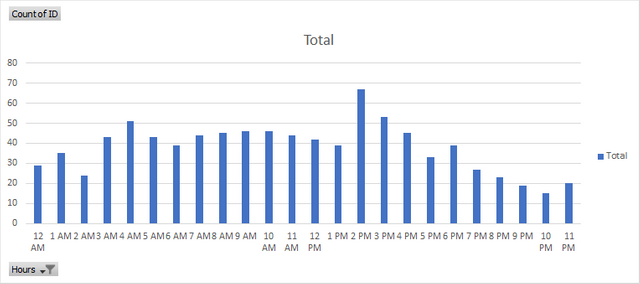 As usage increases and more data points become available, I am hoping we can provide more analysis on the correlation among our Upvote PH users growth (in both earnings and reputation) and the use of the bot. As we power up the bot I hope to show how payout and contribution towards the community increases as well as how support from the bot helps to grow and improve the content quality and frequency of posts from our community members.
If you have any questions, inputs, or feedback, please feel free to let us know in the comment section below. I would also appreciate your Upvote, Follow, and Resteem if you feel this analysis was interesting.
---
Posted on Utopian.io - Rewarding Open Source Contributors
---