Utopian Weekly. The Utopian Hackathon Winners
It was quite an exciting (but challenging) week with the Steem blockchain hard fork, @utopian-io finally getting in the top 20 witness list, but most importantly, Utopian is celebrating its 1st year on Steem!
In today's weekly summary we bring you, in addition to our regular activity report, the much awaited announcement of Hackathon winners, as well as details on how they can claim their prizes.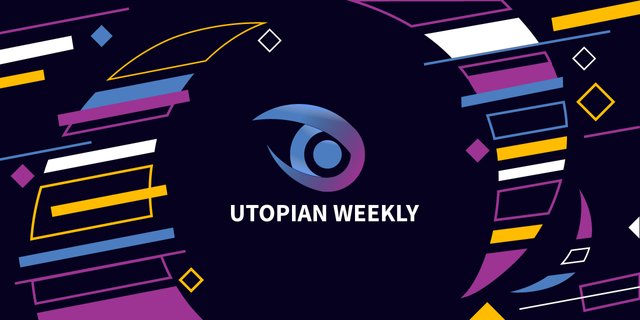 Utopian Hackathon
Having the first Utopian Hackathon was extraordinarily exciting for us. It was an amazing experience, with most of the Utopian team together in Italy, and dozens of participants online. We had lots of fun and little sleep but it was totally worth it for the results!
More than 10 projects participated and were submitted to Utopian, and they were all awesome ideas. Even though only few could make it in the list of winners, we still want to thanks all the participants for submitting their creations and taking part.
Winners
SteemKit by @genievot is the only submission using Byteball and may receive the Byteball dedicated prize.
The liquid STEEM prizes will be sent to the winners' wallets. To receive the upvotes on the contributions, we ask the winner to write a follow up post for their projects on Monday 1st of October.
Thanks to everyone for participating and let's hack together again at the next Utopian Hackathon!
Utopian Top 20 Witness
Just as Utopian reached its 1st birthday on the blockchain, we also became a top 20 witness on Steem. Just in time for HF20 to shake things up and make us focus even more on our activity as a Steem witness.
Currently, Utopian has both main and backup witnesses running Steem 0.20.5 (the latest patch released today) on 64GB DDR3 RAM dedicated machines.
You can read more about it in our first of (hopefully) many witness update posts as a top 20 witness. Thank again for bringing us there!
Radio Show Episode 15
This week's Utopian Open Source Radio Show hosted @nothingismagic who told us about the Quasar Framework, his vision for it, and his how Utopian is helping the project realize it.
In addition, and due to the state of the blockchain during the HF20 upgrades, we hosted a number of prominent witnesses who were kind enough to join the conversation to help clarify the situation and discuss how the hard-forking process can be improved in the future. Our thanks to @themarkymark, @pharesim, @lukestokes, @reggaemuffin and @therealwolf for their insights!
The full show recording will be published shortly.

First Time Contributing in Utopian.io?
Learn how to contribute on our website