Task Request: Steem Avatar generator, parts for Orca.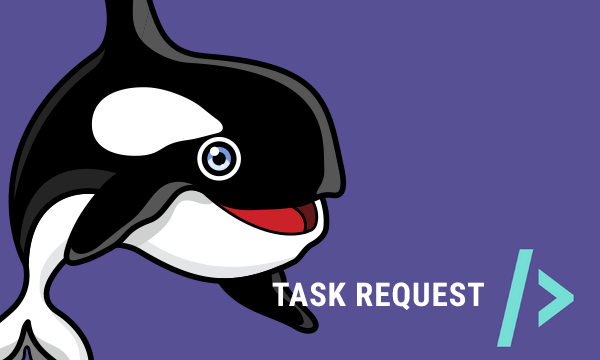 Repository
https://github.com/wearecodexx/steem-avatars-generator
Please read this task very carefully, this design has very detailed specifications.
---
Details
We need the help of designers to create many different sets of characters for our STEEM avatar generator, section: ORCA. And only orca this time.
To see how the avatar generator works check this link: http://wearecodex.com/steem-avatars/ and click GENERATE button in the minnow or dolphin section; click many times to get the idea clearly.
It is highly important that you download and use THIS PSD as base.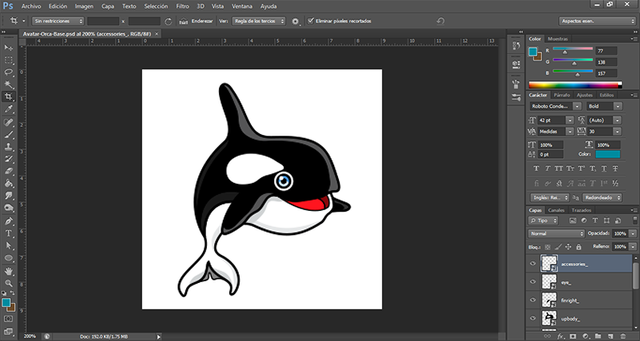 It contains the vector necessary for the design as smart objects. It is in the right size so you must not modify the size of any of the parts.
You can modify shapes slightly as long as they keep fiting with the entire system; don't change position of any of the parts if it can altere the whole design.
EACH PART HAS TO FIT PERFECTLY WITH ALL THE DESIGNS SUBMITTED BY YOU AND ALL THE DESIGNERS.
You must respect the order of the layers and you can use only ONE layer for accessories on top.
Specifications:
The final files must be PNG, 256x256px.
You must provide each part in a separate file with the name exactly as in this example, no numbers, no uppercase, make a folder for each set:
Name
Image
Name
Image
accessories_
eye_
finleft_
finright_
lowerbody_
mouth_
upbody_
Be creative!
You can add something to the fins as it is holding a tool, redesign the upper fin (included in the upbody) and the white mark, etc.
Follow the same illustration style or keep it very close. 3D, sketch styles, or very shaded are not accepted.
Make at least 3 complete orcas.
Components
We will add the parts in a folder to be used in the project.
The script will be modified to call all the extra parts.
Deadline
The last day to submit your designs will be wednesday jun 13th, UTC-7 (including this day).
Communication
You must communicate with wearecodex team in our discord server:
https://discord.gg/8MuwspJ
First drop your sketches or rough ideas, so we can evaluate them, then you can make the final designs BUT we need to check that they FIT PERFECTLY BEFORE you post them to utopian.
If your design doesn't fit the base perfectly then it doesn't work and won't be used. We don't want anyone to abuse the system by posting before we check.
When you make the post, use the tag #wearecodex. Also link this task request.
Github
https://github.com/wearecodexx
NOTE TO MODERATORS:
We don't want the contributors to make Pull Requests, because we need to set the names manually for each part when we get them all.
We also don't want any design that doesn't fit to be rewarded. Wait for a comment by @wearecodex saying it was accepted, otherwise the post can be considered as abuse.