Higher Rates of Gardasil Vaccination Correlate with Higher Rates of Cervical Cancer
A French MD, orthopaedic surgeon, oncologist and statistician named Gérard Delépine has analyzed the HPV vaccine Gardasil and published his results on an independent news site called Agora Vox. His research shows that higher rates of cervical cancer correlate with increased rates of Gardasil vaccinations.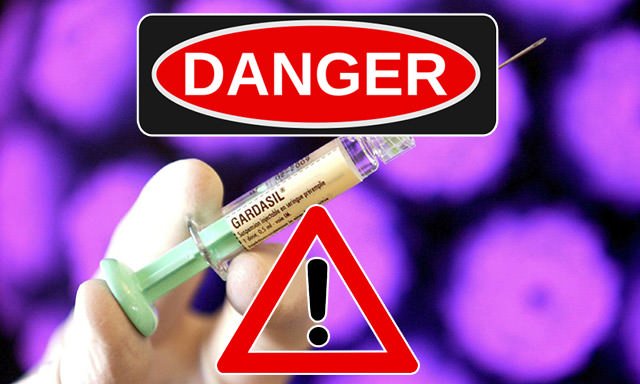 Source, Source, Source
An English version can be found published today on Dr. Delépine's personal site. It was originally sent as an "Open letter to parliamentarians, and to all citizens" as a response to French politicians calling for mandatory Gardasil vaccination. He co-founded the UK Association of HPV Vaccine Injured Daughters (AHVID) in 2015, so he is familiar with the Gardasil issue.
Dr. Delépine correct some parts of a French bill that asks for mandatory vaccination:
"There are more than one hundred and twenty kinds of human papillomavirus (HPV), and fifteen are considered to be at high risk because they can cause cancers including HPV 16 and 18 causing 70% of infections." But this only demonstrates a statistical correlation between presence of HPV and cancer, without anyone being so far able to demonstrate a direct CAUSALITY link.
Dr. Delépine explains that there is no strong evidence Gardasil protects against cancer, and points out that it only targets 2-5% of the 200 known strains of the human papillomavirus (HPV). The data he has gathered shows how ignorant the politicians are of the issue, as "some MPs want to impose a vaccination that can increase the risk of cervical cancer, as proven by international publications of national cancer registries."
Cervical cancer was decreasing in several countries he pulled statical data from pap smears. Conversely, in countries where mass Gardasil vaccination took place there are more cases of cervical cancer. France is one of those countries that still has a lower rate of Gardasil vaccination, and Dr. Delépine wants to keep it that way. He is urging French politicians to not make the mistake of making the Gardasil vaccination mandatory.
The French bill makes false claims to justify their move to mandate the harmful Gardasil vaccine, and Dr. Delépine correct their falsity again:
"In Australia, where 80% of women and 75% of men are vaccinated, cases of HPV lesions have almost disappeared." But, this statement is outrageous, as the following presentation will show you, because in this highly vaccinated country the number of cervical cancers (and other cancers attributed to HPV) continue to increase.
In Sweden, the campaign to vaccinate against cervical cancer shows how much the incidence rate of invasive cancer among women has increased:
Sweden, according to the National Kvalitetsregister for Cervix Cancer prevention (NKCx ): before the vaccination campaign, the incidence of cervical cancer had decreased (thanks to screening) from 18 in 1967 to 7 in 2006. The worldwide standardized incidence of cervical cancer has increased significantly since vaccination rising to 10.3 in 2012 and 11.5 in 2015. This increase is almost exclusively due to the increase in the incidence of invasive cancer among women aged 23 to 49, which has reached more than 50% since 2006 (11 in 2006 versus 17 in 2015), whereas it is those who have the highest vaccination coverage rate (85%).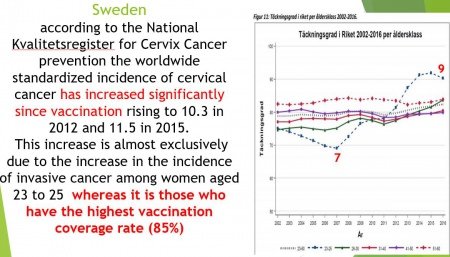 Source
In the UK, when the vaccine started to be implemented, the incidence rate shot up: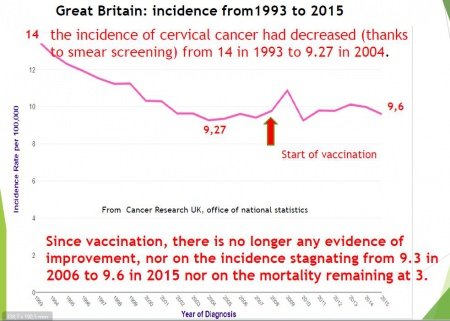 Source
In some countries, campaigns for vaccination were halted after severee vaccine injuries resulted and people protested what was done to them under the guise and promise of protecting them:
Japan, Austria and Denmark have stopped promoting this vaccination after serious complications, sometimes even fatal and that families suffering from these vaccines organized public demonstrations in several countries of the world (Japan, Colombia, Ireland), and that Danish doctors lodged a complaint against the European Medicines Agency (EMA), which refused to answer the questions they asked.
Frequent injuries from the vaccines are "include multiple sclerosis, lupus, disseminated acute encephalomyelitis (inflammation of the central nervous system) and myofasciitis macrophages (a disease that results in pain muscle and chronic fatigue)".
Dr. Delépine concludes that the benefit-risk ratio is not in favor of vaccination, and certainly shouldn't be made compulsory. Issuing a compulsory vaccination program based on faith, and not facts, with hidden conflicts of interest, should be known to all citizens before politicians can force potential or likely harm onto them. the HPV vaccine doesn't show a protection against invasive cervical cancer, but keeps it at a high level or may even increase it.
Dr. Delépine urges to "fight against this bill that threatens our children, by informing everyone, our MP, our senator, our elected officials, that no one may be unaware. ... Let's apply the precautionary principle! Let us respect the right of every human being to informed choice/consent for medical interventions!".
If you're family has someone going for a Gardasil vaccination, please get them to rethink it, especially if they are female. There are many cases you can find online of people being vaccine injured from Gardasil. At least one girl ended up being paralyzed. People need to really educate themselves and think if the risk is worth it. It wouldn't be for me.
---
Thank you for your time and attention. Peace.
---
References:
---
If you appreciate and value the content, please consider: Upvoting, Sharing or Reblogging below.


me for more content to come!
---
My goal is to share knowledge, truth and moral understanding in order to help change the world for the better. If you appreciate and value what I do, please consider supporting me as a Steem Witness by voting for me at the bottom of the Witness page.