Vape Mail! Wismec Sinuous FJ 200 Watt Ecig Mod
Hello Steemians! My trusty Eleaf iStick 50 watt ecig mod finally died after years of service, so i found myself in need of a new ecig mod. Ive been out of the loop for years, because my iStick had served my vaping needs very well. So, i took to google to see what is new. Holy crap, there are literally thousands of mods to choose from now.
After a few days of googling, reading reviews and comparison shopping, I decided on a Wismec Sinuous FJ 200 watt mod with temperature control capabilities and topped it off with a SMOK TVF8 Big Baby Tank Atomizer.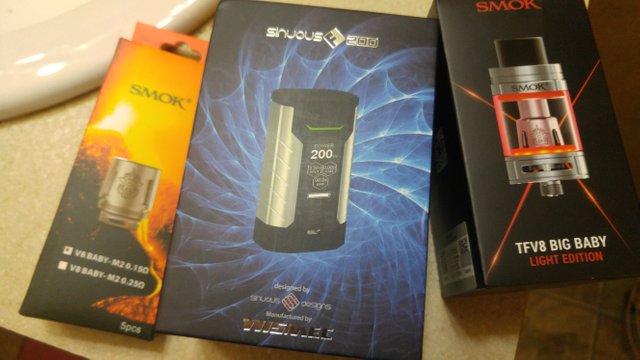 Here is the packaging. They came very well padded and the boxes are a nice, professional touch.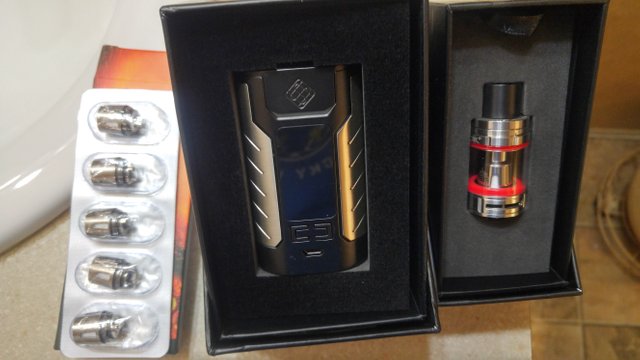 The Sinuous 200 is quite a bit smaller than I thought it would be. Its a very comfortable size and isn't too heavy. The TFV8 Tank sits on it perfectly and doesn't stick out on the sides at all. I also picked up 5 - 0.15 ohm replacement coils. The tank comes with a 0.4 ohm coil preinstalled and 1 - 0.15 ohm octo coil and 1 - 0.15 ohm quad coil for replacements.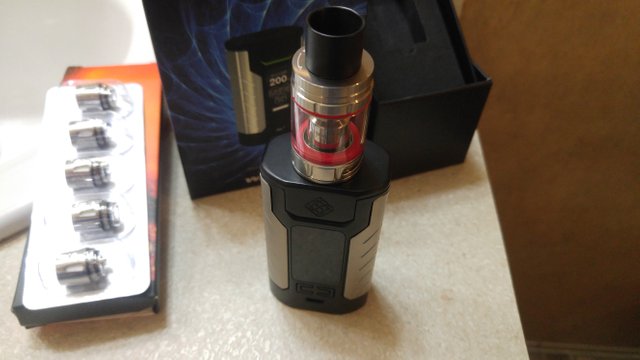 Here it is put together. The battery is internal, so I didn't have to worry about ordering batteries and it charges by usb, so my cell phone charger will charge it just fine.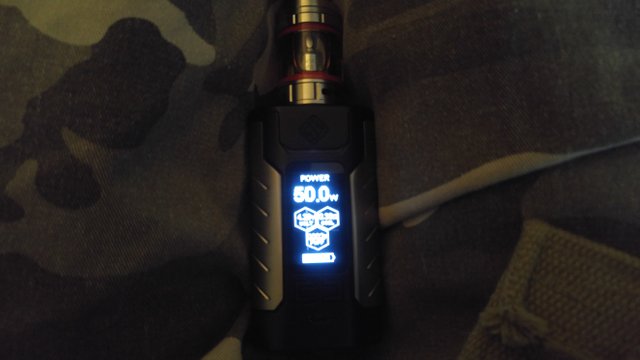 This is what the screen looks like when you press the button. It shows Wattage/Temp, depending on which mode you're using, voltage, coil resistance, remaining battery life, and a puff counter.
The buttons below the screen adjust wattage/temperature, lock and unlock adjustments, and pressing the fire button 3 times toggles the menu/modes. Pressing the fire button 5 times turns it on/off.
So far, its doing everything I need it to. It is a great size, has a good size internal battery, and I look forward to trying out temperature control when I get some nickel wire. If you're looking for an ecig mod, definitely consider the Sinuous 200 FJ 200 watt mod by Wismec.
** all these products were purchased at http://elementvape.com . I did not receive these products for review, nor do I receive anything from them for this post. They just had the best prices I found when comparison shopping.