VEGAN LASAGNA WITH CAULIFLOWER CASHEW CHEESE SAUCE - PURE COMFORT FOOD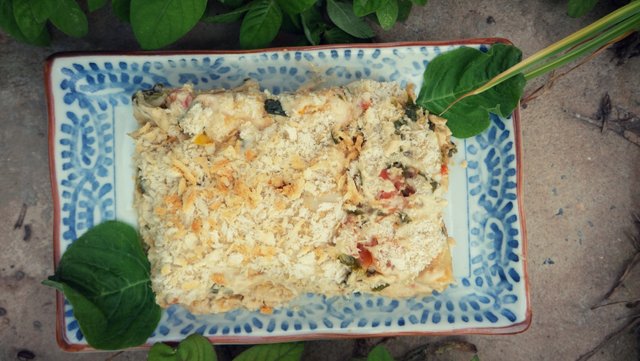 Packed with a delicious cashew cheesy flavor and lots of love, this lasagna is always a hit. I made it for 2 non-vegan friends the other day and they absolutely loved it. Empty plates, full bellies, happy faces, and lots of laughter... and they asked me my secret recipe.
Well, I guess after today's post this yummy family favorite will no longer be a family secret. But that's ok, I love to share my dishes with the rest of the world. One day our little plant-based food restaurant will be a thing.... but first finding our spot on this planet that we would like to call our new home. The search is on!
But let's talk lasagna again.... the key to making a vegan cheesy sauce is nutritional yeast. Never used it in your cooking before? Allow me to quickly introduce you to this kitchen wonder.
Fortified nutritional yeast is packed with proteins, vitamins (including vitamin b12), minerals, and antioxidants. It is the same type of yeast that's used to bake bread and brew beer. It has a parmesan-like flavor and can be used in many dishes. I personally use it to make vegan sauces such as this cheesy sauce and pesto. It is also nice sprinkled on roasted nut/seed mixes, soups or salads.
VEGAN LASAGNA WITH CAULIFLOWER CASHEW CHEESE
---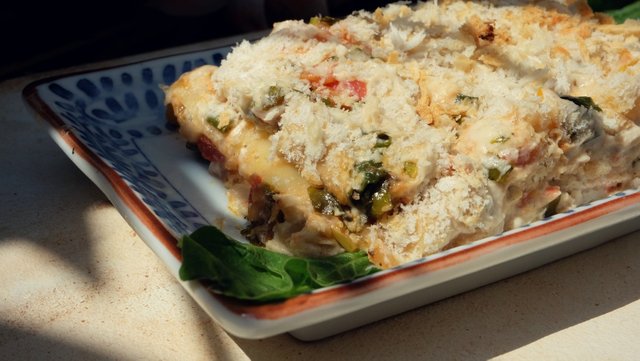 Ingredients (serves 3-4)
---
6-8 lasagna noodle sheets
1/2-1 cup panko
For the veggie sauce
---
3/4 cup onion, chopped
3 cloves of garlic, minced
2 cups zucchini, chopped
1 cup bell pepper, chopped
3 cups tomatoes, chopped
3 cup shredded kale
1 bay leaf
1 tsp dried thyme
2 tsp dried oregano
Sea salt and black pepper to taste
1/4-1/2-cup water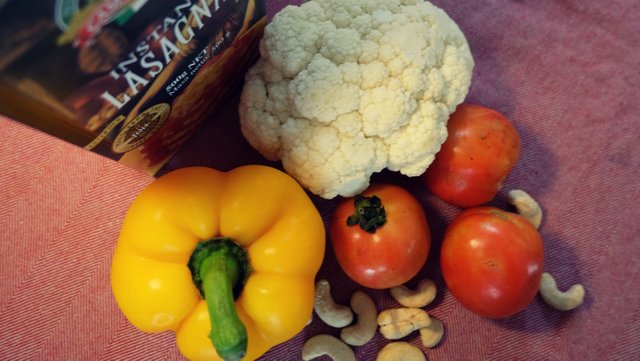 For cauliflower cashew cheese sauce
---
3 cups cauliflower florets
1 cup unsalted raw cashews, soaked to reduce phytic acids
2 clove of garlic
1/3 cup nutritional yeast
2 cups vegetable stock
1 small lime, juice only
Himalayan pink salt and black pepper to taste
INSTRUCTIONS
---
To make the tomato sauce, heat cooking oil over medium heat in a pot. Saute the onion for 2 to 3 minutes, stirring regularly. When the onion starts to soften, add garlic and cook 1 to 2 minutes more. Stir in the zucchini and bell pepper and cook for 1 minute more.
Then add the tomatoes, water, and herbs. Cover and simmer for 15-20 minutes. last few minutes add kale and cook until wilted.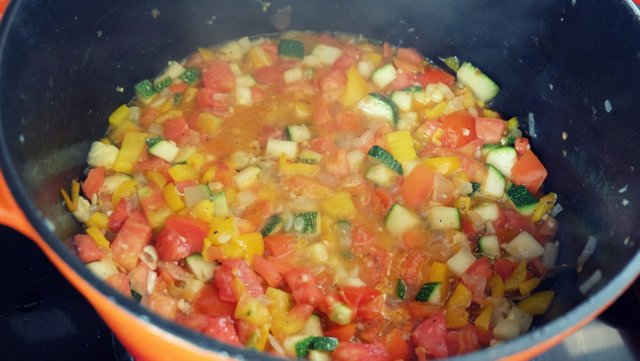 Meanwhile, cook the cauliflower, garlic, and cashews to make the cheese sauce in vegetable stock until the cauliflower is tender. When ready, drain but keep the cooking liquid to make the cheesy sauce. Add the cooked cauliflower, cashews and garlic to a blender with all other cheesy sauce ingredients and blend using cooking liquid as needed to get a cheesy, creamy consistency.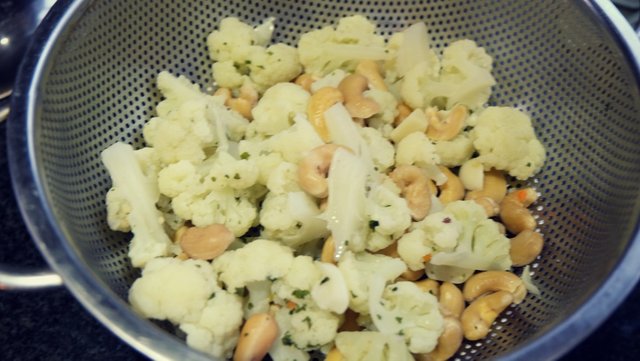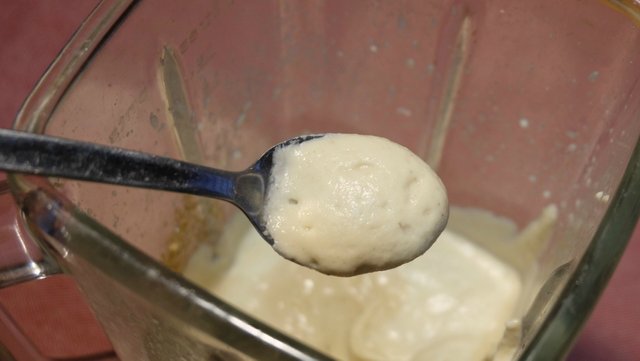 Preheat oven to 200C or 400F.
Layering: 1/3 of the tomato sauce, then add a pasta layer topped with 1/2 of the cheese sauce. Add another 1/3 of the tomato sauce, pasta layer, the remaining tomato sauce followed by the remaining cheese sauce. To finish top with panko breadcrumbs.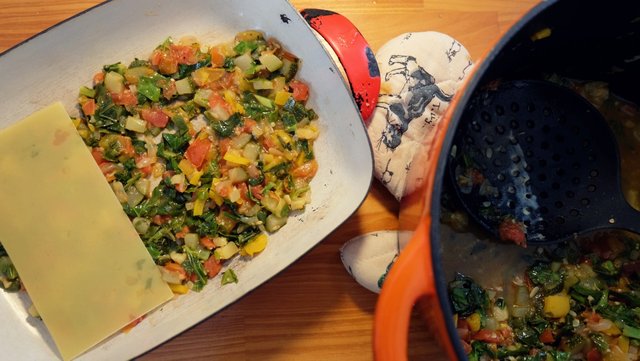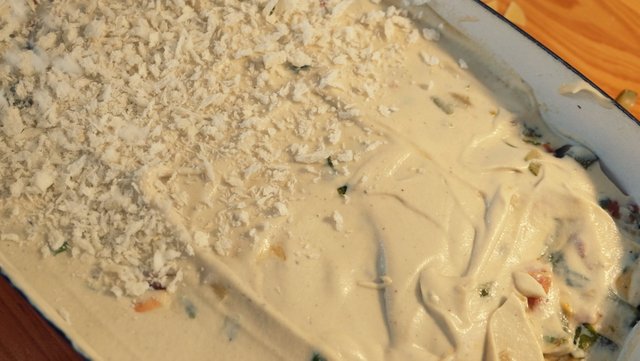 Cook in the oven for 20-25 minutes. The last few minutes turn on the grill and cook until nicely browned.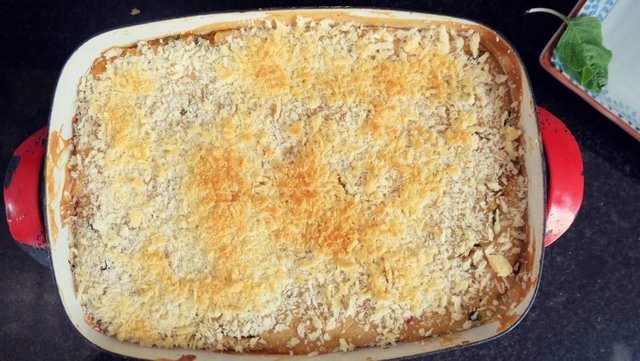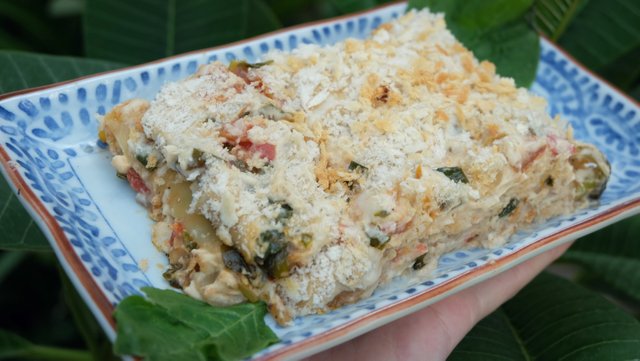 WISHING YOU ALL A WONDERFUL DAY ღ ღ ღ
---

FYI: For green smoothie tips, tricks, and recipes, download my FREE GREEN SMOOTHIE EBOOK HERE!
---
ALL CONTENT IS MINE AND ORIGINAL!
PICTURE(s) TAKEN WITH NIKON D5600
---
LET'S CONNECT!
---
Website - Facebook - Google+ - Twitter - Pinterest - YouTube
---
🥑🍓🍆 FIND MORE YUMMY PLANT-BASED CREATIONS BELOW 🥑🍓🍆
---