Vegan Bolognese with a twist (a new cast iron pan)
Before I start with the recipe for this nice dinner (or lunch) you get a little detour introduction:
I recently started to bake bread. It's a method with wild yeast and a long fermentation process. For this approach, you need either a bakery oven with vaporization or you can use a cast iron pot with a tight fitting lid. So the decision was easy: I bought a pot not an oven….. However, a cast iron pot is not very cheap and I am not a fan of multiple kitchenware, so I went for a compromise and bought a pot whose lid is also a pan. And this pan was now inaugurated with a vegan tadaaaa:
Tofu-Bolognese
Soooo fetch your cast iron pan (or what's in your kitchen) and start cooking:
I made the dish for two people and we had leftovers.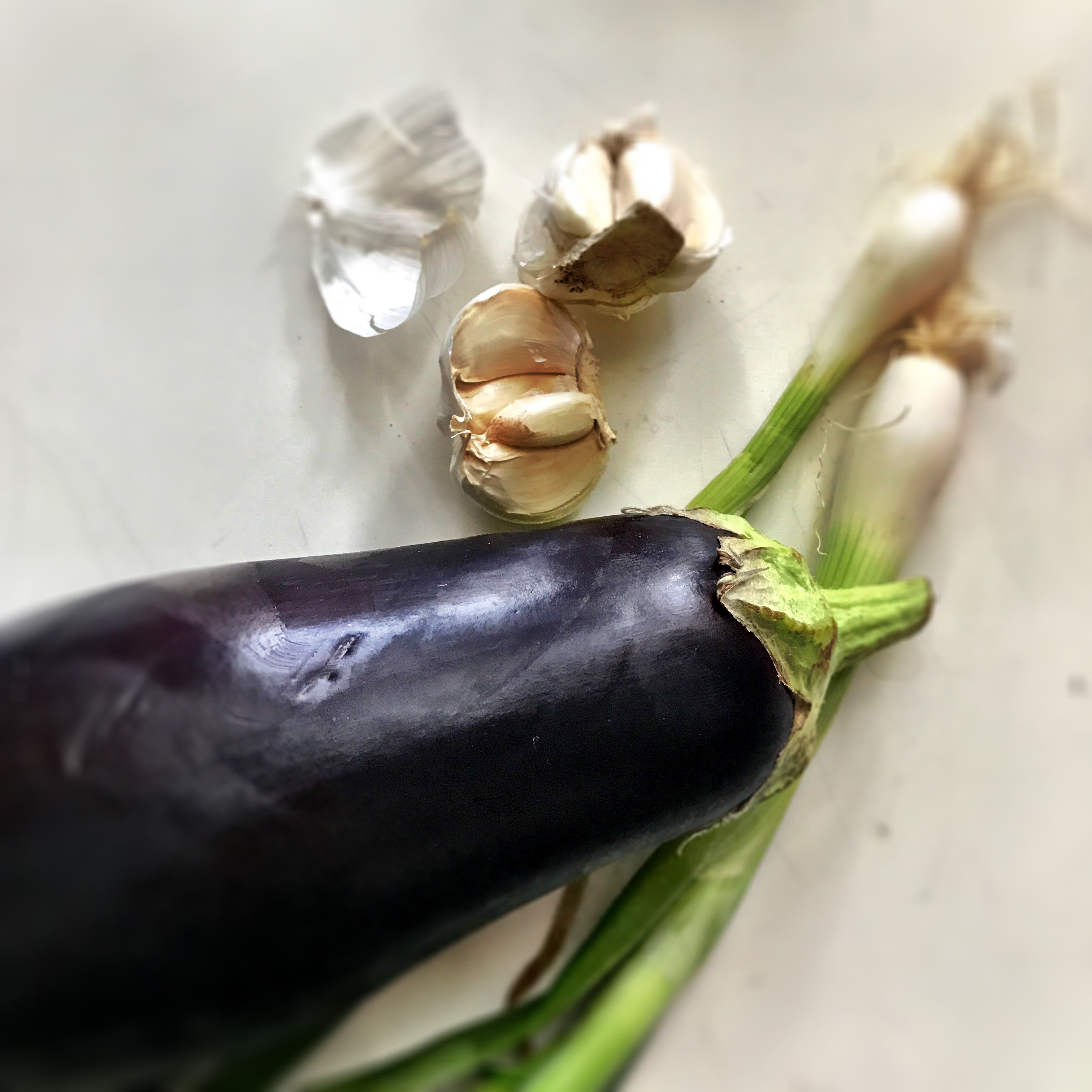 Ingrediencies
3 scallions
1 eggplant
2/3 cup tomato paste
100 g tofu (the crumbling Chinese variation)
6 fresh basil leaves
3 small (approx. 7 cm) branches of fresh oregano
2 (or more) cloves garlic
Crushed black pepper, chili flakes and salt to taste
1 – 1 ½ cup water
Oil for the pan
Spaghetti for two
Preparations
Cube the eggplant and the scallion. Mince the garlic and crumble the tofu. Pull the oregano and basil to little pieces.
Cooking
Heat a generous amount of oil in the pan. When the oil is hot put in the eggplant cubes and the crumbled tofu and fry them some minutes, stirring often. When the oil starts coming back out of the eggplant throw in the onion and after the onion is golden, also the garlic. Salt the mixture to taste. Let everything cook and be attentive, that nothing burns. Now put in the tomato paste, stir vigorously for half a minute, and then deglaze everything with a cup of water. Now you can season the Bolognese with the herbs, pepper, chili and if desired more salt. If the sauce is to thick you can thin it with more water. The sauce is ready, when the eggplant is really soft and almost falling apart.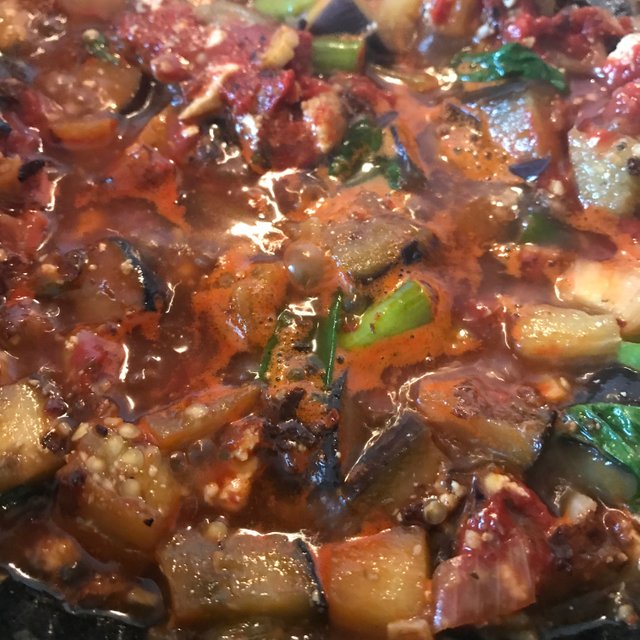 Meanwhile cook the spaghetti according to package directions or your personal taste.
Now arrange everything on a plate and feed yourself or your loved ones.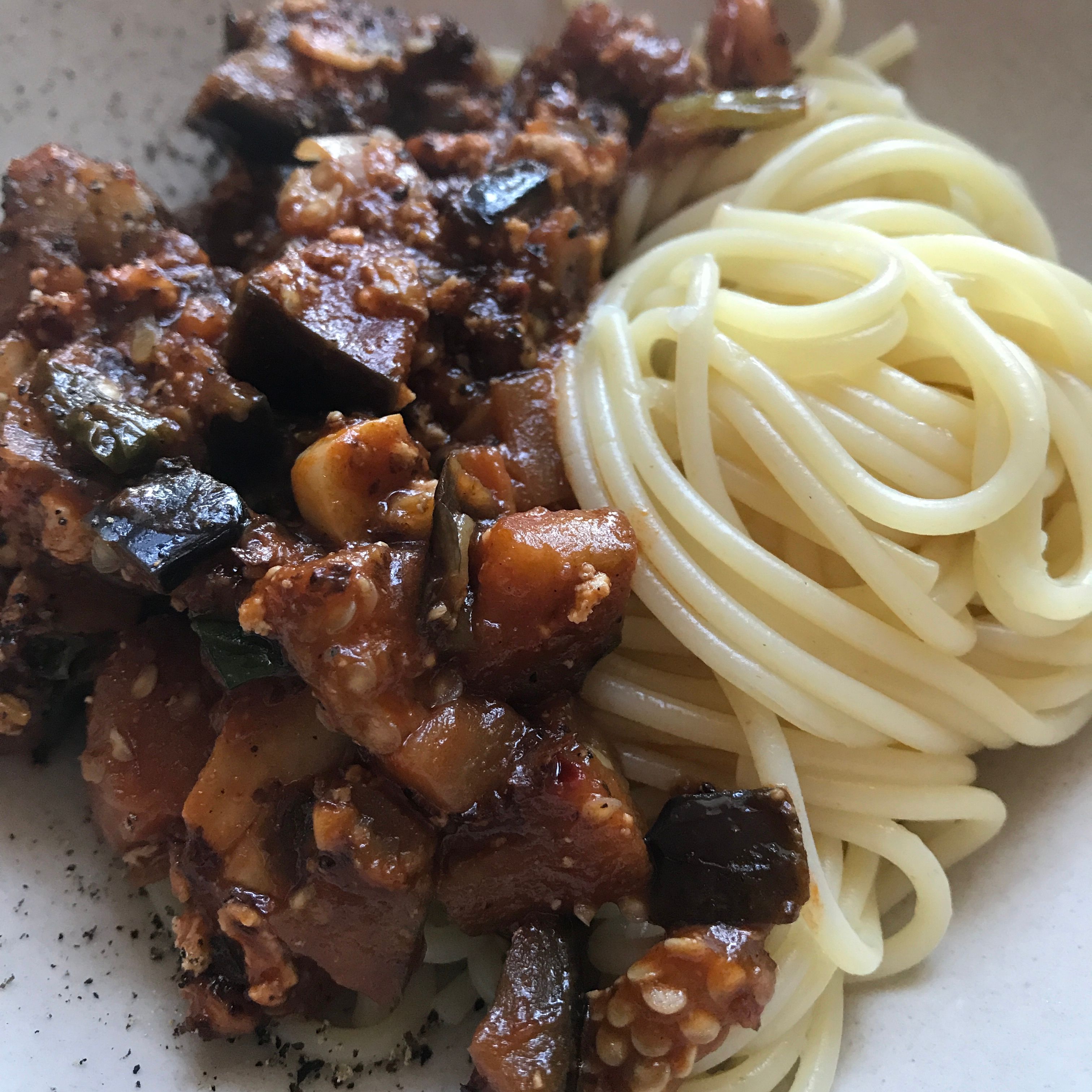 I really loved the cast iron pan, all veggies and the tofu browned nicely and had a lot of roasting flavors
I hope you have fun trying this out or using the recipe as a starting point to improvise a yummy vegan dinner.....