Thai Broccoli & Coconut Soup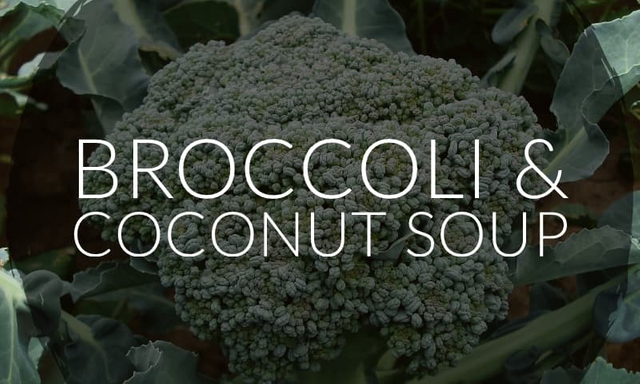 It's broccoli harvest time and most of it is going to seed, because I can't keep up with it. With the man away, there's no way I can eat so much! Hence - soup. We like this one in the summer - the addition of coconut milk and the thai style flavours make it seem exotic to us, like we're on holiday, and it smells divine.
Coconut milk is just a food of vegan gods - it's a perfect substitute for cream and can be used in so many recipes. I think it tastes far better than cream - what do you think?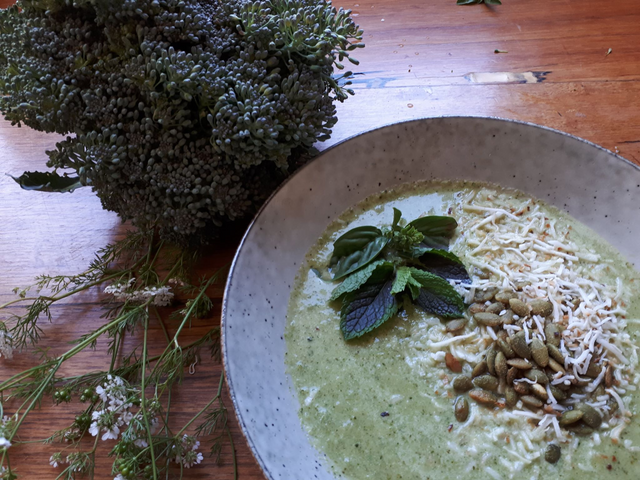 Broccoli and Coconut Thai Style Soup
2 - 3 spring onions or shallots
1 - 2 garlic cloves
1 - 2 kefir lime leaves
2 tbsps of fresh sliced lemongrass
A few slices of ginger, chopped
1 tablespoon coconut oil
4 cups water with stock to taste
1.5 heads of broccoli, about a pound
1 - 2 small potatoes
1 cup coconut milk or cream (about half a tin)
A bunch of coriander (optional)
Vegan fish sauce (optional)
A lime, squeezed
Blend the onion, garlic, lemongrass, ginger and kefir lime leaves to a paste. Heat the coconut milk and stir fry for about 3 minutes. Add the potato and water and boil for a few minutes with the lid on. Add the broccoli and put the lid on, cooking all ingredients until tender. Add the coconut milk and the coriander stalks if using, simmer for two minutes, then blend in a food processor with the remaining coriander until creamy.
I garnished mine with toasted pumpkins seeds and toasted coconut - I had run out of crispy fried shallots, which are my favourite garnish ever, but they would have been amazing on top. I also added some fresh chilli to mine, but that's optional too.
Enjoy!
---
---