THE FUTURE OF CRYPTO FINANCE,LOANS, EXCHANGE AND VAULT MANAGEMENT.
Most of us knows that being an investor is a constant challenge, most especially when it has do to with cryptocurrency. We often hear news of cryptocurrency owners selling off their currency and exchanges shutting down, not really because they want to sell off or shut down but, prior to the fact that majority of them are facing financial issue and as such had to sell off, to sort out certain expenses.
But what if there is an innovative solution that can help provide funds for investors, thereby restoring their reputation and eventually providing a transparent overview of cryptocurrency finance ecosystem.
Today, I intend to analyze a new cryptocurrency platform and provide clear insights as to its importance in crypto-ecosystem.
        THE PROJECT VELIC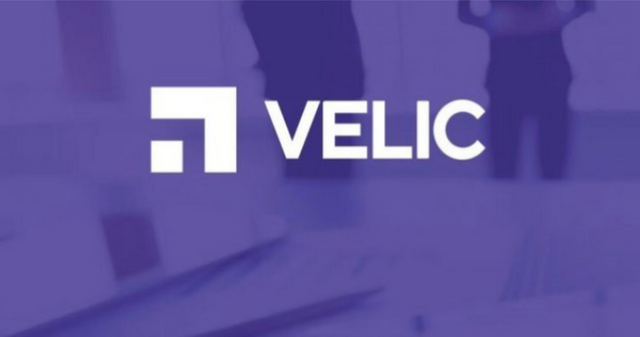 Velic is a security -focused platform that intends to revolutionized how crypto-financial products and services are built and delivered. The aim of the platform is to develop access to categories of investors and take into account their specifications, which would enable customers to benefit lot of offers and services, thereby empowering them to make good choices of their investment. Velic will render management of users assets and also make their portfolios simplified, so as to give relevant features and price indicators that is beneficiary to their clients trading activities and also guarantees the use of proprietary confidential sharing protocols (Cryptographic security protocols) that will ensure safety and privacy of a legitimate user account.
            KEY POINTS

The project Velic goes for stack of real world problems by eliminating
HACKING : it is known that blockchain technology its very secure,but services and applications that are built on it,sometimes faces human errors (phishing links). Velic aims to solve the challenge thereby enabling investors to participate in crypto-finance market.
RISK MANAGEMENT: while crypto assets is very helpful, one must be very careful, because it's still in its early stage. The market cannot be easily predicted, it's too volatile and therefore hinders products and services efficiency.
      STRENGTHS AND ADVANTAGES

In as much as Velic being a new financial instrument in crypto space, Velic solves existing fragments, as mentioned above and it's most likely going to happen because of
CRYPTO ASSETS : Velic infrastructure will depend on cryptography resources, meaning flat currency also known as traditional currency has no play, because, Velic platform will be develop to increase and expand the use case of cryptographic digital currency in the world.

VELIC LOAN: Velic platform allows lending of crypto assets at good rates, which will encourage investors to be a part of crypto community that is fast increasing.

VELIC EXCHANGE: Velic Exchange Once developed will render best trading experience, and a transparent Crypto to Crypto service to its adopters. The Exchange is unlike several existing Korean exchange that tends to only accept Korean citizens, The exchange is a Global exchange, and its presently open for pre-registration.

VELIC VAULT : The vault once develop will be responsible for Securing and storing crypto assets. Velic team knows that in as much as cryptographic currency have no flat basis, they can be hacked, to prevent such extreme event the vault will be created , because it implement key loss prevention and solutions for transfer of assets, if the need arises.

INVESTMENT : Velic platform provided variety of investment opportunities, to help investors that has little or no idea of good investment. For one you can loan out crypto assets and get good profits for that, all hold velic token (VELA)
and collect good profits, there are variety of investment opportunities in velic ecosystem.

     TOKENOMIES  OF  VELIC TOKEN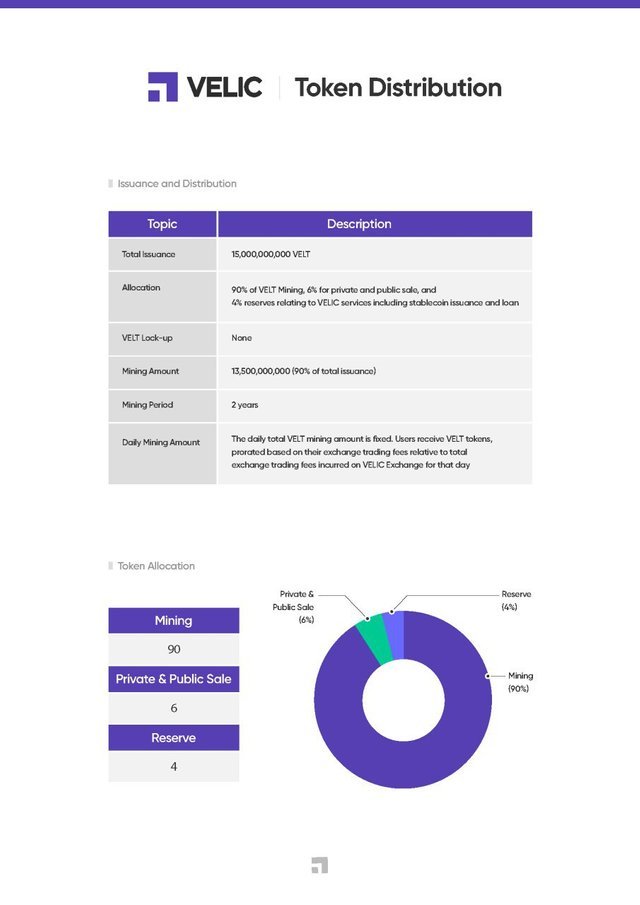 Velic token consist of three namely ( VELT, VELA, VELD), all having different functions.
VELT: is the major token of Velic ecosystem, it serves as payment method for transactions and services carried out in Velic ecosystem.

VELA : This token is known as Velic authority, the token is for people who intend to hodl for long term, and are rewarded at interval for holding it. VELA tokens have conversion rate of 1:1 with VELT tokens.

VELD : It's known as Velic dollar a stable coin of the Velic platform.

     CONCLUSIVE THOUGHT

Despite several questions left unanswered, I see Velic as the solid project that could push forward the adoption of blockchain economy, Scalable infrastructure, implementation of high technology, bringing stability, efficiency and trust to crypto space, and it's focused on solving actual problems.
The future success of Velic mostly depends on the ability of the team to promote advantages of their solution and how easy onboarding process for it's users will be. From the foregoing, we can see that Velic isn't just another scam project. For one, it will widen it's loan preposition with transparent technology and smaller interest rates thereby boosting up world economy.
For more information please refer to the links below , there are so many benefits of VELIC that are not mentioned in this article but are all boldly written on the whitepaper.
Website: https://www.velic.io/
WhitePaper: https://www.velic.io/web/download/VELIC_White%20paper_V1.01.pdf
Telegram: https://t.me/velicfinancial
Twitter: https://twitter.com/velicfinancial
Facebook: https://www.facebook.com/velicfinancial
Author's Bitcointalk Username: Chosen one
Bitcointalk Profile Link: https://bitcointalk.org/index.php?action=profile;u=1214784
VELIC ACCOUNT EMAIL ADDRESS: [email protected]