@ThankU - My Response to FKN BLACKLISTS!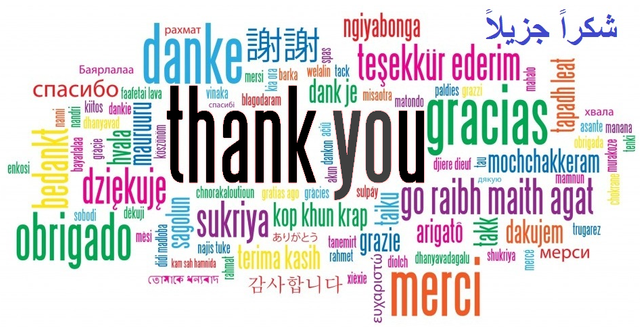 You know, these past days, have been kind of interesting!
To say the least!
Cut a long story short, I was getting treatment for my back, then went to the chiropractor and had physio too!
I wasn't the best of company so to say, in fact I tried to avoid "crowds" if possible!
However, no matter how positive I try to be, I GOT REALLY UPSET!
RUDDY BLACKLISTS EVERYWHERE!
Soon enough, there will be a blacklist of those people who still wear superhero underwear!
I was tempted to start one of my own: A blacklist for every contest that I don't win!
Why not, if every Tom, Dick & Harry can have a blacklist of their own, so can I!
---
Well, I woke up this morning, checked the bots/services that I am managing and a ruddy lightbulb exploded above my head from how much it was shining!
Instead of a friggin "blacklist" I'm gonna do 2 "Whitelists", better yet "THANK YOU LISTS".
Yep, simple enough, while the rest of the world is looking to ban and police people, I'm gonna say
"GOOD ON YA, THANKS FOR THE SUPPORT"
---
But thank you for what?
Well, then I figured, to myself, 'Two of the communities I'm active in have a number of Steem Witnesses, so why not say thanks to everyone who votes for them/us.
However, I'm not a Whale, so if I were to do that, it would suck all the Voting Power (VP) up dry in not time.
So I figured, well, how about I sprinkle a few votes out to those who vote for two or more Steem Witnesses in these communities! WHY NOT! It's my SP, I can do with it as I wish and if I want to give it to the people supporting the Witnesses in communities that I am active in, then who has the right to complain!
Likewise, it's not as if I have tens of thousands or millions of Steem on my accounts or on a HDD somewhere! Wasn't part of the "VIP" club that had all the exclusive opportunities back in the day!
No big deal!
---
So for starters, I figured I'll go with the communities I'm active in:
Military Veterans of Steemit
&
Team Australia
---
So, for starters I opened up two new accounts:
The first one is: @thanku
---
Have taken care of @thanku today and will have the data collected and sorted for @thanksmate some time in the wee hours of the morning.
Hence, here is a quick guide to @thanku.
The Veterans community has five Steem Witnesses now (in alphabetical order):
&
Note: @nobewitness is actually a team of four people among which is a Vet. @anarcho-andrei.
---
I only could afford to delegate 500SP, which isn't much, but I am short on SP in every which way possible, so for me this is currently a truck load, most of us know that feeling!
As for the voting:
For those who have voted for any:
2 of the above witnesses @thanku gives a 1% vote
3 of the above witnesses @thanku gives a 2% vote
4 of the above witnesses @thanku gives a 3% vote
all 5 of the above witnesses @thanku gives a 4% vote (this one might change later on, once I see how the VP holds up).
on 1 post per day per Steemian.
---
How often will I be updating the spreadsheet/data?
Once every 4 to 5 weeks, I'm in no rush, are you?
---
Now if anyone has anything bad to say about this, I will recommend you go call someone who cares!
Because I am so sick and tired of all the negheads out there, all the complainers, whingers and other WOFTAMS who have nothing better to do than to waste their lives on BS negativity.
So, basically, if you don't like my "THANK YOU LIST" too bad so sad!
I don't plan on doing any friggin blacklists!
---
During the next week or two, I'm going to come up with a few more "THANK YOU" lists and just spread the positivity and good vibrations!
& boohooo to all those who don't like it!
---
Thanks for your time & keep your eyes wide open for many more THANK YOU LISTS!
Yours Truly