VIBE Cryptocurrency Technical Analysis 6 October 2019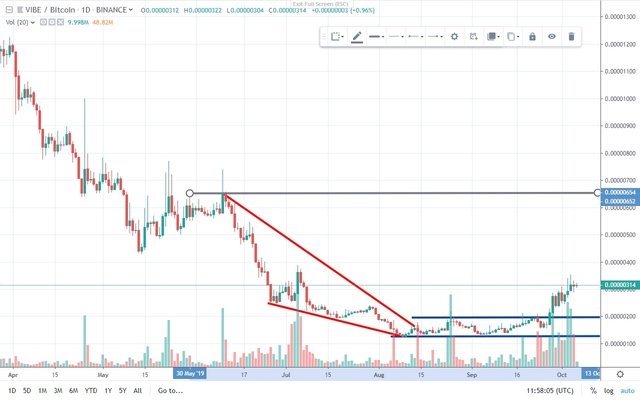 Hi friends, today i am going to share with you my technical analysis on Vibe Cryptocurrency
As you all know that all cryptocurrencies are down for more than 18 months. So i am expecting that this VIBE coin could
give the good profit in the next period of one month.
As shown in the picture the down trend line with red lines. Once this downtrend finishes and coin shows the side wave
movement for many days setting decent support and resistance. Then on 27 September 2019 VIBE coin breaks the
resistance and closed above the resistance. This sign is showing the bullish movement.
So right now the price is 306 satoshi so this is the right time to buy this coin and you can sell it at 612 satoshi. Although i
draw the grey line for the next target which is 652 satoshi but you can sell this coin at 612 which means you can double
your amount during this period. According to my expectation it could take one month time period.
So good luck you guys. You can ask me any question in comments section. You can also give your opinion in the
comments section.