Replacing the rope on a cat scratching post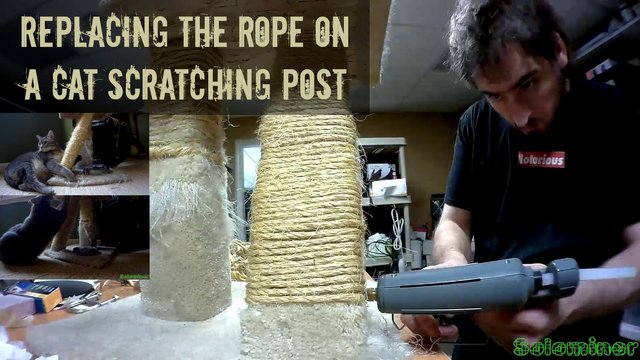 Over the last few years, the rope that came with the cat scratching post has become frayed and broken. It appeared as if the cats were not using it as much due to this. I got some rope from the local hardware store and using my hot glue gun I go about replacing the rope. The cats use it to sharpen their claws on the fibers.
After taking off the old rope I got to wrapping the post with fresh rope, keeping it tight and closely spaced I focused on the task as my action cam recorded me. I did a video lapse of me replacing the rope on the cat tree. After the glue dried I had Tesla check out my handywork. She layed on it for awhile, maybe adding her scent to it. She eventually gets up and tries out her claws on the new rope. And I think she is pleased with the results. Since then Walter has also used it and its been holding up well.
---
Addresses below to help me buy better camera equipment and support me to travel to locations to do photo and video and overall great blogs in new places. I would be happy to list some of the contributors in my posts for donations that help me along the way.
| Coin | Address |
| --- | --- |
| BTC: | bc1qhfmvd2gywg4fvrgy2kkkkyqta0g86whkt7j8r7 |
| LTC: | ltc1qdyzm5cwgt8e2373prx67yye6y9ewk0l8jf3ys9 |
| DASH: | XkSqR5DxQL3wy4kNbjqDbgbMYNih3a7ZcM |
| ETH: | 0x045f409dAe14338669730078201888636B047DC3 |
| DOGE: | DSoekC21AKSZHAcV9vqR8yYefrh8XcX92Z |
| ZEN: | znW9mh62WDSCeBXxnVLCETMx59Ho446HJgq |