Steem Journeys Episode 4 - @allasyummyfood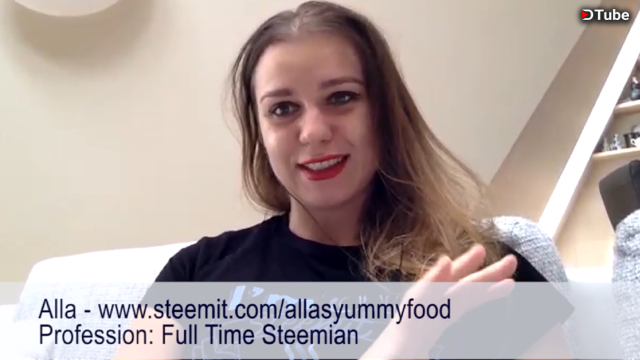 ---
Today's Steem Journeys episode features Alla @allasyummyfood. Alla came to mind during the first Steem Journeys interview with @offoodandart. We got to talk about cashing out versus powering up and I know that Alla recently went 'Full time Steemian'. Given the price drop since, I was wondering how she was dealing with this dilemma.
Like Angelo @theywillkillyou and I, Alla has a Youtube background. She is even sneaking in on 100.00 subscribers and a plaque! Alla is really commited to the platform and excels at getting other people excited about the platform and joining, something I believe is crucial to the succes of the platform.
Reviewing the interview, I noticed I looked a bit deflated during the first part of it. I don't know why that was. It didn't feel like that when we were filming and I thought it was an interesting interview from the beginning. I also really enjoy doing these interviews, so I guess that's something I'll have to work on. I also forgot to film a proper outro. I guess that's because this was the first interview during which Angelo wasn't there to hold my hand ;).
As always I'll be putting a short version of this video on YouTube soon to promote Steem. This is the channel: https://www.youtube.com/channel/UCV78Yd3Nnpe-WhtZbZWk9jQ
So far we have over 250 views which isn't too shabby considering we are still in the early stages!
Don't forget to check out Alla's blog https://steemit.com/@allasyummyfood. Although if you are hungry then you might want to wait a while, unless you want to mentally torture yourself...
---
▶️ DTube
▶️ IPFS