[ANN] Vimm Status Update - Live Q&A Recap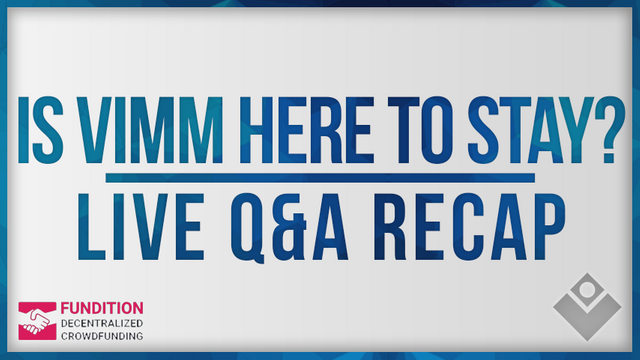 @ForeverAverage and @Chiren just finished hosting an impromptu update live stream as well as a Q&A session on Vimm.tv in light of the recent events that caused an explosive increase in the number of users.
In case you couldn't catch it live, here's a recap of the topics we discussed;
Will Vimm migrate to another blockchain?
Let's just start by saying that we're never going to leave Steem. The reason we chose to go with Steem as the first method of monetization on Vimm is because it is the best option out there, it's that simple.
While we do look forward to implementing other options for payments and monetization, Steem is what allows us to reward the people who work hard to create high quality content. On top of that, it's also the blockchain that has the biggest potential to create a thriving economy around content creation.
TL;DR no.
What happens when you upvote
The current rewards distribution is explained in a recent post by @chiren LINK. Please note that this is what is currently in place, but a different distribution will be implemented as soon as the curent payout round is over. (Oct 11th)
More details about the new rewards distribution will be released in the coming days.
Rewarding quality content with Steem
As we've discussed during the live stream, Steem is a great tool for rewarding the people who work hard to bring high quality content on Vimm. Thanks to all the generous delegations, we're able to reward the most dedicated creators with upvote.
It's really important however that we look at the right metrics when distributing upvotes, as this is how we're going to get something that's as fair as possible.
By combining the power of the Steem blockchain with Vimm's Channel Score algorithm (see leaderboard) we hope to help the most dedicated creators grow and achieve their goals.
Vimm is a live streaming platform
It's important to remember that Vimm is a platform that focuses entirely on live content. Our mission is to deliver the best live streaming experience possible.
To achieve this, we need to be very efficient using the limited resources that we have to position ourselves as a strong competitor in the live streaming sphere.
This is why we chose not to waste our valuable resources on features we wouldn't be able to fully deliver on.
TL;DR Instead of trying to do a lot of things on a mediocre level, we're focusing on making Vimm the best place to broadcast/watch live streams.
Community events and the road ahead of us
By its nature, live streaming is largely driven by the communities that gravitate around it.
By organizing different types of events on a regular basis, we hope to reinforce the feeling of community on Vimm. Our next event is taking place on the 6th of October. Check raid.vimm.tv for details.
The idea is to encourage engagement on the platform by offering incentives to both viewers and streamers in the form of prizes.
We're also open to working with partners to organize tournaments, giveaways, and any sort of live event you can come up with. If you're interested in bringing your event to Vimm.tv, don't hesitate to contact us! (Link to discord in footer)
---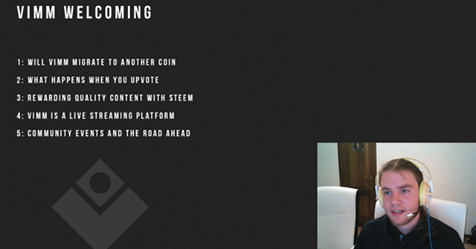 Q&A Highlights
Q: Do you plan on making Vimm open source?
A: The back end for Vimm will not be open source. However we do plan to release an API for developers.
--
Q: How big is the delay (latency) on Vimm live streams?
A: Usually between 15 - 30 seconds.
--
Q: Any chance we might get to the possibility of doing a 0 second delay streams?
A: 0 second is technically impossible. However reducing the latency is high on our priorities list.
--
Q: will there be a way to mute chat people that get out of hand?
A: Our next update is heavily focused on improving the chat. The ability to mute guests and ban chatters will be implemented in that update.
--
Q: Do we have obs chat tools for on stream display information? or will that be a thing soon?
A: We will be releasing a chat overlay widget for OBS to replace the one currently provided by dunite.tools. Keep an eye on the widgets section of your dashboard, that's where you'll find those when they're up.
---
As usual, don't hesitate to share your honest opinions. We're listening to your feedback to build something that you can enjoy using.
Thank you for supporting the project!
---
Get in touch!

|

|

|

|

Support @vimm on Fundition!