STEEM Gaming, DrugWars, Steem-Bet and My first Vimm Broadcast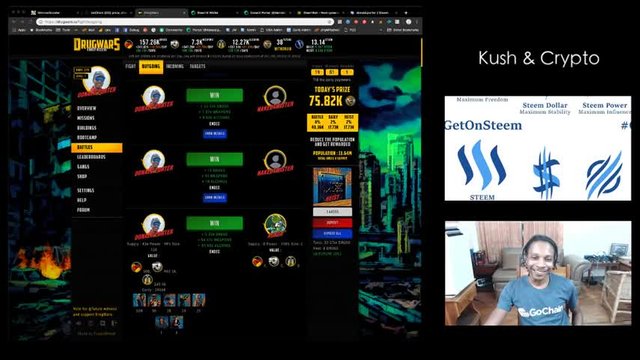 Category: gaming
Sub-category:

Click here to watch the live stream!
---
Trying out Vimm.tv for the first time while playing DrugWars, Steembet and STEEM games.
How to find quality targets on DrugWars?
Looking for dormant or faucet accounts is not only a waste of time but it's just lame.
Look for the players who are generating a lot more drugs than weapons and alcohol instead. Crush their armies for more FUTURE tokens.
(Yes, I know.. like everyone else, I'm hoping for FUTURE tokens to be valued correctly)
Mining SBT Div Tokens on SteemBet
Let's see how my 88s and 94/95 PoB mining techniques can hold up to SteemBets (txhash related) randomizer.
Disclaimer: Although far less risky than betting, Proof of Bet (PoB) mining for div tokens is still considered gambling and should be approached with discipline. My opinions should not be taken as financial advice.
---
This post was generated from a live stream on Vimm.tv