Thank You for supporting Vimm.tv! 🤝🥂 (December 2018 Recap)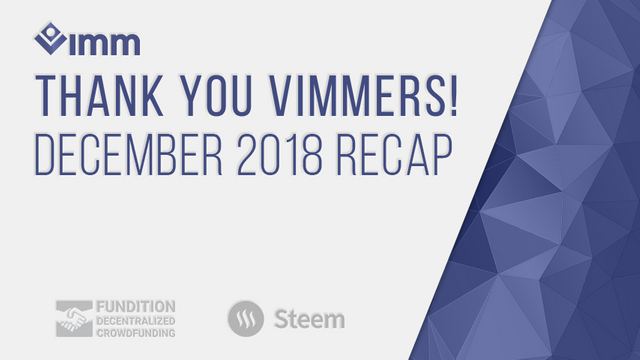 ---
An enormous THANK YOU to each and every one of you who has or is currently supporting the Vimm.tv project!
Every month we put out a blog post to showcase the generosity of the community. This generosity is what allows the project to move forward and keep growing to offer better, more reliable services to our users.
Going into 2019, the @vimm team is working hard to continue to bring innovation to the platform and improve the user experience across the board on Vimm.tv.
---
SP Delegations
If you'd like to get a small kick back every month while supporting Vimm.tv, you can delegate SP to @vimm and receive your share of the curation rewards based on the size of your delegation. Your delegations allow us to do a few things;
Give more frequent/bigger upvotes to high quality channels
Facilitate onboarding by creating Steem accounts for new users
Top 20 Delegations for December 2018
Quick Delegation Links
25 SP | 50 SP | 100 SP | 250 SP | 500 SP | 1000 SP | 2500 SP
---
Project Backers/Supporters
Do you want to support Vimm even more? Go above and beyond by donating to our Fundition campaign Your donations will help us fund our servers, give back to our streamers, and make the site even better than it is. Every little bit helps, even if it's just a few bucks. Together, we can make an amazing Vimm!
The @vimm team would like to take this opportunity to thank @fundition for supporting the project since its creation as well as everyone who is showing support by upvoting @vimm posts and letting the world know about Vimm.tv.

---
Beneficiary
We at @vimm believe that a healthy community based economy starts with lower fees and fair distribution of opportunities. We are committed to providing streamers with competitive pricing that allows them to keep more of the revenue generated by the content they create.
User-to-user transaction (STEEM/SBD tips) are feeless, thanks to the Steem blockchain. The only fee that streamers pay is the 12%¹ beneficiary fee on posts made from Vimm.tv.
¹By default, this is set to 12% for new streamers but can be lowered by reaching milestones or backing the project on Fundition.
It is possible to increase your contribution to the Vimm.tv project by going to the "Contribute" tab of your "Settings" page and using the slider to increase your beneficiary fee as a form of support for the project.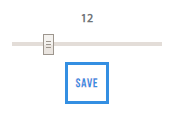 ---
THANK YOU FOR SUPPORTING THE VIMM.TV PROJECT!
– The Vimm Team
---
Get in touch!

|

|

|

|

Support @vimm on Fundition!