Vimm.TV | 33% to First Funding Milestone, EU Servers, and Marketing Plans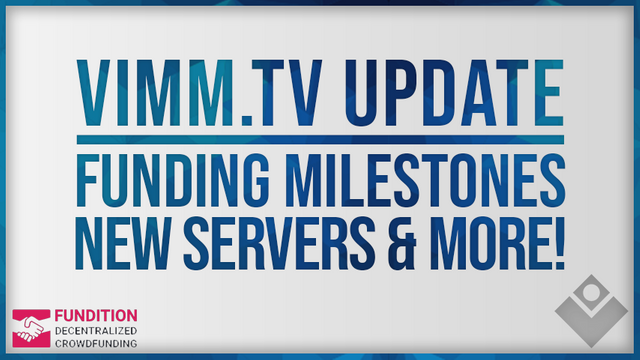 Today's post is an exciting development. We've reached 33% off our 7,000 funding goal! This came in the form of an out of the blue donation from @dinver. This will allow us to make significant strides towards improving the experience of streaming to and viewing on Vimm as well as allow us to attract new users to the platform with marketing efforts.
Let's look into the details:
First, a EU Server!
One of the biggest complaints we've received is the bitrate issues when streaming from Europe. This is the first thing we'll be addressing by adding a new, European server to Vimm. This will enable streamers and viewers in European countries to enjoy a smooth streaming experience.
Next, Marketing Initiatives
The next thing we'll be able to do with the funding we've received is grow the user base of Vimm. We're still working out the specifics of the campaigns, but our overall plan is to entice both viewers and streamers to the platform. We understand that the key to the success of Vimm will be to attract both viewers and streamers so our marketing efforts will be split 50/50.
Our current plans include giveaways/contests for viewers, and advertising on social media networks. Stay tuned, as well be announcing those marketing campaigns and their specifics soon.
Also, A New Vimm Curator
First, @whack.science is now a curator for vimm so he's going to be sending vimm upvotes as part of his curation stream.
Wrapping things up…
To finish things up, we want to remind you that while this big increase in funding is great, it's only a part of our journey towards our goal! With our current funds, we can support Vimm for up to 3 months. We're working on our end to secure partnerships and funding that will enable us to support and grow Vimm for much longer, but in the meantime every bit of funding helps to keep our servers up for another day, and goes towards requisitioning new servers, attracting new users, and improving Vimm for everyone.
Thanks again to all those who've donated to make this possible and everyone who's used Vimm during our Alpha testing. We're looking forward to an exciting rest of the year. :)