Buy Red Light Center Game VIP Membership with VIT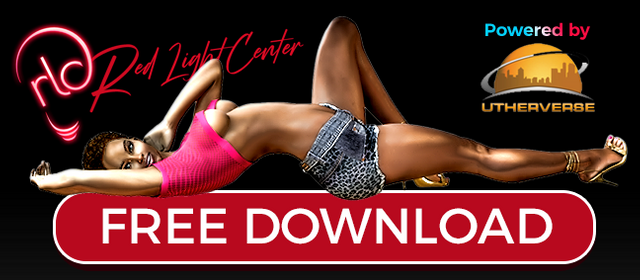 Vision Industry Token is pleased to announce that our payment gateway integration with Red Light Center is now complete and in full operation. VIT holders can now use some of their VIT to instantly upgrade their free Red Light Center account to VIP or Universal VIP for one or three months.
Red Light Center is the most popular adult themed massively multiplayer online role-playing game with thousands of fun and open adults online at any time of day and night waiting to meet and interact with new players.
Red Light Center is currently running a limited time special promotion for VIT token holders and Red Light Center free account users. New and free account users can upgrade their account instantly with a one off steeply discounted price when paid in VIT.
New and free Red Light Center users can purchase one of four packages:
30 Days VIP for 10,000 VIT
90 Days VIP for 30,000 VIT
30 Days U-VIP for 15,000 VIT
90 Days U-VIP for 45,000 VIT
VIP and Universal VIP (U-VIP) come with the following benefits and features: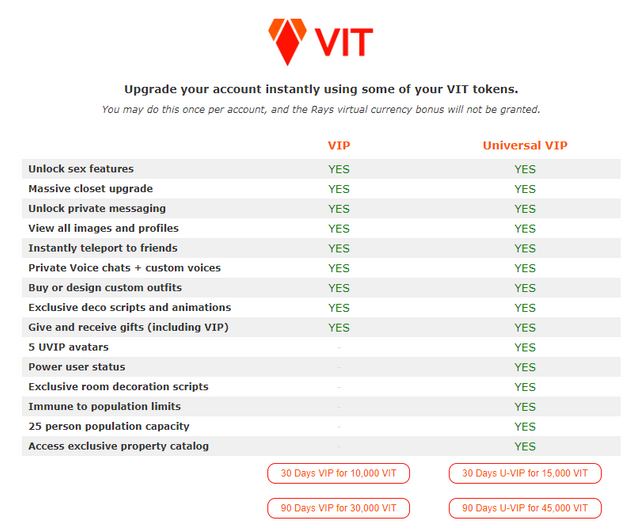 Tokken MSB, the lead development company and creators of Vision Industry Token, built the new payment gateway and handled all development on the VIT side of the integration. When asked about the completion of the VIT-RLC integration, Stuart Duncan, CEO of Tokken MSB, Inc. commented:
"VIT, or the Vision Industry Token, was the first cryptocurrency to let you "get paid to watch" anything. People said it couldn't be done .... yet today, users are rewarded for their time and attention with VIT and we have now demonstrated for over a year through development and beyond that VIT replaces advertising as a way of getting people's attention in an attention economy. We are not finished. Now the payment gateways, commerce modules and hybrid exchanges exchanging VIT are established and are freely available we all expect the community of websites using VIT will grow."
Brian Shuster CEO of Utherverse Digital, Inc., owner of Red Light Center added:
"We are looking to build a community of VIT users inside RLC so that we can host events, meetings, have speakers, and ultimately coordinate with all VIT stake holders in a push to make VIT a more valuable network through greater adoption and use as an attention economy rewards program and payment method. That is our overall plan. We've got some first meet-and-greet events planned that we will be announcing soon."
How to sign up and upgrade:
Visit Red Light Center and click the JOIN NOW button at the top right of the page
Create your free account
Get logged in to your new account
Then visit the Upgrade with VIT page
Choose one of the four offers by clicking on it
You will be taken to the VIT payment gateway with a summary of your order. If everything is in order, click proceed.
The last step in the payment gateway you will need to enter your VIT username and your VIT Active Key or Master Password and click proceed. (for security it is highly recommended to use the active key)
Once you click proceed your transaction will be built and sent to the VIT Blockchain for processing. It should clear within a few seconds and your Red Light Center account will be upgraded.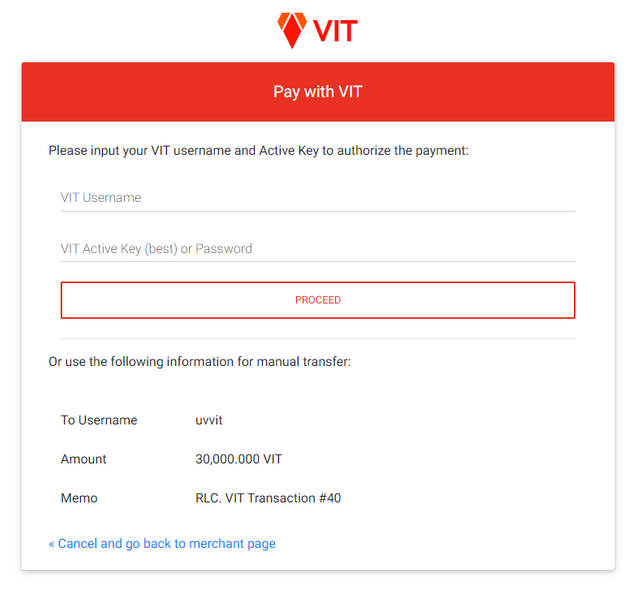 Once the current special VIP offer ends all Red Light Center account users will be able to buy and renew their VIP or U-VIP memberships with VIT at a discount to the current fiat rates of $20/mo and $29.99/mo respectively. More information about the exact discount rate and availability will be provided at a later date.
---
About Vision Industry Token
The easy to use cryptocurrency that pays people to consume media online. Content creators and content curators are rewarded with VIT for publishing and consuming media through any website integrated with the VIT blockchain.
VIT Blockchain Integrated Sites (NSFW)
Tube Site: Touch.Tube
Social Site: Touchit.Social
Steem Tribe (NSFW): VIT.Global
VIT Global powered by VITP peg token. Pegged 1:1 with VIT. Swap VIT:VITP at Steem Engine