How About NuVivaBits ?
Hey, I'm not over with Viva yet. My previous suggestion to piggyback Viva on the Steem blockchain did not seem to get much in the way of support. However, the feedback I received highlighted some points I'd like to shed some light on.
Many people seem to believe that the whole Viva concept is sort of rocket science. Once the main developer of Viva proved himself to be unreliable, there's no one on Earth who could even understand it, let alone make it work.
However, this, I believe, is certainly too pessimistic.
Let me drop some quotes on you for this discussion:
The supply of currency, however, should dynamically adjust up and down in response to changes in the level of demand for the currency so that the price is always stable.
the system can reduce the available supply through a separate mechanism called parking, where holders volunteer to take their currency out of circulation for a user configurable period of time in exchange for a monetary incentive.
Soon it will become clear that selling them below one USD is always a losing trade and buying them below one USD is always a winning trade, which will prevent its decline.
Does this sound somehow familiar? I'm not quoting the Viva whitepaper here, I'm quoting the whitepaper of a project that was launched in 2014.
The related currency is traded on Bittrex now, with daily volumes of around 30 BTC, This puts it in the same league as Steem.
I'm taking here, of course, about NuBits, "the worlds best stable currency", which is supposed to be pegged to 1 USD.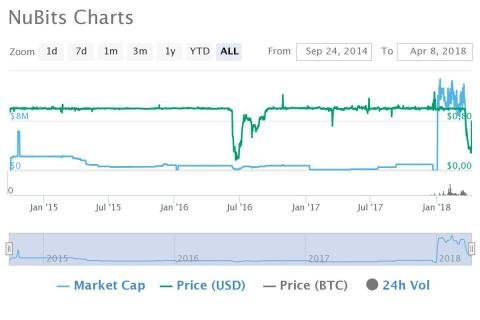 As you can see from the charts, NuBits did get knocked down in 2016, but was able to recover afterwards. However, right now it faces yet another crisis - one that's not such a big surprise, though.
The method of maintaining the peg for NuBits relies very much on elected custodians who are supposed to operate trading bots providing buy/sell walls. Although theoretically there's no limit for the number of custodians, the natural tendency is that there's just a few, so the whole thing is quite centralized.
The explanation given for the 2016 crisis was that one of custodians started to trade in a trust-breaking manner and then just disappeared with the money.
For the recent crisis there seems to be yet another starting point. One of the tiers to maintain the peg is selling NuShares to provide liquidity for trading bots when necessary. NuShares represent "shares of the network" and could be compared with VivaCrowns for that matter. However these Shares are vulnerable because of being potentially subject to SEC regulations. Because of that, many big exchanges have started to delist it. The probably most well-known case of this happening is Bittrex delisting BitShares.
Similarly, NuBits is listed on Bittrex but NuShares isn't, so after delisting Nu from Poloniex there's just two small exchanges with almost no volume for NuShares.
It's quite obvious that for such a project to have "one's own decentralized exchange" it would actually be crucial. Well, for Nu that was on the roadmap, too. However, the crowdfunding organized for the purpose might have provided considerable funds, but the product was never delivered.
I've spent some time reading the Nu forum recently and it doesn't show a pretty picture. It looks like the most of the money collected for the purpose of developing its own exchange isn't accountable. Also, it looks like that the controlling stake of NuShares is owned by just one person or maybe a small associated group. This does not allow for the minor holders to have a proper audit done.
So, what might be in store for Viva CrownHolders? I think that we should keep an eye on this project. One thing is that NuShares traded recently for about 1% of its all time high value. If the project survives, some nice profits could be made out of it.
However, the other scenario is definitely also possible. Bittrex delisting NuBits, for example, would certainly cause a huge bank run -- something that would be fatal for the project, which now relies, more or less, only on Bittrex speculators with little or no buy support from the Nu liquidity team. In case of Nu's total collapse, however, it would make sense for Viva bag holders to cooperate with Nu bag holders with an aim to fork and rebrand Nu.
I believe that there are a few actual developers working part time for Nu now, so at least forking and rebranding shouldn't be much of a problem. The proposed pegging mechanics for Viva I do actually consider to be superior than those for Nu, so there's a clear roadmap for this new project available - apart from implementing new options proposed by Viva to existing Nu pegging tiers.
Unfortunately, most of the active Viva community members are mostly looking now only in the direction of "class action" and "SEC complaint". While both are certainly legitimate actions to be taken, personally I would transfer my rights to claim the funds from Viva Holdings to some rescue fund in an attempt to keep on developing instead of relying on some class action lawyer. However, I'm only a minor bagholder in Viva, and unless we organize some bigger, more coordinated group of Viva(Bag)Holders to act in concert, we as a community wouldn't be prospective partners to network with for any other communities and developer teams.