My take on Vivacoin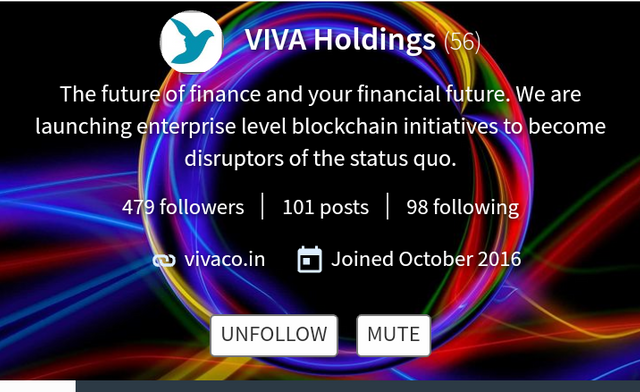 Where I come from, there's a tradition that, by the end of the year, you summarize where you've been and make a roadmap for the coming year.
One of my resolutions was to start 2018 with a long post about the current Vivacoin situation including the call for removing William Banks from the position of CTO.
When the first rumors of "William being unavailable for the immediate future" came out, I thought that the Viva Holdings board had done what I had been proposing.
As we know now this wasn't the case.
The situation started to unreel so I thought I'd take a pause to see where things are heading, but now I think I'll make a move.
I think I was the second person who ever bought a VivaCrown. It was on a Steemit auction in 2016. The reason was that by that time my short honeymoon with Steemit was long over. In my opinion, Steemit was at that time ( and to a big extent it is also now), rather a proof-of-concept than a real product. But it didn't look like there was more development ahead on the roadmap. So soon I started to think about how I would have designed things differently, and Vivacoin presented quite a few ideas similar to my own.
However, when it comes to my first Crown, I've come to consider it to be like rather some sort of donation to reward Viva for its excellent presentation. I didn't really think the project would actually lead to a successful launch, as the initial way Crowns were sold was obviously too extravagant, to put it mildly.
But while taking part in Alpha-testing before the Viva ICO, I've started to change my mind.
One thing appealing to me was that William was flexible enough and usually didn't hesitate to change things which didn't work as initially intended.
And, of course, his productivity was appealing, too. Unlike Steemit, where to implement one minor thing might take ages, here it was done before you knew it.
I'll give one example to illustrate this point.
Those who have been on Steemit long enough know that initially SP was locked for two years here. Later on, it was changed to 13 weeks under the pretext that "investors do not like to be trapped for so long".
I was in strong opposition to that change. The solution for "trapped" investors seemed to be quite obvious to me - just introduce an internal SP market so those who need a quick exit could dump their SP for liquid Steem.
But, of course, seeing how things are done here, there's no point to even dream about that.
However, for Viva, things were different. As we know, William used to say that the whole idea of Viva/VIP was "stolen" from Steemit's Steem/Steem Power system.
But unlike Steemit, the Viva/VIP market was introduced overnight. One day he mentioned it and the next day we had it.
So by the time of ICO in May 2017 I was ready to invest more. It was quite reasonable to expect that if the Viva team had more funding to hire more developers they would be able to deliver some awesome product.
As we know now, that didn't happen.
Also, VivaCrowns were supposed to be exclusive licenses to operate a mint on the Viva blockchain, but there's no sign that any development on the "Viva blockchain" has taken place. ICO funds apparently were spent on "payroll, lawyers, and data center" and so on (and these are just rumors, as there are no documents that have been made available so far).
However, it's certain that no extra developers were hired and William himself apparently spent all his time on developing the Tradeqwik exchange.
Since TQ was always supposed to have been "a private business on top of Viva blockchain", directing all the available working hours to develop some private businesses and neglecting the actual purpose of the ICO seems to be rather trust breaking.
As the first news about "a bug on TQ leading to missing funds" came out I didn't worry too much, as I expected "TQ funds" were rather small and the ICO funds big enough to cover the eventual loss. As we know now the amount of these missing funds were quite bigger than expected, including some loans from TQ partners as well as the ICO funds already spent by then. So, actually, VH was just agonizing over the loss from October onwards, all the while promising us some "exciting news next week".
Seeing how VH deals with people and with situations, even in case of the best possible scenario (the lost funds mysteriously recovered and all the charges against William dropped) I've made the decision to not support VH in any way in the future.
I guess that VH's plan for now (assuming there's actually anyone still on board) would be to just play for time before the official bankruptcy, thus making it difficult for the newly appointed trustee to revoke previous swaps that have dissolved ICO funds.
Then, they could suggest to creditors to be paid by some "consolatory token" that maybe somehow, someday would then be bought back by VH.
At that point they would announce a new ICO I guess.
As I said, this possibility doesn't make me excited at all. I think that before starting to "unfuck the world" as the former VH CEO once put it, the Viva executives have a lot learn about how to unfuck the people right next to them.
According to the Vivacoin announcement on Bicointalk:
To date, 4000 Crowns have been issued to early investors and developers; 6500 new Crowns will be offered during our ICO
The exact distribution was never disclosed so I'll take the liberty to make some estimates.
Only 190 Crowns were openly sold on two Steemit pre-ICO auctions in 2016.
A corresponding amount was probably sold on OTH deals.
So my estimate is 1000 Crowns for each of Viva's three founders and about 500 Crowns spent on bounties.
6500 Crowns were supposed to be issued for the ICO.
Just about 200 were sold on TradeQwik for crypto and maybe about 300 were sold for fiat, leaving about 6000 Crowns remaining the property of Viva Holdings.
That means the founders control about 90% of this project.
I think that maybe every single crypto project is plagued by a similar distribution.
For example, Steemit started just like that. For a regular investor, the only hope is that founders will act responsibly.
However, for Viva, it's safe to conclude that it wasn't the case.
So one of the scenarios I would consider for eventual future development is VH liquidated and replaced by "VivaFund". VH's founders shouldn't get a stake, which would allow them to further direct this project. That would mean they would have to burn probably 90+% of their stake.
This scenario would have the advantage of keeping the "Viva brand" alive.
To be able to say "Yes, Viva had its problems in the past, but were able to solve them successfully" would be, actually, quite beneficial for the project.
The other option would be just to start a new project, crediting everyone except founders and people who had received some unreasonably big bounties with newly created tokens according to their Viva balances.
Since the "Viva brand" doesn't really have much value (and as I understand it the "Viva code" is mostly useless anyway) maybe this scenario would be preferable in the and.
It would be just like a "Fork", except that there is actually nothing to fork.
I do have experience being a board member for a non-profit Fund running solely on a donation basis for many years, and I can verify that you actually don't need millions of dollars to build something useful.
It's amazing how much can be done with maybe a hundred people contributing around $100 a month, provided the money is not spent to provide a luxury livelihood for executives.
The problem with that scenario, however, is that I do not have experience on participating in remote running projects (or better said I have negative experience).
As I've seen, as long as core team members of a project can have personal meetings at least 2-3 times a month, everything can go just fine. If it's not the case - everything collapses quite quickly.
And it looks to me that the "Viva tribe" is quite widespread globally. To eventually create a "VivaFund Board" that would be able to meet regularly would hardly be possible.
As for the core Viva principle of "stable currency with the supply regulated by minting/unminting process", the TQ experience (also disappointing in many other ways) did rather convince me of its reliability, if implemented properly.
And I also think that we actually do not need "a multi-dimensional graph", as William put it, to make it work. An old-fashioned one-dimensional blockchain would do the trick just nicely, so I'm all for a second try. But for the reason mentioned before I'm rather pessimistic, considering the possibility of developing the Viva blockchain as a community project. And, unfortunately, I do not know any blockchain developers personally, let alone affordable blockchain developers.
Thinking about how this second try could be done, I have realized that the announced SMT tokens on the Steem blockchain might be just what we need. The explanation given about SMT tokens was rather vague but it seems that
we'll be able to create our own tokens to play with on top of the Steem blockchain;
we'll be able to trade them on internal Steemit markets for Steem and SBD; and
we'll be able to send it p2p to other Steemit users, and that's actually a feature which wasn't implemented on TQ.
So, of course then we could credit everyone with SMT-Viva, SMT-VivaCrowns, SMT-VIP and so on according to the snapshot of TQ balances, but we could actually do more than that: we could also create internal Viva assets like SMT-BITCOIN, SMT-LITECOIN, SMT-EOS and so on.
William used to insist on the instant conversion Viva to iV-assets and back, also quite a few people pointed out that it leaves it open to price manipulation. Instead, we could borrow from the Steemit principle, which requires 3 days to make internal conversions from SBD to Steem.
And we could use an average conversion price over these 3 days as well.
And, of course, there's no real need to represent every crapcoin with $100 daily volume. We should only choose established coins with at least a few people interested in.
That would make it quite resistant to manipulation. The best thing, though, is that to start it running we would not need any coding at all.
Initially, the participants could just transfer SMT-Viva to a technical operational account with a memo like "mint ivEOS" and a committee of a few trusted members could process it manually over the course of 3 days and then send back the "ivEOS" (Steemit does support multi-sig transactions, FYI). The same would apply for reverse conventions aka "unminting".
Initially we also should set a minimum conversion amount at something like $100 to restrict the number of transactions.
Also, at the first stage, there probably wouldn't be any dividends. Instead, the conversion fees could be just burned.
Later on, when the system gets a bit more established, a protocol to automate all the transactions and distribute dividends could be coded, but this seems to be quite an easy task. I believe we could find someone to do it just for a few bounty Crowns.
So far I couldn't find any reason that would prevent me from starting that project once SMT tokens are launched. Of course, the best start would be if we could onboard as many people as possible from the Viva community, but I wouldn't hesitate to start with just a few people, just like Satoshi did back in 2009. ;)
However, the bad news is that there are no SMT tokens so far and sadly Steemit as a platform seems to not be very reliable for delivering on its promises either.
So, is there something we could make to give at least somevalue to Viva assets right now? I think the answer is yes, and it could be done with the help of Steemit as well.
Let me explain how.
Even without SMT tokens, the Steem blockchain allow for the creation of sub-chains to support custom-issued tokens. The first experimental Pocket-token was already created half a year ago. More information about you can find here.
https://steemit.com/pocket/@biophil/pocket-announcement
Do also pay attention to the comment left there by Steemit inc CEO Ned Scott (@ned).
I've already asked the author of Pocket and he answered that "he could be convinced to help" to create a protocol for pocket-Viva tokens.
Unfortunately, unlike SMT, these tokens cannot be traded on the internal Steem market. Also, these tokens wouldn't be visible in our Steemit wallets, but we could trade it p2p and it would also be possible to make a getaway to trade it on Bitshares ( the Bitshares getaway for Pocket was made by @virtualgrowht and I believe he is a Crown holder too).
Let's say people interested in developing "Pocket-Viva" could together delegate some considerable amount of Steem to a "Poket-Viva" account, so it could make say 10 upvotes daily worth $1 each.
We could start to sell these upvotes to the highest bidder, but charging pocket-Viva instead of SBD. People will have to transfer pocket-Viva to the operating account in order to get an upvote.
Let's say Alice transfers 5 Viva and Bob transfers 6 Viva.
Bob will get an upvote, and Alice will get upvoted next unless someone Charlie comes along and outbids her with 5.5 Viva.
So price discovery for Viva will take place.
Maybe initially people will start to offer 100 Viva for a $1 upvote, thus putting Viva's valuation at 1 cent. That's ok - 1 cent is still better than zero.
But since we'll have a limited supply of Viva (no salaries for the executives, no selected few allowed for VIP drown-downs) I suppose that quite soon Viva would achieve more a comfortable price level, maybe more like $1.
Let's say we've started with a total of 50,000 Viva, 500 Crowns and 1,000,000 VIP.
Let's assume that after 3 months the operational account could collect 10.000 Viva.
Then half of that amount could be distributed to CrownHolders, giving them 10 Viva for each Crown. In this instance, it would start to make sense for CrownHolders "to hold".
The other 5000 Viva could be just burned. In order to maintain the supply all the VIP holders would be allowed to make a 0.5% drawdown, so there is also something in it for VIP holders.
From here on I can see three possible paths for future development.
If at some point SMT will be launched. A snapshot of the 'Pocket-Viva' chain can be used for creating the Genesis block of the SMT-Viva project.
It might be that we actually would be able to find developers for the actual Viva-blockchain. Great - the snapshot of Pocket-Viva could be used for creating the Genesis block of this blockchain then.
And finally, we also could just keep on developing the Pocket-Viva protocol. We could have a separate block explorer for it, separate wallets, and list it on CoinMarketCap just like any other coin.
However, I wouldn't want to start the Pocket-Viva project with just a few people participating. But if many people, especially those who are able to delegate SP to the project, would be interested in participating, then I would also join and contribute both by delegating SP and funding protocol development.
I would estimate that we would attract a community that owns a few hundred Crowns and that people would be ready to delegate something like 50 Steem for each Crown to the community account and donate something like 5 Steem for each Crown to fund token protocol and bidding bot development. If so, then it would be worth to try.
Otherwise, probably not.
I've seen that people from Viva have already started to create mutual upvote communities on Steemit. I also do like getting an upvote from @tradeqwik for my posts on Steemit. However, this proposal is different. If implemented it would help not only those who are active on Steemit, but every Viva holder by creating some value for their Viva funds.
Or maybe we could just be waiting for a miracle to happen.
Well, this is also an option.
I do realize that this long post might be hard to digest. But, well, unlike VH, I do not have "Chief Communication Officer" to wrap it all up in a nice little bow.
I'll pay 500 Pocket-tokens for any meaningful feedback, so please make your move.
Who knows how much it might be worth one day? ;)
Little Viva ttolling from a fellow CrownHolder @mrwang