Vegan Lentil Tacos (Taco Bell Style Recipe)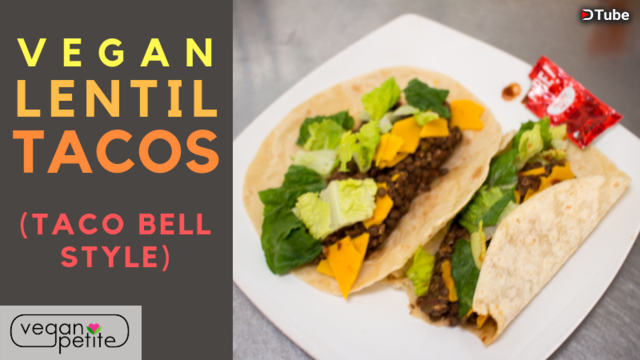 ---
Here's a healthy taco filling recipe made with hearty lentils, rich in protein, fiber, and flavor!
It's vegan, plant-based, gluten-free, and soy-free.
I didn't use any measurements, but here's the basic method:
Saute diced onions (about 1/2 medium) in water or olive oil over medium heat until softened. Add diced green bell pepper (about 1/2 medium, optional) and cook another 1-2 minutes.
Add a couple tablespoons of tomato paste and water, stirring until fragrant. Add more water to make it saucy, then add cooked lentils and cooked quinoa (optional).
Season as desired - suggested spices are chili powder, cumin, garlic powder, onion powder, smoked paprika, chipotle powder, nutritional yeast, salt & black pepper. You could also add hot sauce or cayenne for more heat.
Simmer for a few minutes to desired consistency - add more water if it gets too dry, or cook longer if too soupy.
Serve in tortillas with desired toppings - such as vegan cheese (I used the Daiya cheddar block), chopped lettuce, and hot sauce. You could also serve these lentils over rice or baked potatoes with avocado slices, salsa, etc; get creative!
---
▶️ DTube
▶️ IPFS